Today's post about the patristics is about 1 Clement 46-53.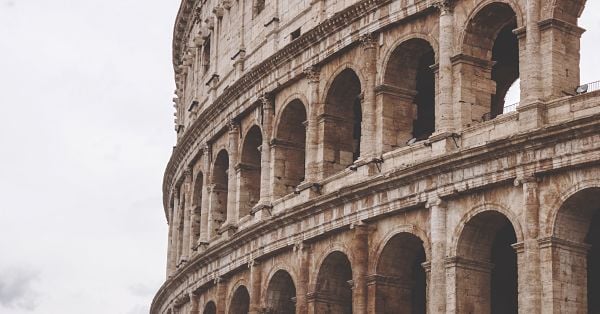 Our series uses for its text Michael Holmes, The Apostolic Fathers.
1 Clement is from Rome to Corinth and in chps 46-53 he addresses the issues surrounding schisms in the church, something known in Corinth since the days of the apostle Paul.
Emulation was education in the ancient world, and emulation remains education — but emulation for good education must be emulation of the good, which is where Clement begins:
1Clem. 46:1 Therefore we too, brothers, must follow examples such as these. 2 For it is written: "Follow the saints, for those who follow them will be sanctified." 3 And again it says in another place: "With the innocent one you will be innocent, and with the elect you will be elect, and with the perverse you will deal perversely." 4 Let us, therefore, join with the innocent and righteous, for these are the elect of God.
His point is the emulating the good unites; emulation of the wicked leads to schism. One God-ness ought to lead to one-people-ness. Schism generates moral problems.
5 Why is there strife and angry outbursts and dissension and schisms and conflict among you? 6 Do we not have one God and one Christ and one Spirit of grace that was poured out upon us? And is there not one calling in Christ? 7 Why do we tear and rip apart the members of Christ, and rebel against our own body, and reach such a level of insanity that we forget that we are members of one another? Remember the words of Jesus our Lord, 8 for he said: "Woe to that person! Rather than cause one of my elect to sin, it would have been good for that one not to have been born. It would have been better for that person to have been tied to a millstone and cast into the sea, rather than pervert one of my elect." 9 Your schism has perverted many; it has brought many to despair, plunged many into doubt, and caused all of us to sorrow. And yet your rebellion still continues!
An odd argument now follows: taking sides with apostles is better than taking sides with bad leaders. One or two people is spoiling the church of Corinth and is leading to rebellion against the elders/presbyters in Corinth. Here is a clue to the letter: rebellion against the elders.
1Clem. 47:1 Take up the epistle of the blessed Paul the apostle. 2 What did he first write to you in the beginning of the gospel? 3 Truly he wrote to you in the Spirit about himself and Cephas and Apollos, because even then you had split into factions. 4 Yet that splitting into factions brought less sin upon you, for you were partisans of highly reputed apostles and of a man approved by them. 5 In contrast now think about those who have perverted you and diminished the respect due your renowned love for others. 6 It is disgraceful, dear friends, yes, utterly disgraceful and unworthy of your conduct in Christ, that it should be reported that the well-established and ancient church of the Corinthians, because of one or two persons, is rebelling against its presbyters.
The result? Clement does not mince his words.
7 And this report has reached not only us but also those who differ from us, with the result that you heap blasphemies upon the name of the Lord because of your stupidity, and create danger for yourselves as well.
The solution? Get rid of the problem; humble yourselves before God. God is open to repentance and reconciliation and redemption and righteousness.
1Clem. 48:1 Let us therefore root this out quickly, and let us fall down before the Master and pray to him with tears, so that he may be merciful and be reconciled to us, and restore us to the honorable and pure conduct that characterizes our love for others. 2 For this is an open gate of righteousness leading to life, as it is written: "Open to me the gates of righteousness, so that I may enter through them and praise the Lord. 3 This is the gate of the Lord; the righteous shall enter through it." 4 Although many gates are open, this righteous gate is the Christian gate; blessed are all those who have entered through it and who direct their path in holiness and righteousness, doing everything without confusion.
He seems then to turn to the spiritual gifts at some level, though now in different terms.
5 Let one be faithful, let one be able to expound knowledge, let one be wise in the interpretation of discourses, let one be energetic in deeds, let one be pure; 6 for the greater one seems to be, the more one ought to be humble, and the more one ought to seek the common advantage of all, and not of oneself.
Love, as always in Christian theology, is the basic ethical vision: it unites and is against rebellion. Here we get something along the line of 1 Corinthians 13.
1Clem. 49:1 Let the one who has love in Christ fulfill the commandments of Christ. 2 Who can describe the bond of God's love? 3 Who is able to explain the majesty of its beauty? 4 The height to which love leads is indescribable. 5 Love unites us with God; love covers a multitude of sins; love endures all things, is patient in all things. There is nothing coarse, nothing arrogant in love. Love knows nothing of schisms, love leads no rebellions, love does everything in harmony. In love all the elect of God were made perfect; without love nothing is pleasing to God. 6 In love the Master received us. Because of the love that he had for us, Jesus Christ our Lord, in accordance with God's will, gave his blood for us, and his flesh for our flesh, and his life for our lives.

1Clem. 50:1 You see, dear friends, how great and wonderful love is; its perfection is beyond description. 2 Who is worthy to be found in it, except those whom God considers worthy? Let us therefore ask and petition his mercy, so that we may be found blameless in love, standing apart from any human factiousness. 3 All the generations from Adam to this day have passed away, but those who by God's grace were perfected in love have a place among the godly, who will be revealed when the kingdom of Christ visits us. 4 For it is written: "Enter into the innermost rooms for a very little while, until my anger and wrath shall pass away, and I will remember a good day and will raise you from your graves." 5 Blessed are we, dear friends, if we continue to keep God's commandments in the harmony of love, so that our sins may be forgiven us through love. 6 For it is written: "Blessed are those whose iniquities are forgiven, and whose sins are covered. Blessed is the one to whom the Lord will reckon no sin, and in whose mouth there is no deceit." 7 This declaration of blessedness was pronounced upon those who have been chosen by God through Jesus Christ our Lord, to whom be the glory for ever and ever. Amen.
Having cast a love-vision, he urges them to repent and confess and seek God's forgiveness. A burden for Clement is to lead the Corinthians to the point of confession and forgiveness.
1Clem. 51:1 So, then, for whatever sins we have committed and whatever we have done through any of the tricks of the adversary, let us ask that we may be forgiven. And those, too, who set themselves up as leaders of rebellion and dissension ought to look to the common ground of hope. 2 For those who walk in fear and love prefer that they themselves, rather than their neighbors, should fall into suffering, and they would rather bring condemnation upon themselves than upon the harmony that has been so nobly and righteously handed down to us. 3 For it is good for a person to confess his transgressions rather than to harden his heart, as the heart of those who rebelled against Moses the servant of God was hardened. Their condemnation was made very clear, 4 for they went down to Hades alive, and death will be their shepherd. 5 Pharaoh and his army and all the rulers of Egypt, the chariots and their riders, were plunged into the Red Sea and perished, for no other reason than that their foolish hearts were hardened after the signs and the wonders had been accomplished in the land of Egypt by Moses, the servant of God.

1Clem. 52:1 The Master, brothers, has no need of anything at all. He requires nothing of anyone except to make a confession to him. 2 For David, the chosen one, says: "I will confess to the Lord, and it will please him more than a young calf with horns and hoofs. Let the poor see this and rejoice." 3 And again he says: "Sacrifice to God a sacrifice of praise, and pay your vows to the Most High; call upon me in the day of your affliction, and I will deliver you, and you will glorify me. 4 For the sacrifice of God is a broken spirit."
He backs off just a bit — pastorally that is — they know his instructions already and need to be reminded of the importance of love and unity. Does Clement see himself in Moses?
1Clem. 53:1 For you know, and know well, the sacred scriptures, dear friends, and you have searched into the oracles of God. We write these things, therefore, merely as a reminder. 2 When Moses went up to the mountain and had spent forty days and forty nights in fasting and humiliation, God said to him: "Moses, Moses, go down quickly from here, for your people, whom you led out of the land of Egypt, have broken the law. They have quickly turned away from the path that you established for them: they have cast for themselves some idols." 3 And the Lord said to him: "I have spoken to you time and again, saying, I have seen this people, and they are stiff-necked indeed! Let me destroy them completely, and I will wipe out their name from under heaven, and I will make you into a great and wonderful nation, far more numerous than this one." 4 And Moses said: "May it not be so, Lord. Forgive this people their sin, or else wipe me also out of the book of the living." 5 What mighty love! What unsurpassable perfection! The servant speaks boldly to the Lord: he asks forgiveness for the multitude, or demands that he himself also be wiped out with them.