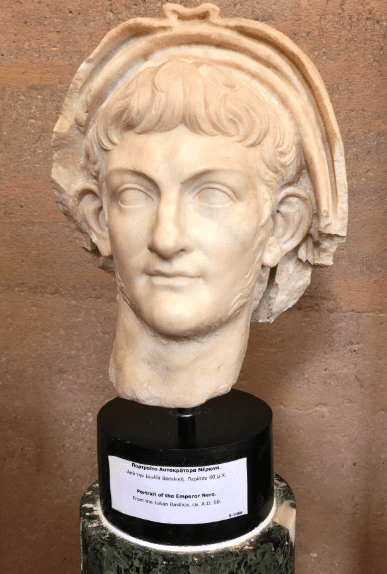 I have been on a tour with Northern Seminary's MA in New Testament students through Turkey, Greece, and Italy (Pompeii and Rome), so I have been out of the loop on the discussion in the USA about separating children from parents.
In the Trump administration a few have commented on listening to the federal government authorities as a Christian duty.
They have appealed to Romans 13, so a discussion has arisen about Romans 13:1-7 in the early years of emperor Nero (I took the photo of Nero in the museum in Corinth).
Three solid discussions I have read are by:
My thoughts:
First, Romans 13 reflects government by an emperor, in this case Nero, but at least one has to consider the transitional period from Claudius to Nero. Government and Christian response to government under Nero and an emperor is vastly different than our situation in the USA: that is, under government of law and people. Resistance is lawful in the USA; voicing one's opinion is how our government works; appeal to authority and DC et al is inadequate. To say "The Bible says so" is hermeneutically tone deaf
On Rom 13: this text addresses what might be called illegal or unlawful or contrary-to-law resistance. There is much to be said here but if you read Romans 13 in its context, which means considering Romans 12:14-13:10, then any appeal simply to Romans 13:1-7 (or 13:1) out of context is foolish. This is what some of the Trump administration is doing. Why, one might ask, would executive administration appeal to such a text? It doesn't take a cynic to know why. Why, one needs to ask then, did slaveowners appeal to Ephesians or Colossians? Easy: they got the authority they wanted.
Here's a problem: What Pence and Session are asking for is little more than the divine right of kings. To say "We are the government, we are in authority, we know what is best for the people, therefore do what we say" is about an Un-American as anything I've seen in a long long while.
On Romans 13:1-7 the presenting resistance issue here is taxation, severe for many who were returning to Rome following Claudius' expulsion. Notice these words:
Bless those who persecute you; bless and do not curse them (12:14).

Do not repay anyone evil for evil, but take thought for what is noble in the sight of all.  If it is possible, so far as it depends on you, live peaceably with all (12:17-18).
Now notice these words, strong words indeed:
Beloved, never avenge yourselves, but leave room for the wrath of God; for it is written, "Vengeance is mine, I will repay, says the Lord" (12:19).

Therefore whoever resists authority resists what God has appointed, and those who resist will incur judgment (13:2).

But if you do what is wrong, you should be afraid, for the authority does not bear the sword in vain! It is the servant of God to execute wrath on the wrongdoer (13:4).
Then comes taxes and taxes are the presenting issue of resistance among some in the churches of Rome. They are not likely to have taken up arms — Spartacus fashion — but to have been beyond irritated by increased indirect taxes on the kinds of jobs these Christians were doing in Rome. They are tempted not to pay taxes and to resist taxation. Paul says this is not wise.
Paul's lines in Romans 13 are almost certainly strategic. That is, this is not a theoretical discussion of Church and State, as many have often said, nor a general principle for all times for all situations. It is again tone deaf not to recognize this. Which leads to this:
Speaking of foreign contexts for Jews — think Babylon, think Jeremiah — there is a long Jewish tradition of cooperation with pagan governments and economies to the point of consistency with worship of the one true God and obedience to that God. In other words, accommodation but not capitulation. When capitulation was demanded martyrdom, resistance, even rebellion were the responses. Hence, when pagan governments demanded breaking Torah Jews did not say "Submit" but "Resist." So, this idea of submission has limits and the limits were moral and theological and worship.
Come to think of it, if Jesus followed the Trump's administration's use of Romans 13, Jesus would have to be silenced in his excoriating words directed at the scribes and Pharisees and that fox Herod.
Which leads to this point: this last point is all we need to give a contextual response to the Trump administration's foolish citation of Scripture. What the administration is asking here is contrary to everything the Bible teaches about family: we do not separate parents from children, we do not do such a thing as Christians, and thus the appeal to Romans 13 on this occasion is morally reprehensible, hermeneutically irresponsible, and an opportunity for Christian resistance.