We continue our series on the apostolic fathers as look into 1 Clement 59-61.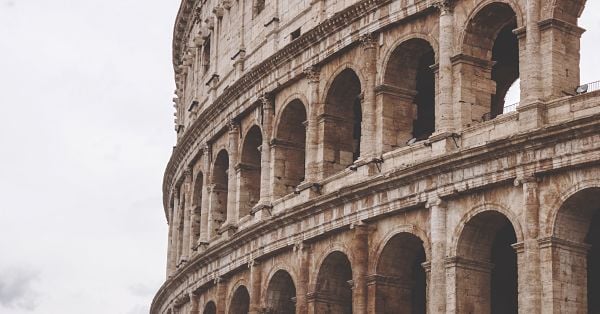 Our series uses for its text Michael Holmes, The Apostolic Fathers.
1 Clement is from a leader in Rome to the leaders and people of Corinth, and in chps 56-58 he turns to the factions and fractions in Corinth with some corruption in leadership.
The "him" of 59:1 is the Lord, and the author of the letter but a mouthpiece of the Lord.
1Clem. 59:1    But if certain people should disobey what has been said by him through us, let them understand that they will entangle themselves in no small sin and danger.
The danger here is a rebellion against the ways of Christ and rebellion against the good leaders of Corinth. As we read at 57:1 "You, therefore, who laid the foundation of the revolt must submit to the presbyters and accept discipline leading to repentance, bending the knees of your heart."
Now Clement turns to prayer for unity in Corinth, and prayer for illumination to see the truth. He turns to themes of God's ways of reversing worldliness and loftiness and wealth.
2 We, however, will be innocent of this sin, and will ask with earnest prayer and supplication that the Creator of the universe may keep intact the specified number of his elect throughout the whole world, through his beloved servant Jesus Christ, through whom he called us from darkness to light, from ignorance to the knowledge of the glory of his name. 3 Grant us, Lord, to hope on your name, which is the primal source of all creation, and open the eyes of our hearts that we may know you, who alone are highest among the high; you are holy, abiding among the holy. You humble the pride of the proud; you destroy the plans of nations; you exalt the humble and humble the exalted; you make rich and make poor; you kill and make alive. You alone are the benefactor of spirits and the God of all flesh, looking into the depths, scanning the works of humans; the helper of those who are in peril, the savior of those in despair; the creator and guardian of every spirit. You multiply the nations upon the earth, and from among all of them you have chosen those who love you through Jesus Christ, your beloved servant, through whom you instructed us, sanctified us, honored us.
A classical pastoral prayer comes next, one that had influence in the history of liturgy.
4 We ask you, Master, to be our helper and protector. Save those among us who are in distress; have mercy on the humble; raise up the fallen; show yourself to those in need; heal the sick; turn back those of your people who wander; feed the hungry; ransom our prisoners; raise up the weak; comfort the discouraged. Let all the nations know that you are the only God, that Jesus Christ is your servant, and that we are your people and the sheep of your pasture.
He continues in a pastoral prayer, a prayer worth turning right now into your own prayerful words as you read them:
1Clem. 60:1    For you through your works have revealed the everlasting structure of the world. You, Lord, created the earth. You are faithful throughout all generations, righteous in your judgments, marvelous in strength and majesty, wise in creating and prudent in establishing what exists, good in all that is observed and faithful to those who trust in you, merciful and compassionate: forgive us our sins and our injustices, our transgressions and our shortcomings. 2 Do not take into account every sin of your servants and slaves, but cleanse us with the cleansing of your truth, and direct our steps to walk in holiness and righteousness and purity of heart, and to do what is good and pleasing in your sight and in the sight of our rulers. 3 Yes, Lord, let your face shine upon us in peace for our good, so that we may be sheltered by your mighty hand and delivered from every sin by your uplifted arm; deliver us as well from those who hate us unjustly. 4 Give harmony and peace to us and to all who dwell on the earth, just as you did to our ancestors when they reverently called upon you in faith and truth, that we may be saved, while we render obedience to your almighty and most excellent name, and to our rulers and governors on earth.

1Clem. 61:1    You, Master, have given them the power of sovereignty through your majestic and inexpressible might, so that we, acknowledging the glory and honor that you have given them, may be subject to them, resisting your will in nothing. Grant to them, Lord, health, peace, harmony, and stability, so that they may blamelessly administer the government that you have given them. 2 For you, heavenly Master, King of the ages, give to human beings glory and honor and authority over the creatures upon the earth. Lord, direct their plans according to what is good and pleasing in your sight, so that by devoutly administering in peace and gentleness the authority that you have given them they may experience your mercy. 3 You, who alone are able to do these and even greater good things for us, we praise through the high priest and benefactor of our souls, Jesus Christ, through whom be the glory and the majesty to you both now and for all generations and for ever and ever. Amen.