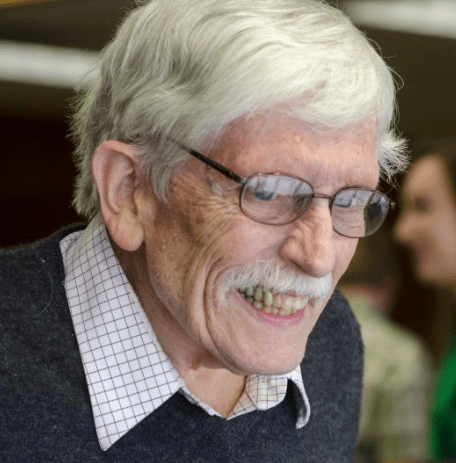 Kris and I grieve today after hearing that my teacher and former colleague, Grant Osborne (1942-2018), passed away in his sleep last night.
We offer consolations to Nancy and to Amber and Susanne.
Grant, famous for his extensive handouts and dialogical classrooms, began his career in Canada and came to Trinity Evangelical Divinity School in 1977 when I was a student. I believe I was in the first class he taught, a class on the Gospel of Matthew. (Did I mention he had a few leisure suits?!)
Grant outlined in detail whole NT books, offered brief sketches of scholarly viewpoints and then usually turned to the "best" view. Jack Dean Kingsbury's monograph on Matthew was recently in print and that book generated plenty of class discussions. Grant and that class inspired me to do my dissertation in Matthew studies.
Grant invited me to be his TA for a couple years and we had a habit of annoying one another: Grant didn't care that his books were not all lined up to the edge of the shelf so I eventually got through all his shelves to tidy up his shelves. Which annoyed him. To annoy me back he would push a few books in or turn some spine up or pull a few out, and then say to me, "I feel more comfortable now."
One of his famous handouts was nothing less than an outline of all the texts in the Bible on eternal security/loss of salvation. His big assignment one year for me was to rewrite and revise the whole thing and add to it some recent scholarship — and that exercise itself both was a deep dive into the subject and changed my mind on the topic.
Grant loved to teach and taught all over the world. He loved his family, he loved the Bible, he loved teaching the Bible, and he loved teaching the Bible in the church.
When I returned to TEDS to teach, first as an adjunct and then as part of the NT department, my natural alliances were with Grant. We had endless conversations about all the topics around TEDS and our classes and our mutual interests in the Gospels. Later, when I was at North Park, Grant and I co-edited The Face of New Testament Studies, which next year will be "updated" with The State of New Testament Studies. As I was the junior editor for Face, so I will be senior on the next volume, this time with Nijay Gupta.
Probably his best known book is The Hermeneutical Spiral, and I remember the stacks of books and articles he was reading when the book was in gestation. Grant had been turning his extensive handouts into commentaries, the most recent being The Gospel of John.
The last long-time I spent with Grant was one evening when both of us were teaching at Willow. I drove and Grant was my riding companion. A good long evening of chatting it was. I felt like we were back in his office chatting.
Grant, as many of us have known, suffered from asthma his entire life and said to a family member recently that the first thing he'll do in heaven is take a deep breath.
Breathe in, brother, you're in the presence of our glorious God!