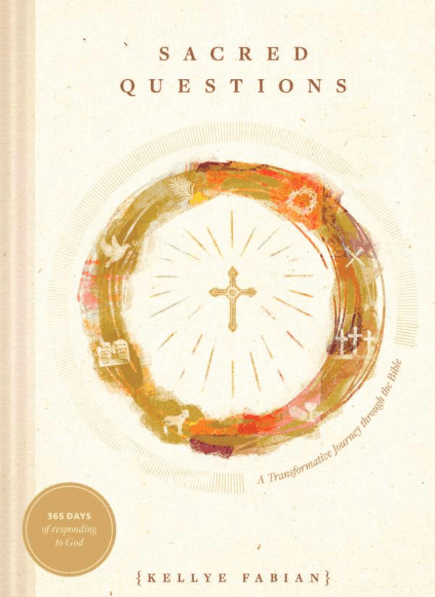 Kellye Fabian, one of our Northern students who is a leader and teacher at Willow Creek, has a new book designed for spiritual formation called Sacred Questions: A Transformative Journey Through the Bible.
What prompted you to write Sacred Questions?
Sacred Questions arose out of three years of writing daily devotionals for Willow Creek Community Church. I began writing these devotionals as a way to help our congregation go deeper with and be more consistent in their daily discipline of reading the Bible. After writing these question-based devotionals for years, I began to think more about why I wrote them the way I did and how asking questions as we read Scripture might be a unique and beneficial way of listening to God. As I examined this idea, I discovered that listening to God by paying attention to the questions that arose in me while I read Scripture was transformative and life-changing for me. God had done so much in me as I wrote the devotionals that I thought I'd pass along this discipline to others through the book.
What are the major influencers/influences in you that helped shape Sacred Questions?
The most influential person in shaping Sacred Questions was probably (unknowingly to him) Eugene Peterson. Just a couple years into my Christian faith, I bought and worked my way through a devotional he wrote called The Message//REMIX: Solo: An Uncommon Devotional. It is question based and really formed the way I read Scripture. Others that also had significant influence include Ruth Haley Barton, Aaron Niequist, and my good friend and mentor Michael Fox, who's a pastor in Louisiana.
Why is Sacred Questions not an ordinary daily devotional?
Sacred Questions is different than any other devotional for three reasons. First, as the title reveals, it is question-based and as a result prompts a very personal experience for the reader. In most devotionals, the author shares her experience or interaction with the particular passage of Scripture, inviting you into her story. But in Sacred Questions I don't share my experience and instead invite the reader, through prayer and questions, to have his or her own experience. Second, the devotional takes the reader on a formative journey. In other words, the book isn't just 365 days of randomly selected Scripture passages, but rather has separate sections that move the reader from Jesus' invitations to relationship with him through a process of opening to God's love, knowing who Jesus is, finding one's identity in Christ, abiding in God, being formed by what's true, loving like Jesus, opening to the Kingdom of God, aligning with the Holy Spirit, lamenting pain, worshiping God, and reaching out in service to others. As the reader moves through the book, she is being formed in Christlikeness by God's Word.
How would you describe Sacred Questions?
I would describe it just like the subtitle puts it: A Transformative Journey through the Bible. I really believe that as readers go through the book, God will transform their desires, thoughts, words, and actions to look more like those of Christ. And in this way, readers will be grounded in Christ while seeking to love the world.
How are your questions "sacred"?
My questions are sacred in the sense that they are prompted by an encounter with God in the Scriptures. But, it's not just my questions that are sacred. I believe that any questions that arise in us as we read the Bible are sacred. So, as readers engage with the Scripture passages in the book, their own questions might arise in them and these are sacred and worth paying attention to.
How have you learned that questions lead to a deeper spiritual life?
What I have learned is that most questions I ask as I read Scripture aren't questions that desire a factual answer. For example, typically, I'm not asking, "Where is Jerusalem?" I'm asking something like the first faith question I ever asked, "Why don't I have faith?" And this second kind of question is what I most often find bubbling up in me and in others. These are questions that result from some encounter with God that challenges the way we think, believe, or act. And if we can follow these questions into God's presence, he will transform us.
What are the basic elements of each daily reading in Sacred Questions?
Each day, the reader will find a simple prayer to open their time, a reading from the Scriptures, a short paragraph to orient the reader with the particular passage, three questions to reflect on, and a responsive prayer.
How has your seminary education influenced Sacred Questions?
There's probably no way of knowing fully how my seminary education has influenced the book because so much of my thinking and understanding has been impacted greatly. However, there are two specific areas of the book that come to mind immediately. The first is the Christmas section. This section focuses on the truth that God came to be with us in a body, something I think we so often overlook, thinking of Jesus as a sort of supra-human. We forget that he has a body—even now! This is a realization and revelation I had in one of my seminary classes as we studied the incarnation and why it matters. The second section that was deeply influenced by my education is the section called "For the Sake of Others." I had always thought we should, as Christians, serve others because Jesus said so. And while that is true, what I discovered in my Old Testament courses is that we are part of a much bigger, longer story than that! As we serve and love others, we are living out God's promise to Abram (way back in Genesis 12) that God would bless all the nations through Abraham.
What would you like readers to know about this Sacred Questions that may not be obvious?
You can start Sacred Questions anywhere! There are 14 different sections and while the journey from beginning to end is one way of going through, the beauty of the devotional is that it belongs to the reader. Wherever he or she decides to start, God will be there to meet them in their questions, joys, and pain.