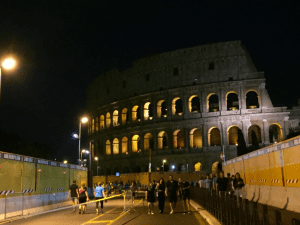 We turn in our reading of the patristics to Ignatius, who evidently wrote these letters on his march to Rome to be martyred — sometime during Trajan's reign. We don't know much about Ignatius until these letters and in the middle of his trip — somewhere around Philippi — the story of his life is lost. The tradition is that he died in Rome.
In our series on the patristic writings, we use the text Michael Holmes, The Apostolic Fathers.
Notice how he self-identifies: "image-bearer," which is either a title or a duty of carrying an icon in a procession. Notice, too, what he thinks of the church at Ephesus, and he wrote this letter to them on his journey to Rome.
Notice, too, how early a high theology of the bishop develops. This is early, very early, 2d Century.
Eph. 1:0    THE LETTER OF IGNATIUS TO THE EPHESIANS

  Ignatius the Image-bearer to the church at Ephesus in Asia, blessed with greatness through the fullness of God the Father, predestined before the ages for lasting and unchangeable glory forever, united and elect through genuine suffering by the will of the Father and of Jesus Christ our God, a church most worthy of blessing: heartiest greetings in Jesus Christ and in blameless joy.
He continues with his praise of the character and spirituality of Ephesus, a Paul-founded church that sends Onesimus — I doubt it's the one in Philemon — to Ignatius. Onesimus is the bishop at Ephesus. He praises Onesimus' character.
Eph. 1:1    I welcomed in God your well-beloved name, which you possess by reason of your righteous nature, characterized by faith in and love of Christ Jesus our Savior. Being imitators of God, once you took on new life through the blood of God you completed perfectly the task so natural to you.  2 For when you heard that I was on my way from Syria in chains for the sake of our shared name and hope, and was hoping through your prayers to succeed in fighting with wild beasts in Rome—in order that by so succeeding I might be able to be a disciple—you hurried to visit me.  3 Since, therefore, I have received in God's name your whole congregation in the person of Onesimus, a man of inexpressible love who is also your earthly bishop, I pray that you will love him in accordance with the standard set by Jesus Christ and that all of you will be like him. For blessed is the one who has graciously allowed you, worthy as you are, to have such a bishop.
He turns then to Burrhus, a deacon, a companion now of Ignatius. Then to others whom the Ephesians evidently sent to him. Again, an emphasis on the bishop and obedience to him.
Eph. 2:1    Now concerning my fellow servant Burrhus, who is by God's will your deacon, blessed in every respect, I pray that he may remain with me both for your honor and the bishop's. And Crocus also, who is worthy of God and of you, whom I received as a living example of your love, has refreshed me in every way; may the Father of Jesus Christ likewise refresh him, together with Onesimus, Burrhus, Euplus, and Fronto, in whom I saw all of you with respect to love.  2 May I always have joy in you—if, that is, I am worthy. It is proper, therefore, in every way to glorify Jesus Christ, who has glorified you, so that you, joined together in a united obedience and subject to the bishop and the council of presbyters, may be sanctified in every respect.
Pushing for obedience triggers a thought — and Ignatius covers himself quickly: he's not perfect and is not important. He's an equal — "fellow students." It's about his love for them — that's why he says what he says. Again, he finishes on a note of the bishops as signs of unity.
Eph. 3:1    I am not commanding you, as though I were someone important. For even though I am in chains for the sake of the Name, I have not yet been perfected in Jesus Christ. For now I am only beginning to be a disciple, and I speak to you as my fellow students. For I need to be trained by you in faith, instruction, endurance, and patience.  2 But since love does not allow me to be silent concerning you, I have therefore taken the initiative to encourage you, so that you may run together in harmony with the mind of God. For Jesus Christ, our inseparable life, is the mind of the Father, just as the bishops appointed throughout the world are in the mind of Christ.
Be with the bishop, be with the presbyters, be with the church, be united. These are together for Ignatius. This unity sings Christ, he says.
Eph. 4:1    Thus it is proper for you to run together in harmony with the mind of the bishop, as you are in fact doing. For your council of presbyters, which is worthy of its name and worthy of God, is attuned to the bishop as strings to a lyre. Therefore in your unanimity and harmonious love Jesus Christ is sung.  2 You must join this chorus, every one of you, so that by being harmonious in unanimity and taking your pitch from God you may sing in unison with one voice through Jesus Christ to the Father, in order that he may both hear you and, on the basis of what you do well, acknowledge that you are members of his Son. It is, therefore, advantageous for you to be in perfect unity, in order that you may always have a share in God.
Unity and bishop: Ignatius experienced profound fellowship with Onesimus, which suggests they can experience the same.
Eph. 5:1    For if I in a short time experienced such fellowship with your bishop, which was not merely human but spiritual, how much more do I congratulate you who are united with him, as the church is with Jesus Christ and as Jesus Christ is with the Father, so that all things may be harmonious in unity. 
Unity with the bishop is expressed in "within the sanctuary" (or altar), where one finds the "bread of God." Which is to say: meet with the congregation. Not doing this is opposition to the bishop.
2 Let no one be misled: if anyone is not within the sanctuary, he lacks the bread of God. For if the prayer of one or two has such power, how much more that of the bishop together with the whole church!  3 Therefore whoever does not meet with the congregation thereby demonstrates his arrogance and has separated himself, for it is written: "God opposes the arrogant." Let us, therefore, be careful not to oppose the bishop, in order that we may be obedient to God.
The silence of a bishop communicates. One's response to the bishop — echoing what Jesus says in Matthew 10 — is a response to Jesus! In fact, he's stronger: "we must regard the bishop as the Lord himself."
Eph. 6:1    Furthermore, the more anyone observes that the bishop is silent, the more one should fear him. For everyone whom the Master of the house sends to manage his own house we must welcome as we would the one who sent him. It is obvious, therefore, that we must regard the bishop as the Lord himself. 
What's the problem? Nothing. Onesimus has told Ignatius things are fine.
2 Now Onesimus himself highly praises your orderly conduct in God, reporting that you all live in accordance with the truth and that no heresy has found a home among you. Indeed, you do not so much as listen to anyone unless he speaks truthfully about Jesus Christ.