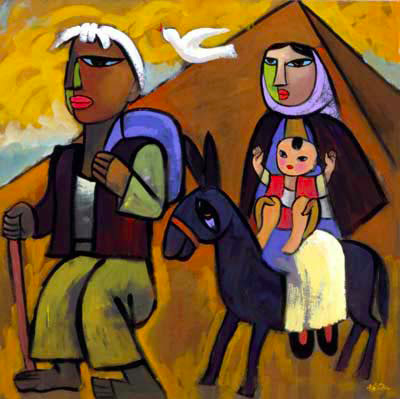 Advent coming to an end, Christmas Day on the horizon. We will soon enter into other stories about Jesus.
Merry Christmas to you and yours and God bless us, every one.
A wonderful website about Women Biblical Scholars.
Speaking of women, here's one of the best female basketball coach with sage advice: Muffet McGraw at Notre Dame on how to help kids learn through failure.
(CNN) – "Oh the times, they are a changin'." Those words from a famous Bob Dylan song may not be something most people associate with college athletics, but they help illustrate a seismic shift in the way parents and kids view their athletic opportunities. Baby boomer parents who were "old school" have given way to Gen X parents who have sheltered their kids from disappointment, adversity and failure and by doing so have left them without the skills or toughness to navigate through life. This is a generation of kids who come to college having never learned the valuable lessons that failing teaches us.

Going from being the star on their high school team to the next level where everyone else is just as good, just as fast and just as strong, takes grit.

It can be a little overwhelming for the toughest kids but for those who aren't equipped to handle adversity, it can be ego shattering. Before the dawn of social media, athletes new to college would line up at the pay phone in the dorm to call home for their weekly talk with mom and dad. They could vent their frustrations just to let their parents know how hard college was, and wonder out loud whether they made the right decision when choosing their school. Parents would listen and then give some life lessons about what it meant to make a commitment and how lucky they were to be going to school for free.

I've talked with a few Notre Dame basketball alums over the years and joked about how I didn't know if they would come back after Christmas break their freshman year, and they laughed and said they didn't want to, but mom and dad said, "Get in the car, we're going back to finish what you started." All of them agreed that getting this push from their parents was the best thing that could have happened to them. It motivated them to fight through adversity and to allow themselves to be pushed past what they thought they could achieve. They graduated with a more confident demeanor, and a sense of pride in their accomplishment, knowing they had the tools to weather whatever storm life had in store.

Fast forward to a generation who had cell phones in grade school and were told from birth how special they were. Everyone gets a trophy, because participation is valued more than performance. Some people believe we shouldn't have all-star teams or pick an MVP because no one wants to see their son or daughter left out.

But I have been coaching kids for over 30 years, and I can tell you there's a better way to teach kids how to handle adversity: Let them figure out for themselves that even if they're not the best player on the team, their role is still important. Rather than transferring high schools or changing Amateur Athletic Union teams to find a place where they can be the biggest star, why not teach them about the value of being a small part of something big? Why not talk about the importance of developing mental toughness by working through some bumps in the road and the long-term benefit gained by learning early in life that sometimes you have to sacrifice "me" for "we"?

Playing a team sport teaches athletes so many important life lessons. Sure, it teaches you about winning, but winning isn't really the point. Competing and giving it your best shot, that's the point. Learning the value of a great work ethic, and never giving up — that's the point. It teaches you that life isn't fair and just because you go to practice every day doesn't mean you will get to play in the game. It teaches you the value of sacrificing your individual goals for the good of the team, and that the ultimate goal is not how many points you score but whether the team wins. It teaches you that everything is not about you — and this is probably the most valuable lesson of all.

I've had some alums relate some stories about the adversity they have overcome in their life since basketball — setbacks they have endured personally or in their families. They all are adamant that developing the strength and resilience to get through injuries and adversity in sport gave them the resolve they needed to overcome the hardships they experienced in later life.
RICHARDSON, Texas (AP) — After raising five kids and retiring at age 77 from her secretarial job, Janet Fein couldn't be blamed for finally relaxing, but that's not her.

Fein, now 84, went back to school and will accomplish a long-held goal this week when she graduates from the University of Texas at Dallas with a bachelor's degree.

"I didn't have anything to do in retirement and I didn't think that playing bingo was up to my speed," said Fein, who majored in sociology because she felt it was "substantial."

She said she enjoyed all the reading and writing papers. "With each class I already knew a lot, but then I also learned a lot. And that made me happy," she said.

People 65 and older make up less than one percent of U.S. college students. In 2015, they accounted for about 67,000 of about 20 million college students, according to the National Center for Education Statistics.

"Keeping oneself active and vital and giving yourself something to look forward to like that is just a really positive move," said Dr. Carmel Dyer, executive director of the UTHealth Consortium on Aging at The University of Texas Health Science Center at Houston.
Warren Throckmorton compares Driscoll to MacDonald:
From where I sit in small town PA (usually at a fast food place with good WiFi), it appears that there are some similarities between the last couple of years at Mars Hill Church and the current situation at Harvest Bible Chapel.

Elders and Leadership Style

At MHC, trouble had been brewing for several years over treatment of elders and perceptions from departed members and elders that Mark Driscoll was domineering and unnecessarily harsh. The same perceptions and polarization have occurred at HBC involving their founding pastor James MacDonald.

This morning I became aware of something called the  Statement of Record on the HBC website where former and current elders are pledging loyalty to MacDonald. Up to the very end of Mars Hill Church, a core group of elders and members remained committed to Driscoll and expressed animosity toward the elders who brought formal charges against Driscoll.

Also this morning, the Elephant's Debt blog posted a resignation letter from a former elder and staff member. In the letter, questions are raised about the leadership of MacDonald and financial management of the church. This letter along with the texts and emails posted earlier by Julie Roys remind me of various leaked letters and formal charges written by current and former MHC elders concerning the leadership of Mark Driscoll.

Many of the concerns seem similar. Driscoll's charges included allegations of harsh treatment of subordinates, domineering leadership style, and using the church structure to enrich himself. Similar allegations have surfaced regarding HBC and MacDonald.
The Python Hunter: — sure hope he had a UHaul instead of a trunk in a car. Speaking of which, how does one cart away an 18 footer?
John Hammond, one of several python hunters participating in Florida's Python Elimination Program, single-handedly caught an 18-foot Burmese python, the biggest ever captured in the program.

The Florida Fish and Wildlife Conservation Commission posted a photo and news of the 18-foot catch on Facebook Tuesday afternoon.

The previous record was a 17-foot, 5-inch python nabbed by Kyle Penniston early last month. That one was the third caught in the program that measured more than 17 feet. It weighed 120 pounds. Hammond's python weighed 150 pounds, according to Spectrum News 13.

Hammond was deep in the Florida Everglades on Sunday morning when he spotted the huge python.
Jackson Wu, but the whole must be read on civil disobedience in China:
Like many Chinese pastors, Wang does not want to confuse the gospel and a narrow version of socio-political activity. The mission of the church does not primarily concern political systems, yet he soberly recognizes the inevitability of conflict between the church and governing authorities. This tension is not the desire of the church; rather, it is the choice of the government (as Wang will explain below).

For all hideous realities, unrighteous politics, and arbitrary laws manifest the cross of Jesus Christ, the only means by which every Chinese person must be saved. They also manifest the fact that true hope and a perfect society will never be found in the transformation of any earthly institution or culture but only in our sins being freely forgiven by Christ and in the hope of eternal life.

In this and the previous paragraph, Wang goes further than any pastor I've heard regarding the nature of the Communist regime and its prerogatives. Most Chinese are too apprehensive about provoking the government, yet Wang's tone is unusually candid and direct by Chinese standards.

As a pastor, my firm belief in the gospel, my teaching, and my rebuking of all evil proceeds from Christ's command in the gospel and from the unfathomable love of that glorious King. Every man's life is extremely short, and God fervently commands the church to lead and call any man to repentance who is willing to repent. Christ is eager and willing to forgive all who turn from their sins. This is the goal of all the efforts of the church in China—to testify to the world about our Christ, to testify to the Middle Kingdom about the Kingdom of Heaven, to testify to earthly, momentary lives about heavenly, eternal life. This is also the pastoral calling that I have received.

I appreciate three aspects of this paragraph. First, he explains that Christian civil disobedience is an expression of love.

Second, his statement repeatedly refers to the brevity of life. Chinese people are incredibly sensitive to the topic of death. In fact, people do not want phone numbers that include the number 4 because "4" in Chinese sounds like the word for death. Wang evangelizes all Chinese people who will read his message.

Third, his wording reminds everyone that everyone in the present conflict must choose to which kingdom they will give their allegiance.