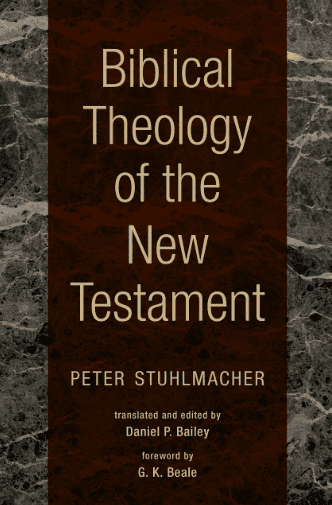 Long ago I bought the German edition of Peter Stuhlmacher's NT theology, and I learned not long after it came out that Dan Bailey was to scheduled to translate that two volume theology. I have consulted Stuhlmacher's dozens of times over the years, and have often hoped the English translation would come to make it available to my students.
It's finally done! It's updated in some ways.
Biblical Theology of the New Testament.
It's big, it's good, it's valuable, and it's from a singularly distinguished German NT scholar: Peter Stuhlmacher. He's a classic "old" perspective or Reformed perspective on Paul, and this penetrates everything in the volume. The translation is very solid, painstakingly so.
It sells for 60 dollars but is on sale from Amazon at the link above for 37 dollars at the time I created this blog post.
Stuhlmacher's tome does well as study of NT theology and his organization, so very Germanic in categories, is important for how NT theology is to be put together — namely, around the proclamation of the gospel.
Thus:
1. The Origin and character of NT proclamation:
Jesus,
the early church,
Paul,
after Paul,
the Synoptic Gospels,
John and his School
2. The Problem of the Canon and the Center of Scripture