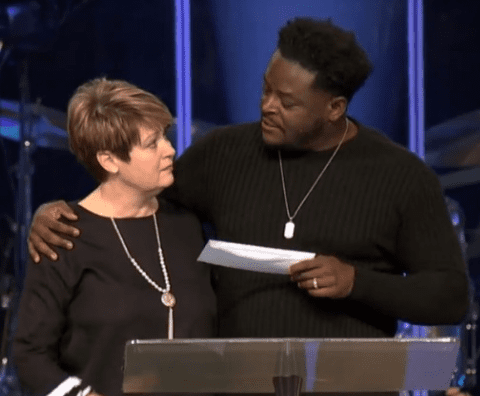 Great news about Transformation Church, Derwin Gray's church, a Northern Seminary graduate:
South Carolina megachurch Pastor Derwin Gray announced Sunday that his multicultural congregation donated $50,000 to a local pro-life pregnancy center.

Gray, the 47-year-old founder and leader of Transformation Church in Indian Land, South Carolina, and a former NFL player, recalled how his own mother was encouraged to get an abortion when she was pregnant with him at 16.

He took time during service Sunday to announce the large donation the church made to the Women's Enrichment Center in Lancaster.

"[Women's Enrichment Center has] the privilege of serving thousands of young women and their families facing unplanned pregnancies," Gray told the 3,500-member congregation.

"For those of you who don't know, my mom was pregnant with me at 16 years old in 1971 at Thomas Jefferson High School. She was bussed to a school then in the suburbs. And the school nurse said, 'You should go to California to abort your child.'"

Gray said he and his mother have had a "complicated relationship" through the years. However, the one thing they can both agree on, he said, is that giving birth to him was the "right decision to make."
(Reuters) – Azam Jangravi's heart was pounding when she climbed atop an electricity transformer box on Tehran's busy Revolution Street a year ago. She raised her headscarf in the air and waved it above her head.

A crowd formed. People shouted at her to come down. She knew all along she was going to be arrested. But she did it anyway, she says, to change the country for her eight-year-old daughter.

"I was telling myself: 'Viana should not grow up in the same conditions in this country that you grew up in'," Jangavi recalled this week in an interview in an apartment in an undisclosed location outside Iran, where she now awaits news on an application for asylum.

"I kept telling myself: 'You can do this, you can do this'," she said. "I was feeling a very special kind of power. It was as if I was not the secondary gender anymore."

After her protest she was arrested, fired from her job at a research institute and sentenced to three years in prison for promoting indecency and wilfully breaking Islamic law.

The court threatened to take her daughter away, but she managed to escape Iran – with Viana – before her jail term began: "I found a human smuggler with a lot of difficulty. It all happened very quickly, I left my life, my house, my car behind," she said.

As she spoke, Viana sketched pictures. They showed her mother waving the white hijab in the air.

Since Iran's Islamic Revolution 40 years ago this week, women have been ordered to cover their hair for the sake of modesty. Violators are publicly admonished, fined or arrested.
KANSAS CITY, Mo. — Three boys at an Olathe middle school did something very special for every girl at their school. They made sure every one of them had a flower for Valentine's Day.

"I thought it was a great opportunity to give back because being able to make every girl in school at Summit Trail happy on Valentine's Day means a whole lot to everybody," said seventh grader Kyan Rice. "

Rice, teamed with eighth grader Tristan Valentine and sixth grader Lincoln Holmes.

"When I was handing out the flowers, it felt really good to give them a flower and then see the reactions on their face," said Valentine.

In a Facebook message to 41 Action News, one mother said, "In a time where kids are mean and don't take time to show a caring heart or hand, these three boys arranged to have a flower for every young lady in the school. What a sweet gesture to make sure every girl felt important."

The principal of Summit Trail Middle School says she could immediately see the impact of the boys' actions.

"I had a young lady come up to me and said, 'I didn't used to like to go to school on Valentine's Day. I loved it today.' And so that was special and it was all because of these three young men," said Sarah Guerrero.
By CAL NEWPORT

Donald Knuth is one of the world's most famous living computer scientists. He's known for his pioneering efforts to bring rigorous mathematical analysis to the design of computer algorithms. An emeritus professor at Stanford University, he's currently writing the fourth volume of his classic book series, The Art of Computer Programming, which he's been working on since the early 1960s.

Given Knuth's renown, many people seek him out. If you're one of those people, however, you'll end up disappointed. On arriving at Knuth's homemade Stanford homepage

, you'll notice that no email address is provided. If you dig deeper, you'll eventually find a page named email.html which opens with the following statement:

"I have been a happy man ever since January 1, 1990, when I no longer had an email address. I'd used email since about 1975, and it seems to me that 15 years of email is plenty for one lifetime."

Knuth does provide his mailing address at Stanford, and he asks that people send an old-fashioned letter if they need to contact him. His administrative assistant gathers these letters and presents them to Knuth in batches, getting urgent correspondence to him quickly, and putting everything else into a "buffer" that he reviews, on average, "one day every three months."

Knuth's approach to email prioritizes the long-term value of uninterrupted concentration over the short-term convenience of accessibility. Objectively speaking, this tradeoff makes sense, but it's so foreign to most tenured and tenure-track professors that it can seem ludicrous — more parody than pragmatism. This is because in the modern academic environment professors act more like middle managers than monastics. A major factor driving this reality is the digital communication Knuth so carefully avoids. Faculty life now means contending with an unending stream of electronic missives, many of which come with an expectation of rapid reply.
(CNN)It has been 22 days since someone won the $1.5 billion Mega Million jackpot, and lottery officials are still wondering who the winner is.

The winning numbers — 5, 28, 62, 65 and 70, with a Mega Ball of 5 — 

were announced 

October 23, but the winner remains a mystery.

The winning ticket was sold 

at a KC Mart convenience store 

in Simpsonville, South Carolina. It was the largest US jackpot won by a single ticket and the nation's second-largest jackpot ever.

"They still have over 100 days to come forward," Holli Armstrong, a South Carolina Education Lottery spokeswoman, told CNN on Wednesday.

That's because the winner has 

180 days from the draw date

 to claim the prize, she said. In doing so, the new billionaire could remain anonymous.
Yes,
Wade Burleson is right
:
In 2014,  I wrote a lengthy article about the extreme authoritarianism of James MacDonald, an unchecked power that is based on MacDonald's unbiblical theology that he has been invested by God with "spiritual authority" over people.

Toward the end of the article, I posted a PDF paper on what the Scripture teaches about Christian authority. Anyone who assumes "spiritual authority" over people, the kind of authority that James MacDonald believes in, is actually assuming a Fraudulent Authority acting completely contrary to the teachings of Jesus Christ and the New Testament.

I have long pointed out that the problem in the Southern Baptist Convention is a prevalent view that pastors possess some kind of mystical "spiritual authority" over people.

I wrote in 2014 that MacDonald's belief in his "spiritual authority" over others led to serious damage in ministry and relationships in his church, the Harvest Bible Church.

One year after I wrote that article,  James MacDonald petitioned Harvest Bible Church for membership into the Southern Baptist Convention (Read about it here).

Since 2012, James MacDonald has been invited by leaders of the Southern Baptist Convention to speak at least 4 times at the Southern Baptist Convention's Pastor's Conference.

Ugh.
Rod Dreher's next book? On "cultural socialism," which means "social justice."
Yep. I've had lots of pushback from left-liberal readers on my definition of "socialism" in recent posts — this, because the next book I'm proposing to write will focus on the lessons we in America today ought to learn about socialism, according to people who lived under it in Eastern Europe. There has been collective (naturally) wailing that I am wrongly conflating economic policies with cultural policies.

As I've said, I agree that it is possible, in theory, to have more economically "socialist" policies (e.g., a stronger welfare state) without accepting the woke agenda. But in reality, this is not on the table with the Democratic Party. They are all on board with what they call "social justice," which is really just cultural socialism: the idea that any inequities in the distribution of position within society is the result of iniquitous discrimination, and must be remedied by reducing individuals to demographic characteristics, and allowing authorities (the State, universities, corporations, etc.) choose winners and losers based not on individual accomplishments, but on one's membership in a demographic group favored by the planners.

"Social justice" is not justice at all. It's the cultural politics of redistribution and leveling. We ought to start calling it what it is: cultural socialism. 
The "gynoandromorph" Cardinal:
JEFFREY AND SHIRLEY Caldwell have been attracting birds for 25 years with carefully tended backyard feeders. But the lifelong Erie, Pennsylvania, residents have never seen a creature so wondrous as the half-vermillion, half-taupe cardinal—its colors split right down the middle—that first showed up a few weeks ago in the dawn redwood tree 10 yards from their home.

In fact, they weren't sure they saw it correctly until it came in closer. "Never did we ever think we would see something like this in all the years we've been feeding," Shirley Caldwell says.

The anomaly is known as a bilateral gynandromorph. In plain language: Half its body is male and the other half is female. "This remarkable bird is a genuine male/female chimera," says Daniel Hooper, a postdoctoral fellow at the Cornell Lab of Ornithology, in an email.

Gynandromorphs, known as "half-siders" among ornithologists, are uncommon but not unheard of. They likely occur across all species of birds, Hooper says, but we're only likely to notice them in species where the adult males and females look distinct from each other, a trait known as sexual dimorphism. "Cardinals are one of the most well-known sexually dimorphic birds in North America—their bright red plumage in males is iconic—so people easily notice when they look different," Hooper says.
IN DECEMBER 2015, the movie "Concussion" was set for a Christmas Day release in nearly 3,000 theaters across America. The film told the story of the NFL's attempts to discredit research tying brain damage to football, and Bob Costas wanted to address it on national television.

Over the previous decade, Costas had become the face of football on NBC, hosting one of TV's most-watched programs, "Sunday Night Football." As part of every broadcast, Costas would take two minutes at halftime to speak directly to the program's 18 million viewers about the NFL issues of the day. Mostly, his commentaries were celebrations of the sport — Brady vs. Manning, a tribute to Lambeau Field — but, occasionally, he addressed subjects like gun control or the controversial name of the Washington, D.C., football team.

With his 28 Emmys and eight National Sportscaster of the Year awards, Costas had become the most-respected broadcaster of his generation — a kind of Walter Cronkite for sports. He believed it was his responsibility to address uncomfortable truths, or "elephants in the room," as he often called them.

The release of "Concussion" seemed a natural topic given the nationwide awakening about head trauma in contact sports, especially the NFL. Costas believed it was important to have viewers confront football's existential crisis and consider their own moral dilemma as fans complicit to the sport's carnage.

Yet he recognized such a speech posed a challenge for his bosses and NBC. The network was paying the NFL billions to air games on Sunday nights. Even more, Costas knew NBC executives were hoping to expand the network's NFL package to Thursdays.

Costas sent the essay to his bosses for approval, something he typically did not do — and waited.

What would ensue that week — and in the years that followed — reveals for the first time how a broadcasting icon went from fronting America's most popular sport to being excised from last year's Super Bowl and, ultimately, ending his nearly 40-year career with NBC.