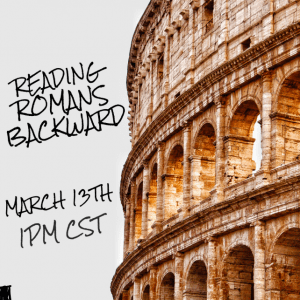 WEBINAR: READING ROMANS BACKWARD
WEDNESDAY, MARCH 13, 2019
1PM CST
2PM EST | 11AM PST
There is no more significant text than Romans when it comes to Christian theology. It's a shame we often neglect the community and the people behind this very important letter.
Join Dr. Scot McKnight as he unpacks how Paul's letter to the Romans was more than something to be argued about. Romans is a persuasive letter to a group of people that took the message and changed the course of history.
In this webinar we will:
Explore details about the community who received Paul's letter.
Learn about how Paul lays the theological foundation for true transformation to take place in the churches in Rome.
Gain a vision for how reading Romans backward can have a profound impact on your ministry.
Have an opportunity to ask Scot about your most pressing questions concerning Romans.
P.S. –
PLEASE consider sharing
this webinar for an opportunity to win a copy of The Story of Romans by Katherine Grieb, Romans Commentary by Sarah Lancaster, and Preaching Romans edited by Scot McKnight and Joseph Modica.
All you have to do is share something like the message below on
FACEBOOK
or
Twitter
. Make sure you use #romansbackward and the link to registration to be qualified. We're going to do this drawing at the beginning of the webinar, and you have to be present to receive your prize so don't be late! Now go ahead and share this message:
"Come learn with me at this webinar https://bit.ly/2UhZjDm from @scotmcknight about the community behind the greatest theological letter ever written. #romansbackward"