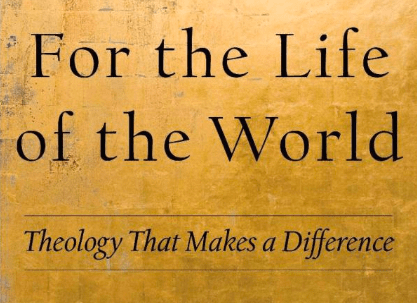 This is the question Miroslav Volf and Matthew Croasmun must ask (and answer) if their theological vision is viable. To get this point clear I want to begin where our last post (before our trip to Greece) ended:
Miroslav Volf and Matthew Croasmun, in For the Life of the World, contend for the following major ideas when it comes to what theology is or what it ought to be doing today:
The heart of our proposal concerns the purpose of theology. It is to discern, articulate, and commend visions of and paths to flourishing life in light of the self-revelation of God in the life, death, resurrection, exaltation, and coming in glory of Jesus Christ, with this entire story, its lows and its highs, bearing witness to a truly flourishing life.
They recognize that how one articulates the flourishing life is diverse in church history and in the Bible itself. They are not seeking the one language that says it all. But here is a bold and powerful claim:
The subject matter of theology will depend on the basic character of flourishing life.
Until we comprehend what God's design is we can't know God or God's redemptive work in Christ as we ought. Therefore, articulating the flourishing life shapes theology itself. Which means theology is not first about God or first about redemption! It's about what God wants to do through that redemption.
Which means this: the Christian vision of a flourishing life is one true life and it is true for all humans. Thus, it is universal.
While chp 3 is for me one of the most stunning set of ideas I've read in some time, and one I have come to more and more through my work on Paul's own theology though it is just as clear (if not clearer) in the teachings of Jesus, this chp 4 on the challenge of universalism may prove also to be an important chapter for many readers. So, again, buy it for this chp alone.
The main ideas:
Every vision of the flourishing life becomes universal at some point. The oneness of God frames a foundation for a universal claim to a flourishing life: one God and one truth and one vision.  Yet, that claim is both inclusive (for all) and exclusive (only for those embracing it).
The flourishing life cannot be reduced to preferences.
All positive accounts of the flourishing life are universal but the negative, cynical, and even deconstructive accounts end up having a positive claim to universal flourishing ideas. A positive vision of the flourishing life is inevitable.
They propose "contending particular universalisms" defines what is at work today: Christians have the framework to engage in contentions without violence and coercion; their faith is particular (Jesus was Jewish, Galilean, 1st Century etc) and yet it claims a universal vision.
They propose, too, six pillars of a pluralistic social vision:
1. Trinitarian monotheism.
2. God of unconditional love.
3. Jesus Christ, light of the world.
4. Distinction between God's rule and human rule.
5. Moral equality of all humans.
6. Freedom of religion and areligion.
Finally, they see the Spirit unleashed to improvise the pillars into particular people at particular times in particular ways. (I call these "wiki-stories.") Christianity is inherently capable of diversity and thus leads to tolerance of that diversity. The norm of that improvising Spirit is the life of Christ.