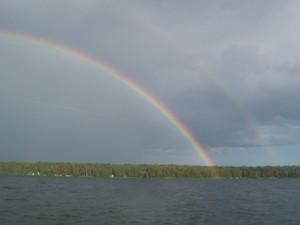 Good morning! This rainbow, not just seen around this area of late, but speaks a promise that the rains will end.
(CNN)The stress of senior year can be overwhelming. Combine that with challenges at home, and it can derail any high school student's academic career.

Memphis high school senior Tupac Mosley maintained a 4.3 GPA, scored a 31 on his ACT, and was named valedictorian — all while dealing with the death of his father and the lack of a permanent home.

His accomplishments earned him dozens of college scholarships worth more than $3 million.

"It's honestly an honor and a blessing," he told CNN's New Day.

Mosley had set a personal goal of reaching $1 million in scholarships in an effort to "do the best for my school." When the offers started coming in, he said "I wanted to beat a million."

"I actually did not know that I received $3 million until graduation," he said.

Hardships were never an excuse for Mosley, according to Raleigh Egypt High School principal Shari Meeks, who told CNN that the soon-to-be college freshman always has a smile on his face.

Mosley isn't the only member of his family to reach academic highs. His older brother was also valedictorian.

Mosley, who at one point was living in a tent, credits his family, friends and all the people at his school for his success.

"They have all been a great support to me," he said.

In September, Mosley will be attending Tennessee State University where he plans to major in electrical engineering.
Fleming Rutledge displays the uncommon grace called wisdom:
The Roman Catholic Church is profoundly wounded, these days, but they do have teaching—the magisterium—and there is something to be said about that. Living in dialectical tension means showing respect for that, however hypocritical it may seem. I have been influenced, over the years, by the thinking of the Roman Catholic Church on sexual and reproductive matters. This teaching is widely derided by the culture, but I have always been impressed with the way that their best thinkers have worked out comprehensive ethical positions at length. I still remember years ago reading a Catholic defense of the "rhythm method" of birth control that impressed me, even though I never tried to live by it. Ruminating about this sort of double-mindedness has not led me to any fixed position. By writing this down, however, I hope I might make a contribution toward a more forthright way of being Christian in the midst of the impending conflict.

9)      Because there will always be abortions, it will always be the poor, underprivileged women who will suffer. This has often been a decisive factor in the thinking of those who are against abortion but reluctant to make it illegal.

10)  Abortions undergone because of inconvenience are particularly hard to defend ethically.

11)  The role of men who have fathered children who will be aborted is deeply problematic. Suppose a man fathers a child and pressures, or forces, the woman into having an abortion (a frequent scenario). Suppose a man who fathers a child is deeply distressed that the child is to be aborted and seeks to prevent it (less frequent, in my experience, but significant nevertheless). Suppose a man offers to adopt such a child and is refused by the woman who goes ahead with the abortion (also infrequent but significant).

12)  For these and other reasons, it is wrong and deeply unChristian to speak simply of "a woman's right to choose." There are two other human beings in this equation, the father and the unborn (not to mention God). Situations in life differ drastically; ethical decisions should not be made with reference to the woman alone.
Very good piece by John Hawthorne, suggesting that Thomas Kuhn's paradigm revolution model can be fruitful to explain the challenge of people like Rachel Held Evans to "normal" evangelicalism:
This presumed homogeneity of Normal Evangelicalism has been challenged with the availability of the Internet. Suddenly other voices were focused on those questions and perspectives that the dominant paradigm thinks shouldn't be raised. These new voices, disproportionally women's voices, didn't arise from the establishment — as Tish Warren observed in 2017:

This social media revolution has had a unique and immense impact on women, in particular. Women's voices—which historically have been marginalized in the church—are suddenly amplified in this new medium.

In light of Kuhn's model, it is instructive that Warren refers to these changes as "a crisis". She's correct, especially from the perspective of Normal Evangelicalism.

Rachel Held Evans, Jen Hatmaker, and numerous others occupied the space that Warren was describing. They benefitted from the dramatic way in which social media democratizes and deinstitutionalizes communication. They were able to build significant followings precisely because they were willing to wrestle with the anomalies in Normal Evangelicalism. …

Voices challenging the Establishment paradigm can be seen in a host of other places as well: the #ChurchToo response to abuse in places like Willow Creek and some SBC congregations, the alignment of evangelicalism with pro-Trump triumphalism, critiques of the purity culture movement, and the recent actions of the United Methodist Church on LGBT issues.

It remains to be seen what is on the other side of the Crisis period.. My best guess, following Kuhn, is that new voices which are addressing tough questions and realistically struggling with them through the lens of vital Christian faith will prevail. David Kinnaman's You Lost Me suggests that the younger generation is eager to engage that struggle.

Building a New Paradigm is hard. The lack of power centers relative to Establishment Evangelicalism makes that more difficult. Yet seeing that develop is the most likely outcome over the long run. I can't conclude this piece better than Kristin DuMez concluded hers from this morning, so I'll simply quote her.

It remains to be seen what sort of power Beth Moore and the network of evangelical women she has forged will exert in the face of conservative evangelical networks. It also remains to be seen what will be come of the coalition of progressive Christian women Rachel Held Evans helped forge without Evans herself at its hub. In many ways, however, the future of American evangelicalism will unfold in terms of the relative power struggles within and among such networks and coalitions.
Donating meals, donating 30,000 meals!
LAS CRUCES – The arrival of about 25 motorcycles Friday afternoon announced the donation of 30,000 non-perishable meals for migrants being processed at the former U.S. Army Reserve Center on Brown Road.

Las Cruces Fire Department Battalion Chief Michael Daniels, the emergency operations commander on scene, said the donation was a welcome surprise.

The bikers arrived ready to unload five or six pallets' worth of meals from Pack Away Hunger, an Indiana-based nonprofit that distributes meals in pouches that can be prepared with hot water. The organization delivers to countries worldwide.

They arrived without announcement, and with the help of migrants, who immediately lined up to assist, the meals were unloaded in minutes.

Their first stop had been the nearby transitional living community, Camp Hope, where they delivered 5,000 meals.

City spokesman Udell Vigil told the Sun-News the motorcycle clubs at the scene included the Bandidos, Soldados, Squad, Riga, and Guardians of Children.

Victoria Fisk, a former educator who lives in Las Cruces, told the Sun-News the donation came about after she contacted a friend who worked with Pack Away Hunger.

As it happened, a large shipment was being organized for sites in Guatemala and Honduras, she said, and the organization arranged to send some meals to Las Cruces.

"This went so fast," Fisk said. "We literally put it together a week ago."

Daniels said that Border Patrol continued to release the migrants, who are legally present in the United States while applying for political asylum, at the facility Friday, with 216 on the premises at lunchtime. Daily drop-offs of asylum seekers have been ongoing in Las Cruces since April 12.
34, that's the number!
Thirty-four African American women are expected to graduate from West Point next weekend — the highest number of black women to graduate in the same class in the history of the military academy.

A photo of the historic class of 2019 circulated on social media this week as students finish up their final exams.

"My hope when young Black girls see these photos is that they understand that regardless of what life presents you, you have the ability and fortitude to be a force to be reckoned with," cadet Tiffany Welch-Baker told the website Because of Them We Can.

West Point was founded in 1802 and, according to the National Park Service, graduated its first African American cadet in 1877. The first class that included women graduated more than a century later, in 1980. Last year, Lt. Gen. Darryl A. Williams was appointed as West Point's first African American superintendent, CNN reported.

This year's class will also include the highest number of Hispanic graduates and the institution's 5,000th female graduate, according to ABC affiliate WABC.

Simone Askew made history in 2017 as the first African American woman to lead the walk-on of the Cadet Corps before that year's Army-Navy game. Askew's mother told ABC at the time that watching the Army-Navy game as a child inspired her to attend a military academy.

In 2016, a group of 16 African American women about to graduate from West Point stirred controversy when a photo of them with raised fists surfaced. The military academy opened an investigation into whether or not the students violated the army's rules on political expression, and later decided to take no punitive action against them.

Vice President Mike Pence will speak at this year's graduation ceremony, his second visit to the institution.
Right now, libraries in many parts of the U.S. are facing cuts to funding. The most visible case of this is the New York Public Library, which while not technically facing a cut is only receiving an increase from $387.7 million to $388.8 million, which given inflation and increased demand for services, amounts to a cut. High profile figures, including Sarah Jessica Parker have joined the fight to increase library funding in the different boroughs of New York City.

I think libraries are one of the best deals out there today for those who pay taxes. I only occasionally borrow books at the library, but even my occasional borrowing, if I consider the retail price of the book, more than offsets the portion of my taxes.

My basic argument for libraries is that they are one of the most powerful weapons we have for sustaining our democracy, particularly given the growing income disparities in our country.

They provide online access, computer terminals, and printing facilities for those who cannot afford these.
They offer books for children who cannot afford them, fostering literacy at the most critical time of life.
They provide resources for job searches, and often basic courses in job-seeking, and computer literacy that is fundamental for many workers.
Many offer homework assistance for students and language assistance for immigrants wanting to learn English.
Libraries make available expensive manuals and reference materials for those who by necessity are do-it-yourselfers.
Many offer help with college admissions tests, helping to offset the advantages that more affluent students have with test prep courses and other assistance, legal or illegal, in getting admitted to colleges.

In addition, libraries offer so much at no cost to patrons simply for personal growth and entertainment–books, recorded music, videos in both physical and e-formats. They offer a range of programs serving every age group from children to seniors for personal enrichment. The demand for all these services continues to rise, often meaning personnel in the libraries are trying to stretch funding to acquire materials, and often the same people are working harder and longer–many of whom hold at least masters degrees in library science.
I've been a member of the publishing workforce for well over a decade, and I've had a wide variety of bosses. Those who would look at me sideways if I left the office at 6:00 p.m. to work out, and those who expected me to respond to every email within minutes, even those sent in the middle of the night. I've also been fortunate to work at some very healthy media companies who prioritize employee wellness and whose executives set a strong model for what healthy work-life balance might look like – which is the exactly the type of boss that Ian Sohn, president of Wunderman Chicago seems like.

In a note to his employees on LinkedIn, the single dad makes a number of very powerful statements to his staff. "I never need to know you'll be back online after dinner. I never need to know why you chose to watch season 1 of 'Arrested Development' (for the 4th time) on your flight to LA instead of answering emails. I never need to know you'll be in late because of a dentist appointment. Or that you're leaving early for your kid's soccer game. I never need to know why you can't travel on a Sunday." He emphasized that he has faith in his staff to make good decisions and doesn't feel the need to keep tabs on them.