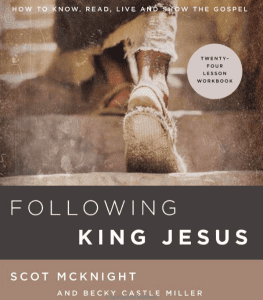 Our MANT program tries to make writing a feature of education because, let's face it, writing is a desire for many who want to work for the church and, at times, it can be more assumed than focused.
Several of our students have published during their time at Northern, and I want to highlight one here who took my books and turned them into a curriculum — but there's lots and lots of Becky in this book.
A friend of mine who drafts curricula for his ministry told me the other day that this one is exceptional.
Becky Castle Miller, an expert on Bible study curricula for local churches and passionate about helping Christians to become more deeply devoted disciples, was offered by Zondervan to draft a Bible study curriculum that ties together my four-book collection from Zondervan: Blue Parakeet, King Jesus Gospel, One.Life, and A Fellowship of Differents.
Becky's new book is called Following King Jesus: How to Know, Read, Live and Show the Gospel.
The cover is as arresting as the vision of Jesus to call us to live out gospel in our world today.
Each topic (what is gospeling today? what is the Bible? what is the justice life? what is grace?) has both a Personal Study and a Group Discussion, so it can be done alone but is best done with others.
Each one has a section on the Reading from one of the book (pulling out major quotations) with some space for reflections; then Becky developed some Bible study questions; prayer; action; and reflection. Then the group discussion has reading, Bible study, prayer, action, reflection, group prayer and a wonderful section on Rest.
I couldn't have written this so I'm glad Becky's expertise found its way into this project.
A number of pastors have told me their church will be using this study this summer or Fall.