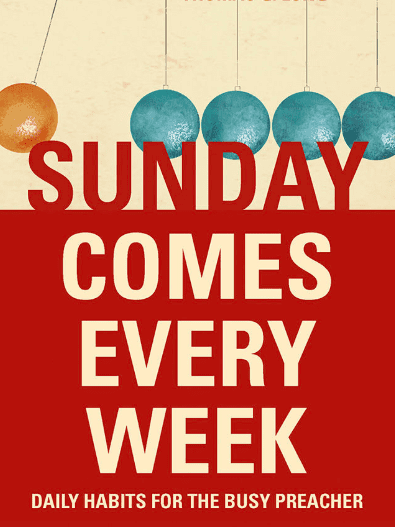 Yes, pastor-preacher, this one's for you and you know what that title means. The subtitle of Frank G. Honeycutt's is "Daily Habits for the Busy Preacher." The book is called Sunday Comes Every Week.
It's a beauty. Filled with pastoral wisdom for the busy pastor-preacher.
Each day of the week contributes to the pastoral life and the pastoral sermon in a different way, not legalistically but topically:
Monday: listening
Tuesday: hearing
Wednesday: exegeting
Thursday: naming
Friday: a pastor looks back
Saturday: rehearsing
Sunday: offering
Here are some snippets from Monday, and he assumes most of the time that preaching will be done from the lectionary readings:
Even if Monday is your day off after an exhausting yesterday, spend half an hour with the coming Sundays assigned lectionary texts.

It is 
my experience that the Holy Spirit rarely speaks instantly and when summoned. Good preaching relies on two words that find their origin in most kitchens: percolation and marination (heating and soaking). Fire and liquid are, incidentally, components of the Holy Spirits functional sacramental DNA.

Some practical advice: keep a writing pad and a pen close by, wherever you go, including both on a bedside table for "aha moments" that preaching process is often like gathering stray bits of bread along a path. " You'll rarely find all the bread at once.

Early text selection, an important Monday task, will not increase the Spirits consistent penchant for holy communication. It will, however, increase a preacher s likelihood to faithfully record the communication.

Topical sermons are rarely a good idea. As important as any of the issues named above happen to be, the topical sermon focused upon a "problem" or an "issue" usually deteriorates into a gripe session centering more upon the topic itself than God. The same danger is present in most sermon series" meant to highlight a fetching or pressing subject near and dear to the human heart. (Deliver me from the sermon series devoted to "the love of grandparents")

A pastor s preaching text is always selected within a context that is wondrously cyclical and biblically imagined. There is really no need to scamper around the pages of the Bible in search of just the right text that might address some specific, pressing, nagging issue that occasionally awakens you in the night. We already have a story of salvation and truth—wonderfully arranged through centuries of calendar use—that addresses any situation that "the father of lies" (John 8:44) might deceptively cast our way.

Monday-morning text selection is greatly assisted by considering two questions: "What time is it?" And "Where are you?" These may be the two primary questions engendered by the gift of the church year as a preacher begins the week.