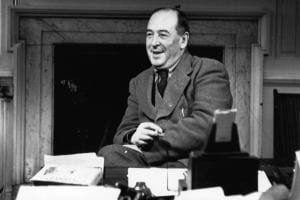 Hello from England, where we are taking a brief vacation. A little fun to fly to England on the Fourth of July! We will be visiting CS Lewis' home, The Kilns outside Oxford, early next week.
This is grace, but its Anne Marie Miller's painful grace.
Mark, here we are, face to face, 22 years after seeing each other for the last time. My heart is no longer broken. It has been rebuilt by love and faith and those who have helped carry it and patch it over the years.  I never thought I'd see you again, ever, but now I can and I want to look you in the eyes and tell you I forgive you.

I forgive you, Mark. For all of the pain, the time I had to spend away from loved ones, the fear of intimacy, and the financial losses. I forgive you for stealing the good I believed about the world and for damaging the image of a perfect and loving God who I still often doubt cares for me or protects me.

I forgive you. And my heart aches for the person-the man-you could be if you would just tell the truth and accept the responsibility that comes with it.

I used to believe that in order for this ordeal to be over, you needed to tell the truth and ask me to forgive you. I know now that's not the case. This is over because I have spoken the truth. It's over because I have forgiven you. Your lies have no more power.

This is over, Mark. This is the end.

I do pray, however, that it is a new beginning for you.

I pray you begin to feel the pulse of conviction pursuing your heart.

I pray you begin to immerse yourself in the repentance and forgiveness you have spent your life proclaiming but never fully experiencing.

I pray that you begin to choose to live honorably and honestly for yourself and for your family.

And I pray you will know the holy and saving power of God's perfect and unconditional love. God loves you so much, Mark. Please ask for the strength and the help you need to be made whole. He does not forsake those he loves. He hasn't forsaken me. He won't forsake you either.
Good angle on gospel and empire at Seedbed by JD Walt
The Philistines were not Philistine! They were Europeans!
JERUSALEM (Reuters) – The ancient Philistines, the Biblical villains whose origins have puzzled scholars for decades, came to the Middle East from southern Europe more than 3,000 years ago, new DNA testing has shown.

The genetic findings came from skeletons unearthed by archaeologists in Israel in 2016, including the bones of infants buried beneath Philistine houses, archaeologists said in a paper published on Wednesday.

The much-maligned group is regularly depicted as the enemy of the Israelites in Biblical texts. The giant Goliath was a Philistine. So was Delilah who entrapped legendary warrior Samson.

Thanks to their bad press, their name has also become synonymous with crassness, ignorance and hostility to culture.

But for all their prominence, where they came from before settling the coast of what is now southern Israel and Gaza remained a mystery….

"This ancestral component is derived from Europe, or to be more specific, from southern Europe, so the ancestors of the Philistines must have traveled across the Mediterranean and arrived in Ashkelon sometime between the end of the Bronze age and the beginning of the Iron age," Feldman said.

"There would be a lot more that we can say if we had more data, for example we could maybe more precisely pinpoint the source of this migration," she said.

Earlier work by the Ashkelon team has suggested the Philistines were actually no "philistines". Excavations of a 3,000-year-old cemetery in 2016 found bodies buried with jewelry and perfumed oil. (reut.rs/2LBBkxd)
KANSAS CITY, MO (KCTV) — It's almost July and potholes are still hanging around.

KCTV5 started reporting about treacherous road conditions back in January. Now, the weather has changed drastically, but we're still reporting on potholes.

Nathan Vickers spoke to one man in Waldo who thought of an unusual way to draw attention to the problems on his street.

After three months of looking at a pothole, Frank Sereno had enough.

"The asphalt is completely degraded," he said. "It's just a symptom of our deteriorating road conditions."

He said he has called about the pothole several times. Enough times that he decided it was time to try something new: a birthday party.

"I'm going to have a celebration for Pothole," Sereno said. "I got some cake, lit a candle and had a little birthday party for Pothole. He seemed thrilled with the idea."

He posted it on Facebook, much to the amusement of his neighbors.

"I didn't sing to him," he noted. "It was too hot out."
Speaking of potholes, this serial toilet clogger got 150 days:
A Wisconsin man dubbed "the serial toilet clogger" was sentenced to a 150-day jail term and three years of probation on Monday after being convicted of five counts of criminal damage to property for repeatedly plugging plastic bottles down toilets in the women's restroom at his workplace, causing them to overflow.

Patrick D. Beeman, 26, of Sheboygan, originally faced 12 counts of criminal damage to property, but seven of the charges were dismissed in early June, the Sheboygan Press reported.

"I need to make things right and pray for forgiveness every day," Beeman said in court Monday. The man allegedly told police "he could not explain this behavior, but simply that he would get very strong urges to do this," court documents stated, according to Milwaukee's Fox 6.

Police began investigating Beeman after they found a toilet in a women's bathroom at Deland Community Center clogged by a plastic bottle in March 2018, court documents said. Officers reviewed ten similar instances at the center since April 2017.  Each clogged toilet cost the city about $200 to repair, according to the criminal complaint.
Tamara Gane and the food pantry:
According to the most recent report from the U.S. Department of Agriculture, 11.8 percent of Americans are food insecure. I've experienced this first hand. I was a food bank customer myself — a single working mother whose paychecks barely covered rent, daycare, utilities and gas, let alone food.

My local food pantry was in the basement of a church. There was a wide parking lot to the side, but I always parked my car around the corner, where'd I'd be less likely to be spotted. I was already ashamed to be seen chugging along in a car with a smoking tailpipe and paying for fuel with stacks of change at the gas station. I couldn't bear to have anyone know that I couldn't afford to feed my son.

The volunteers at the food bank were silver-haired and kind. On my first visit, I was fresh from my receptionist job, sharply dressed in a skirt suit handed down from my mother. I was worried I wouldn't look needy enough, so I'd tucked my pay stubs into my purse just in case. It wasn't necessary. I told the volunteers I needed help and they believed me. I didn't need to prove I was hungry. It was a time in my life when I rarely received respect from anyone, but I received it from them. Dignity was the first gift they gave me.

A woman asked for my family size. I told her it was just me and my son and she wrote the information on an index card and tucked it away into a plastic box full of other cards. I thought about how each one of those index cards represented a person who had to walk through that door and ask for help like I did. These were real people with lives, stories and families, shrunk so small they fit inside a box the size of a human hand. It was fitting. I felt small. Poverty had shrunk me. …

Says Habenicht, "I wish the public better understood that most folks who visit the food bank are working families who simply can't make ends meet with the rising cost of living … Not only do families have to choose between paying bills or buying food, they often have to decide who, in the family, gets to eat. These are impossible choices that no family should have to make."

Food banks and pantries rely on donations. Without them, it's likely people in your community will go hungry.

According to Feeding America, a national network of food banks, 1 in 7 Americans relies on a local food bank to eat. This number could well include someone you know.

Hungry people are everywhere: You can't necessarily tell who they are at a glance. They work with you and live in your neighborhood. They're members of your church and family. They might even be standing in front of you like I was, sharply dressed in their mother's hand-me-down suit, asking their community for a little help.
The first thing you learn when you rely on the food bank to feed your family is that you can't rely on the food bank to feed your family. Not entirely, anyway. The truth is, many families struggle with hunger despite regular visits to their local food pantry.
Great story about a Superkid pitcher named Jon Peters:
There he is on the cover of SPORTS ILLUSTRATED, 30 years ago last spring: May 8, 1989. He is on a pitcher's mound, rearing back with a baseball in his right hand, his left foot in the air, his pink face bathed in sunlight beneath the green cap of Brenham High. His tongue is squeezed between his lips. Above his head, a single word in yellow capital letters: SUPERKID. Never before had a high school baseball player been featured on the cover of SI. The story inside opens with a photo spread in which he stands solemnly on that same mound, turned toward centerfield with his hat held over his heart during the playing of the national anthem, his eyes cast downward. Behind him, the school band members in their white polos, and beyond them a sea of blurry faces in the grandstand behind home plate. The headline: AN AMERICAN CLASSIC.

There are certain kinds of irresistible sports stories. One involves a small town uncorrupted by the march of time and a player or team unspoiled by money or fame or drugs. It is a story that subliminally (or loudly) purports to travel across generations to an era when athletes were heroes and sports were an oasis of purity, a time that never existed but which we are forever seeking to rediscover. In the spring of 1989, Brenham, Texas, was that place and Jon Peters was that athlete. …

Now Peters is standing outside Fireman's Park, after three decades have passed. I ask him about that night. He turns and points at the parking lot. "We would get dressed in our uniforms at home, and then drive and park right over there," he says. "I had a Cutlass Supreme. Oldsmobile. That night I pulled in and there was a security guard at the gate, and I mean, it was just packed, way before the game. ABC, NBC, ESPN. I got out of the car and I just pulled my hat way down low." Peters stops talking, clearly troubled. He begins again and his voice catches in the back of his throat, a grown man in a golf shirt, khakis and loafers, reliving 30-year-old pain. "I was so scared," he ways. "I was hoping maybe nobody would recognize me."

Peters wipes his eyes and takes a deep breath. He nods toward the gate. "Once I got through there and got out on the field, I was in another place," he says. "That's the way it always was with me, back then. On the field, I was like, Let's just stay out here as long as we can." When the game was over, the celebration finished and the interviews done, Peters climbed into his Olds with his girlfriend, patched things up for the time being and went home….

By the spring of 2010, a few months after his divorce, Peters was going through two 1.75-liter plastic bottles of vodka every day, almost entirely alone. He would keep one bottle in his truck. "I was a maniac," says Peters. "Just killing it every day." One night Peters called his boss at the time, Wes Weatherred, and told him he couldn't stop drinking and wanted to die. Weatherred rushed to Peters's apartment. Shortly after that, Peters did a 28-day residential rehab stint. "Didn't stick," he says. In September he flew to Georgia for another one. That one has stuck for nearly nine years, and along that same journey he has embraced his faith in God for strength and guidance.

In 2014 he shared every bit of his story in a talk at East Texas Baptist University, where Driggers had been baseball coach. He expected a handful of students to attend; there were hundreds. Afterward, Peters recalls, a young man "came up to me and said, 'When I came into the room today, I wanted to die. I never felt like I fit in. I don't feel like I'm worthy. Now I don't want to die anymore.'" When Peters's book was published last year, it shocked many of his old friends, who had little notion of his struggles. "Jon wasn't the kind of guy to ask for help," says Fisher. "But man, everybody has demons. I hope he's got 'em whipped. He's a great guy and he's got our support."