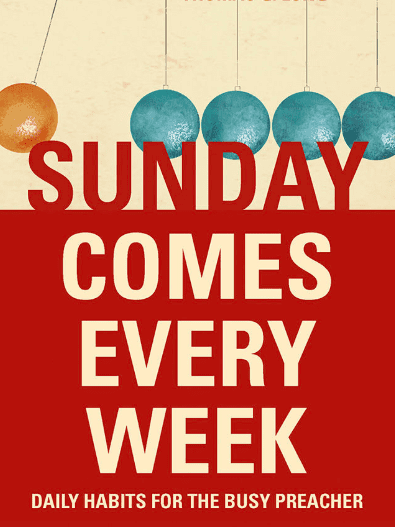 The Friday (of a pastoring, preaching week) chapter in Frank Honeycutt's Sunday Comes Every Week is about Writing.
Some people speak from a full manuscript, some from detailed notes, and some speak more extemporaneously. I agree with Frank Honeycutt:
Regardless of eventual predilection in sermon delivery style — complete manuscript, outline, or extemporaneity—it's important for new pastors to strongly consider writing sermons in full on a particular day of the week.
For 31 years he wrote his sermons on Friday morning, though of course he had his interruptions. A four-hour block without interruptions.
He gives four observations for writing the sermon:
Writing will help clearly frame the entry point of your sermons theme.
Writing will help restate the content of a Bible passage for a culture that is increasingly unfamiliar with scriptural scope.
Writing the sermon develops employment of a controlling metaphor which will increase thematic consistency and aid in ease of listening.
Writing the sermon will help the preacher gain access to a listeners imagination in ways that didactic discourse cannot.
First rough draft:
When a preacher uses certain images, they can distract a listener or lead to rather dark rabbit holes. Faithful commit ment to editing offers the grace of "second thoughts" applied to initially perceived cleverness concerning things like bodily functions and other unhelpful images of the pastor best left on the cutting-room floor. Even so, the first draft is a time to get everything out on paper without worrying about how your words might be perceived.

typically read the draft aloud three times (with changes made during each oral reading) before setting it aside for the morning. Oral editing will also help familiarize the preacher with the sermon to a point that reliance on the actual manuscript in the pulpit will be minimized.
I'm occasionally asked about my own method of preparation, so here goes for sermons I preach at our Church of the Redeemer. First, I get assigned a date, which means I immediately check the lectionary texts for the day and read each of the texts (they're all on that one lectionary page online). Second, I usually choose which text in that first reading will be the focused text for the sermon, but sometimes it takes a day or a week or two to land on the text. During that time I pray about those texts and I read stuff about them … during this time the sermon starts to take shape in my head. Always this happens. I often have weeks or even two months before my turn in the preaching rotation comes up. Third, I prefer to write my sermon on Monday morning, though sometimes it's a Tuesday. I'm a bit irritated if I have to wait to Wednesday. Anyway, I write the whole thing in one sitting. Fourth, once written I start editing and adding and subtracting and reshaping … and the sermon begins to occupy my mind. By Wednesday or Thursday or Friday it's set in my mind, the sermon is now edited, and I read it aloud (mumbling usually) two or three times, always on Saturday and always early Sunday AM.