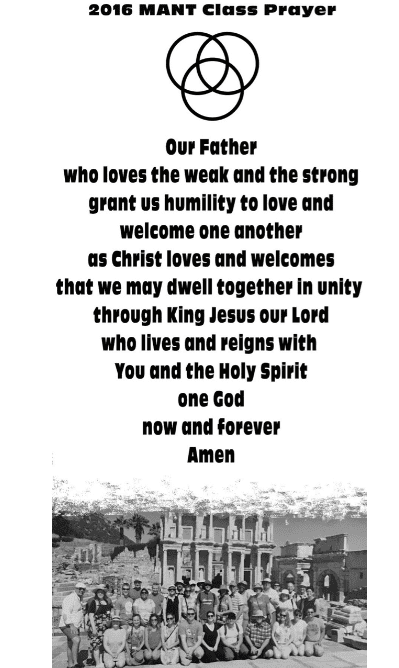 My first MANT cohort completed its final summer week long intensive with lots of sorrow ending the last day. What a wonderful class of students — gifted, devoted, and visionary. We wrote a "collect" together.
Excellent set of insights about Junia by my friend Claude Mariottini:
Junia was the name of a Christian in Rome, a person whose name is mentioned in the letter to the Romans in connection with Andronicus, as being Paul's relatives, who were in prison with him; they were prominent among the apostles and they were in Christ before he was (Romans 16:7).

However, the gender of the person named Junia is uncertain. Was Junia a man or a woman? If the name Junia is feminine, then she was probably the wife of Andronicus. However, even the various English versions of the Bible do not agree on how to translate the name….

The gender Junia has been debated for centuries. One reason for this debate is ideological, that is, some people believe that a woman could not be an apostle since all the apostles were men. However, the fact that Junia was the name of a woman was a view shared by many of the early Christian writers.

In his thirty-first homily on Romans, Chrysostom declared that Junia was a woman and an apostle. When describing the work of Junia, Chrysostom wrote,

"Who are of note among the Apostles." And indeed to be apostles at all is a great thing. But to be even amongst these of note, just consider what a great encomium this is! But they were of note owing to their works, to their achievements. Oh! how great is the devotion of this woman, that she should be even counted worthy of the appellation of apostle!

Junia was called an apostle because she was active in proclaiming the message of Christ. The reason Andronicus and Junia were in prison with Paul (Romans 16:7) was because, like Paul, Junia was openly preaching the Gospel of Jesus Christ in Rome. Thus, being a woman, did not prevent Junia from being an apostle and from preaching the Gospel.
In the United States, two hyphenated fast food joints have sat high upon the thrones of their regional kingdoms. In the West, In-N-Out reigned supreme. In the South, it was Chick-fil-A. Now, a survey has determined which cult favorite takes the crown nationwide. Chick-fil-A has been officially named America's favorite fast-food restaurant.

A recent report by Market Force, published by Food & Wine, polled 7,600 consumers about their satisfaction level with various chains, and Chick-fil-A ranked the highest, with a 79% "loyalty rating." In last year's Market Force report, In-N-Out was America's favorite for the second consecutive time.

Second place on the best chicken list was Raising Cane's, a smaller chain located primarily in the South.
Are the baseballs juiced? [Yes]
To this end, MLB commissioner Rob Manfred has typically done his best Frank Drebin impression. He was "absolutely confident" the ball wasn't juiced amid a barrage of homers in the 2017 playoffs. Likewise, he expressed confidence in February that the proliferation of power comes down to "non-ball factors."

According to Nightengale, however, Manfred did waver a bit by acknowledging a 2018 report that modern baseballs have less "drag" (i.e., resistance) on them while in the air: "When the drag goes down, the ball goes further, and you're going to have more home runs."

Which brings us to Rob Arthur, who was first on the case of balls having less drag for FiveThirtyEight back in 2017. Writing for Baseball Prospectus, he's already done a new study that found nothing has changed in 2019.

The short version is that something is up with the baseball. And anyone who wants to witness the phenomenon firsthand can just as easily go the nearest Triple-A stadium for proof.

In what sure seems like an overdue change, Triple-A clubs are finally using the same type of ball used in The Show. Well, go figure that homers in the Pacific Coast League have jumped from 0.94 per game in 2018 to 1.38 per game so far in 2019. In the International League, the leap is from 0.80 to 1.18.

This complicates things for scouts and prospect hounds. As J.J. Cooper of Baseball Americanoted, they must now contend with how "the difference between the offensive environment in Double-A and Triple-A is so significant that significant allowances will have to be made in evaluating players."

From a broader perspective, there's the more existential question of whether so many juiced-ball-aided homers are good for baseball as an institution.
University of Illinois at Urbana-Champaign stepped up scrutiny of some applications last year after discovering that Chicago-area parents were relinquishing custody of their children in their junior or senior year of high school, qualifying them for more financial aid than they otherwise would have received.

The practice came to light Monday when ProPublica Illinois and the Wall Street Journal described dozens of cases in which parents in suburban Lake County have turned over guardianship of their children to a family friend or distant relative.

It is not clear how widespread the practice is, but U. of I. had spotted 14 instances over the past year, according to undergraduate admissions Director Andy Borst. That prompted admissions officials to more carefully question those students' financial situation, requiring more information about, for instance, who pays for their health insurance and other expenses.

A student's eligibility for school, state and federal financial aid relies on the family's income and assets declared on a form called the Free Application for Federal Student Aid, or FAFSA. When an applicant indicates — and proves through court documents — that he or she is under a legal guardianship, the student becomes financially independent, according to Nyle Robinson, interim executive director of the Illinois Board of Higher Education.
Her secret to living to 107 yrs of age?
(CNN) – A woman who celebrated her 107th birthday on Wednesday shared her secret to living a long life: stay single.
Louise Signore, who lives in the Bronx in New York, maintains a healthy diet and exercises regularly. But she believes the real reason why she's enjoyed more than a century is because she never tied the knot.
"If they have exercise, I do the exercise. If they have dancing, I dance. I still do a little dancing. After my lunch, I will play bingo, so I had a full day," Signore told CNN affiliate WCBS.
"I think the secret of 107: I never got married. I think that's the secret. My sister says, 'I wish I never got married.'"
The woman's sister is 102-years-old, WCBS reported, so longevity might run in the family.
Signore celebrated her milestone with a birthday party at the JASA Bartow Community Center in Co-op City, according to WCBS. More than 100 people attended.
Alelia Murphy, 114, currently holds the record for being the oldest living woman in the United States. Murphy lives in Harlem in New York, which is also where Signore was born.
Sedona AZ's rental crisis grows deeper:
SEDONA, Ariz. (AP) — Sedona, the tourist destination in Arizona's red rock country, has plenty of homes, including many offered as short-term vacation rentals for visitors.

But the city until recently has discouraged the building of apartments, leaving affordable housing in short supply for municipal employees and workers at hotels and other businesses serving vacationers.

Local officials told the Arizona Republic the shortage has been aggravated by a 2016 state law that forced the city to drop its prohibition on short-term rentals.

The law prohibits municipalities from regulating those home rentals, and that means people can rent their homes to tourists and others via websites such as Airbnb or VRBO.

Sedona had a few hundred vacation rentals before the law took effect, but that number has grown to more than 1,000, or 20 percent of Sedona's total housing inventory, City Manager Justin Clifton said.

Meanwhile, apartments constitute only 4 percent of its housing. Last year, Sedona changed the rules that had made it difficult to build apartments.

"It's only been just recently that we figured out that one of the ways to address the affordability issue is to allow for higher density," Clifton said.

The housing issue makes it difficult for people to keep living in the tourist town.

Where residents used to pay $800 to $900 a month in rent, they're now paying $1,800 to $1,900 a month, according to City Councilman Scott Jablow.

"How are people supposed to afford that?" he said. "They can't, so they're leaving the region."
From Arizona to Nevada, and it's hordes of grasshoppers — prophetic stuff:
(Reuters) – Swarms of grasshoppers have descended upon America's Sin City in unusual abundance this week, disrupting weather radars, deterring tourists and invoking hysteria on social media.

The clouds of buzzing insects, whose migration through the Las Vegas Valley scientists say is the result of a wetter-than- normal winter, were big enough that the National Weather Service detected them on its radar.

"Radar analysis suggests most of these echoes are biological targets. This typically includes birds, bats, and bugs, and most likely in our case…grasshoppers," the National Weather Service in Las Vegas said on Friday on Twitter.

Such migrations occur every few years and should not cause alarm since the insects are not dangerous, Jeff Knight, state entomologist for the Nevada Department of Agriculture, said on Thursday at a news conference.

Some locals were not placated.

"This is the wildest thing in nature I've ever seen," one resident, Caitlin Sparks, wrote on Twitter on Sunday, posting a photograph of a street lamp illuminating a night sky filled with grasshoppers.

Attracted to ultra-violet light, the insects have been clustering around the city's brightly lit tourist district, a concentration of resort hotels and casinos along The Strip. The Luxor Sky Beam, a pillar of light that rises from the Luxor Hotel, has attracted huge swarms at night, according to videos posted to Twitter.
Drug companies…
(CNN)Pharmaceutical companies are set to pay nearly $70 million to California over "collusive" deals that kept generic drugs off the market and raised prices, state Attorney General Xavier Becerra announced Monday.

Under such "pay-for-delay" agreements, drugmakers could maintain a monopoly on branded medications after their patents expired, Becerra said. The practices caused consumers "to pay as much as 90% more for drugs shielded from competition," his office added.

Four 

settlements

 were reached with drug companies Teva Pharmaceutical Industries, Endo Pharmaceuticals and Teikoku Pharma over the practices, Becerra said. The agreements will allow some consumers to recover costs related to their drugs.

Teva kept a generic of Provigil, a drug used to treat narcolepsy, from entering the market for almost six years, according to Becerra. Part of the $69 million settlement paid by Teva will be used to create a $25 million 

consumer fund

 for California residents who purchased Provigil between 2006 and 2012.

Other settlements reached with Teva, Endo and Teikoku were related to a generic version of Lidoderm that was kept off the market for nearly two years. Lidoderm is a patch used to treat shingles-related pain.