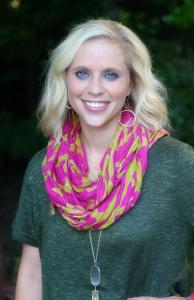 By Kelly Edmiston
Growing up, I was almost always a compliant child in school. Very rarely did I get in trouble. I remember one of the only days in Kindergarten that I had to pull a popsicle stick for whispering something to my neighbor during the instruction time. I can still recall the heavy dark cloud of shame that washed over me, head to toe, as I walked to the front of the classroom to pull the treasured popsicle stick. I vowed then and there to do everything in my power to never feel this way again. In my adult life, I had to learn a new set of rules in order to keep me from experiencing this shame again. I have been shamed for breaking adult rules too. Many years ago, I got in "trouble" because I publicly referred to myself as a preacher. In this particular context that I was in, women were not allowed to preach. This was breaking the rules. As in my childhood, this "mistake" caused me to experience a heavy dark cloud of shame. And the shame led me, this time, to stop calling myself a preacher for many years.
Removed from the situation and looking back on it now, this is a moment of deep regret for me, both as a woman and as a preacher. This memory stings fresh and tender in light of John MacArthur and his buddies verbally abusing and belittling Beth Moore. I will not link the hate speech here as it does not deserve one more second of attention. John MacArthur is a bully. He is not a scholar. He is afraid and this makes him behave in hateful ways.
He is afraid of Beth Moore and the "women preachers" that she represents, and he should be. Beth Moore is not "going home," shutting up, or slowing down. She is an affront to the system of patriarchy that is the guiding force behind his complementarian theology. Patriarchy is a way of organizing the world that gives power to men and fathers. In patriarchy, men lead and women always submit and follow. Men preach and women remain silent in the assembly.
The reason that MacArthur should be afraid is that patriarchy and its rules is a dying system. It is not just the SBC that is beginning to see through the nonsense of it. Despite these men's distaste for it, women do run for and occupy places in the Senate and Congress and yes, they can even run for President (gasp!). He is correct that "feminism has come to the church." The church of the future is not run by exclusively white men using exclusively male images for God.[1] [2] People are seeing through the guise of a God-ordained hierarchy for what it truly is; a man's quest to remain in power.
And like many people in power, MacArthur is using shame in hopes that this will "correct" the deviant's behavior. MacArthur accuses Moore, and by proxy any woman preacher, of being power hungry. This is his way of inviting her to walk to the front of the classroom and pull a popsicle stick while his buddies point and laugh.
This is what patriarchy does with power. It violently protects its own power and shames those with no power for wanting power. This is by definition a double standard.
If a woman seeks power, she is narcissistic and compared to a jewelry salesperson. If a man protects his power, he is representing God. If a woman seeks power, she is prideful and evil. If a man protects his power, he is a keeper of tradition.
Since the dawn of the church, God has given women the power to lead, to serve, to preach and to prophesy as equal participants alongside our brothers in the communities that we love.[3] And we will not be ashamed any longer for the rightful and God-given power that we seek.
So lead on, Beth Moore, and all women preachers everywhere. May we live so boldly into our callings that the falling system of patriarchy shouts at us too to "Go Home."
[1] Here is a brief summary of the future of Christianity. https://religionnews.com/2019/01/10/where-is-christianity-headed-the-view-from-2019/
[2] Here is an example of the fastest growing church in the world, led by women. https://www.foxnews.com/faith-values/worlds-fastest-growing-church-women-documentary-film?fbclid=IwAR3aQAjs6_QfY-vvkUMaq3Lc2Fvfxow7mZwhGNFbg9WukzW9_6U4bk0dit8
[3] See Scot's recent article about the historical and factual case that hundreds have made for women preaching and leading in the church since the first century onward. There is Old Testament and New Testament evidence for such a case. I will not rehash it here. For reference, https://sarahbessey.substack.com/p/nope-not-going-home and
https://www.patheos.com/blogs/jesuscreed/2019/10/21/go-home-or-at-home/
[1] Here is a brief summary of the future of Christianity. https://religionnews.com/2019/01/10/where-is-christianity-headed-the-view-from-2019/
[2] Here is an example of the fastest growing church in the world, led by women. https://www.foxnews.com/faith-values/worlds-fastest-growing-church-women-documentary-film?fbclid=IwAR3aQAjs6_QfY-vvkUMaq3Lc2Fvfxow7mZwhGNFbg9WukzW9_6U4bk0dit8
[3] See Scot's recent article about the historical and factual case that hundreds have made for women preaching and leading in the church since the first century onward. There is Old Testament and New Testament evidence for such a case. I will not rehash it here. For reference, https://sarahbessey.substack.com/p/nope-not-going-home and
https://www.patheos.com/blogs/jesuscreed/2019/10/21/go-home-or-at-home/