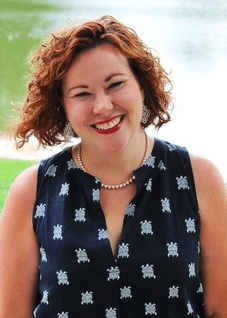 By Rhesa Higgins, who is a friend of Kelly Edmiston, is a spiritual director and experienced retreat leader. She serves as the founding Director for eleven:28 ministries (www.eleven28ministries.org) in Dallas, Texas, a non-profit dedicated to supporting the spiritual vitality of ministers. She is married to Chad and together they are raising their three kids. Rhesa loves good coffee, dark chocolate, baseball, theatre, and most any good book.
I am a fourth-generation Texan and a fourth-generation member of the churches of Christ. I am also a fourth-generation survivor of trauma and female. Any one of those 4 markers should have stopped me from saying yes to a call to ministry.
I have spent my entire life deep in the Bible belt of Texas. We don't suffer fools or nuance around here. Despite living in a city and driving a minivan, this is still Texas where truth is supposed to be straight and overt, and people are supposed to be tough, independent, and no-nonsense. Theology is black and white, concrete-lined straight edges marking the way forward.
The Churches of Christ have raised me and are in my DNA. The restoration movement values the ancient church, simplicity in understanding the Bible, and unity, which has come to mean uniformity so that we can know who is in and who is out. And if there is a question, the priesthood of all (male) believers will show us where to draw the lines.
And then there is me.
The first mystical experience I had of God was at the age of 4 before I knew better than to tell people about it. I have always been a dreamer, a writer, a dancer, and a creative who saw textures of grey in between the lines. I planned the service and wrote the sermon for the youth group boys to deliver on Youth Sunday when I was 15. And then, I heard the call to ministry at 17 when I was too young to realize what my "yes" would cost me.
Within six short months of my yes to God, a portion of my family disowned me. They hoped their 'discipline' would allow me to see my sin and therefore return to the safety of salvation. Otherwise, I would be condemned to hell and would lead others there as well.
In my very first Bible major's class in college, I realized that I was unwelcome. And while it would be another full year before I encountered a professor that didn't want me there, I knew that some of my male classmates saw me as a thief of their rightful places. They ignored the comments offered from women in class discussions. They were offended when I outscored them on tests. And when it came time to take a preaching class—a degree requirement, I wasn't allowed to enroll but was quietly encouraged to take a different course, with women.
After college, I discovered that churches were happy for me to do ministry as long as I didn't call myself a minister or want to get paid for ministry. They were eager for me to volunteer 40 hours of my week while working my full-time-paying-day job. And when I had the audacity to ask a group of leaders if they would ever even consider hiring me, and therefore paying me to do this work I was already doing, they told me in no uncertain terms that a woman would never be on staff at their church, for this would be sinful.
When my voice was allowed to be heard within a Sunday morning context for the first time, some 20 years after my calling, I was criticized for my clothing, my vocal tone, and using the whole segment of time I was allotted. My critics said that in order to stand in front of a church I should wear long, loose fitting pants with long sleeved shirts that are also loose fitting. It would be best if I wore flat shoes instead of heels and wore very little makeup. By taking all of these precautions, I would be less likely to cause a man in the congregation to lust. They also pointed out that a woman's voice is just too hard to hear and understand so maybe I wasn't actually blessing others with my voice but feeding my own ego.
I have been accused of abandoning my God-given responsibility to raise my children simply because my job is within ministry contexts instead of a school or another office. I have been told that on the one hand, mothering is the only thing I should care about because that is how God made me. And I have been told that God obviously can't be known as or called Mother and Father. I have been told that I am emasculating my husband by speaking in front of him at church. And I have been told that maleness is supreme and unbreakable.
I have been told that my femaleness holds no part of God's image and therefore, I am to be submissive to all men, quiet, compassionate, caring, a good cook, love babies, the perfect hostess, and accept everything the church ever taught me in order to be a good Christian woman. I have been told that by saying yes to God's call on my life, I have actually chosen to leave God's love to pursue my own agenda. I have been told that I must be power hungry, selfish, and conceited to believe that God actually called me to this work.
I have been told that women are the reason God and humans are in conflict so women cannot be trusted. I have been told that men are naturally smarter than women, stronger than women, more trustworthy than women, and generally superior because they are more like God, who is male.
And still, I have chosen to say yes. My yes has cost me relationships, inflicted pain, and caused some deep identity questioning. And still, after all that, I choose yes.