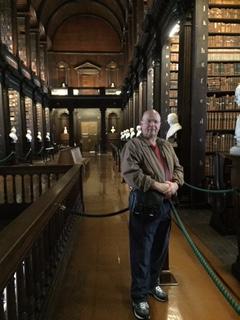 Looking forward to posting our Jesus Creed Book of the Year in the next ten days.
PHOENIX – A text message sent to the wrong number brought an Arizona grandmother and a 17-year-old high school senior together on Thanksgiving in 2016 – now, they are getting ready to celebrate again, for the fourth year in a row.

Wanda Dench thought she had messaged her grandson to tell him what time the Turkey Day festivities would begin, adding, "Hope to see you all. Of course that includes Amanda & Justin." Little did she know, her grandson had changed his number without telling her.

Seeing the strange numbers in the group text, Jamal Hinton asked who was texting him, to which she replied, "You grandma."

The two exchanged selfies for confirmation, and Hinton texted: "You not my grandma. Can I still get a plate tho?"

"Of course you can," Denton texted back. "That's what grandma's do … feed every one."

Not only did Hinton show up for Thanksgiving that year, but every year after that. ABC News reports that this year Hinton and Dench will be celebrating together again, this time at the house of Hinton's girlfriend's aunt.
Words from terminally-ill children:
Dr. Alastair McAlpine spends every day caring for children with life-threatening and life-limiting illnesses, working for the non-profit organization PaedsPal.

McAlpine recently decided to ask his terminally-ill patients what they enjoyed most in life and then shared their answers on Twitter.

In a tweet, he explained: "For an assignment, I asked some of my terminal pediatric palliative care patients what they had enjoyed in life, and what gave it meaning. Kids can be so wise, y'know."

All of these children are between the ages of four and nine years old. Even though they are young, they still managed to hit the nail on the head when it comes to what makes life worth living.

1.Nobody wishes they'd spent more time watching TV and being online

2. Animals make life better

3. They love their parents

4. They love ice cream

5. They love books and stories

6. Worrying is a waste of time.

7. Everyone loves the beach

8. Kindness matters

9. Laughter is the best medicine

10. Kids love their toys

11. Family time is the best time
CHICAGO — For nearly 20 years Pastor Charles Jenkins lead his South Side congregation in sermons and in life.  As he prepares for a new chapter, he leaves behind a legacy of service and giving.

Every week, Jenkins can be found preaching the Sunday Service at Fellowship Missionary Baptist Church.

" I always wanted to help people to serve people and get good things done and move the needle a little," he said.

Jenkins's personality and leadership style has steadily increased church membership.

But outside the church walls may be where Jenkins has made his greatest impact.

"I can preach to you to your heart and your mind but after that, if you can't get your medicine, if you can't afford to pay your bills, it's faith without words," he said.

From helping senior citizens get affordable prescriptions to assisting with bringing Uber rideshare to the city, Jenkins regularly finds himself working alongside politicians.

Jenkins has also used the pulpit to raise awareness for the need of organ donations.

He is also an award-winning gospel musician and he often features his music at Sunday Service.

Next month Jenkins will be retiring from his position with the church but he says his work is not done.

"I want to be a part of Chicago's continued commitment to building people community and changing lives," he said.

He hasn't said what's next for him but he is looking forward to spending more time with his wife and three children.

Pastor Charles Jenkins, he is one of Chicago's Very Own.
Mark Johnson on Plain People doctor:
It is 5 degrees below zero and a light powdering of snow swirls across the roads of Vernon County. A few horses and buggies clop through the chill morning air, but Perry Hochstetler leaves his buggy at the family farm and has a driver take him to his doctor's appointment.

The Hochstetlers are Amish. With no health insurance and a modest income, they cannot afford most doctors.

They can afford James DeLine, once the lone doctor in the western Wisconsin village of La Farge. Population 750.

When he became the village doctor in 1983, DeLine had no experience treating the Amish and no idea the crucial role they would play in his work. Today, about 20% of the doctor's patients are Amish or Old Order Mennonite, part of a Christian population called Plain People. They are known for their separation from the modern world and adherence to a simple lifestyle and unadorned dress.

Something of a throwback himself, DeLine, 65, is a short, bespectacled man with a walrus mustache, a doctor who carries a brown medical bag to house calls. For years, he carried his equipment in a fishing tackle box.

He knows the families on every local farm and their medical histories. He knows who's been born, and calls on the mothers and infants to make sure they are healthy. He knows who's dying, and looks in on them in their final days, sitting by their bedside, talking in a gentle voice, making sure they have what they need for pain.

Before he goes on vacation, DeLine takes out ads in the weekly newspaper so that his patients will know.

As a young doctor, DeLine never imagined he would find himself someday with one foot planted solidly in medicine's past, the other in its future.

The doctor who makes house calls also collaborates with English and American geneticists studying some of the rarest diseases on Earth. Some occur at much higher levels among the Amish, Mennonites and other closed communities that don't allow marriage to outsiders. This prohibition increases the likelihood that when a rare, disease-causing mutation appears in the community, it will take root and pass from generation to generation.

Scientists use a special term, "the founder effect," to explain how some variations in the human genetic sequence appear more often in groups that are geographically or culturally isolated.

It has taken DeLine and his staff years to gain the trust of Plain People, some of whom are wary of medicine and technology. Often, they fear that going to a hospital or clinic will mean surrendering the decision-making to doctors who neither respect their beliefs nor understand their financial limitations.

DeLine, not a religious man himself, accommodates the beliefs of patients and parents; he has always viewed them as the ultimate decision-makers. As a result, the clinic has become a magnet for Plain People. Some travel eight hours from Missouri or Iowa just to see him.
Memorizing helps the brain with aging (not so fast):
Do you remember the last time you memorized something — even a phone number? With technology ever at our fingertips, we don't need to commit much of anything to memory now.

Yet, rote memory — the process of repeating information until it is lodged firmly in the brain — fell out of favor well before laptops, tablets and smartphones became part of our everyday lives. While earlier generations of students were routinely required to memorize poetry, great speeches, even the multiplication tables, educators had abandoned the practice as unproductive by the time most baby boomers were starting school.

A workout for your brain

But not everyone believes memorization is a waste of time and effort. Small children reciting nursery rhymes are honing their developing memories and gaining an introduction to language patterns.

At the other end of the age spectrum, "Older adults who work their brains through memorization are stimulating neural plasticity, which alters the brain's neural pathways in response to new experiences," says Marwan Sabbagh, MD, Director of Cleveland Clinic Lou Ruvo Center for Brain Health. "These functional brain changes occur whenever we acquire new knowledge or learn a new skill, and they appear to be important in warding off cognitive decline."
Anxiety confessed and embraced:
A Philadelphia Eagles offensive lineman says he is "not ashamed or embarrassed" about the anxiety-related illness that caused him to leave Sunday's loss to the Seattle Seahawks.

Star right guard Brandon Brooks, 30, left the game in the first quarter and did not return due to vomiting and nausea caused by an anxiety-related issue that he has been open about in the past.

Brooks expanded upon his absence from the game in a tweet on Monday morning, writing that he deals with anxiety-related issues daily.

"I'd like to address what happened yesterday," he wrote. "I woke up, and did my typical routine of morning vomiting. It didn't go away like it normally does, but I figured it would calm down once I got to the stadium.

"It did, but I felt exhausted. The nausea came back, and I tried to battle through it and went out for the first drive. The nausea and vomiting came back until I left the field, and tried everything I could to get back for my teammates but just wasn't able to do it."

Brooks, who was drafted by the Houston Texans in 2012, has missed five games over his seven-year career due to anxiety-related illness, most recently in 2016, when he missed a pair of games, according to ESPN.

He has persevered through his illness to become a two-time Pro Bowl selection as well as the highest-paid guard in the NFL after signing a four-year extension worth $56.5 million on Nov. 11.

"Make no mistake, I'm NOT ashamed or embarrassed by this nor what I go through daily," he wrote. "I've had this under control for a couple of years, and had a set back yesterday. The only thing I'm upset about is that when my team needed me, I wasn't able to be out there with and for them. Lastly, I appreciate the support of my coaches, teammates and fans. It doesn't go unnoticed."

Brooks has previously spoken about the support from teammate Lane Johnson, a fellow offensive lineman who missed Sunday's game with a concussion. Johnson also has dealt with anxiety and vomiting before games.
November 27, 2019 at 9:00 AM EST

There's a lot of talk about Mister Rogers these days. The release of the new feature film with Tom Hanks has prompted renewed discussion about Rogers's kindness, his groundbreaking approach to children's programming, about how all of us of a certain age associate him with a gentler, simpler time.

But intertwined with all of the current chatter is the implied message that the original "Mister Rogers' Neighborhood" series, while loved and appreciated by adults, is part of a bygone era and would never (ever!) fly with today's iPad-loving, Fortnite-obsessed youth.

I discovered just how wrong that assumption is.

I'm the parent of four young children, and I was stunned to learn Mister Rogers's style and message is (shockingly) appreciated by the children of today.

I made the discovery 18 months ago, when I was assigned to produce a national television segment on Mister Rogers, in connection with the release of the then-new documentary, "Won't You Be My Neighbor?"

… So into my bedroom I retreated to watch Mister Rogers alone. And that's when something magical happened.

Within a half-hour of my bingefest, our youngest two children, then ages 5 and 7, came to ask me to help them with some homework. They sat down on the bed beside me and peered at the television as I looked over their worksheets.

In the episode I was watching, Mister Rogers had gone to a restaurant in Pittsburgh to show his young viewers how restaurants work.

"Mommy," asked my young daughter. "Who is that nice man?"

"It's Mommy's friend, Fred," I explained.

"I like his voice," said my 7-year-old son.

"I like his clothes," said my daughter.

"Can we watch with you?"my son asked.

I was skeptical, but nodded. And so it began.

I held my breath, waiting for them to tell me that the episode was too slow, to implore me to fast-forward to a moment when something more interesting happens.

I waited for them to abandon ship and seek out an iPad or a snack in the other room, to seize control of the remote and turn the television to the Cartoon Network.

But they didn't do any of those things. And when that episode was over, they asked for another. And then, shockingly, another.
George Dvorsky:
The DNA of an exquisitely preserved puppy found in Siberia doesn't appear to fit the profile of a dog or a wolf, which means the specimen might be something in between.

The frozen puppy, found near Yakutsk in eastern Siberia, was just two months old when it died, reports CNN. Scientists from the Centre for Palaeogenetics—a joint project between Stockholm University and the Swedish Museum of Natural History—used radiocarbon dating on its rib bone to place its brief time on Earth to 18,000 years ago, during the tail end of the last Ice Age.

The level of preservation is unreal, with the puppy still exhibiting intact teeth, nose, and fur. Scientists were able to extract DNA from the specimen, allowing them to confirm the pup's sex as male. It has since been named "Dogor," which means "friend" in Yakutian.