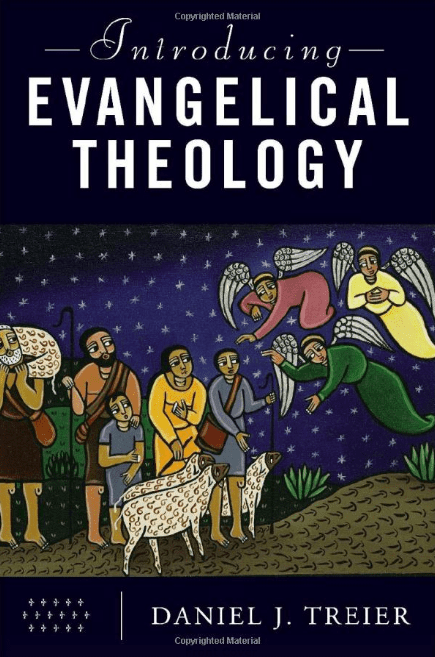 What's "evangelical" about evangelical theology? That's a decent question, but  the good question is: Which evangelical pocket makes an evangelical theology "evangelical"? In Daniel Treier's new book, Introducing Evangelical Theology (#ad), there is an attempt — successful in many ways — to remind readers that evangelical has a history and from that history various themes and concentrations lead to various emphases in theology.
Which leads to the best question of all: Can we now say there's an evangelical Enneagram? Use the letters below to map your own identity.
"What's an evangelical?" is a question not likely to lead to an overwhelming consensus, but Treier's approach permits the various streams to lead to modern-day evangelicalisms. That's my plural.
That, my friend, is important and healthy. The diversity of evangelicalism gets enough space in this chapter to remind us that no one gets to say "that's not evangelical" without some serious challenge and pushback. Of course, denying the deity of Christ or Scripture as God's Word for God's people, or the importance of personal faith … of course there are lines that can be drawn, but Treier helpfully sketches the various pockets and themes in the history of evangelicalism. Here they are, and what's in bold is adapted for the Enneagram and any number with an "a" after it is added by me. What are your letters? Perhaps you want to do something that shows your own personal shifts:
F + R -> O + A -> Post -> GT
1. Introduction. Evangelical theology faces increasing perceptions of fragmentation. In what sense are these perceptions an opportunity for reform and renewal, and in what sense are they a dangerous form of self-fulfilling prophecy.

2. P1: Pietism. [personal renewal] Evangelical theology arises from, and seeks to guide, Protestant movements of personal renewal. These renewal movements pursue spiritual affinities across various churchly boundaries. [This would include the emphasis on spiritual formation.]

2a. H: Holiness. [broad-based sense of holiness, that includes the Wesleyans and Methodists and Christian Missionary Alliance and charismatics and Pentecostals]

3. P2: Puritanism. [theological boundaries and confessions] Evangelical theology arises from, and seeks to guide, Protestant movements of ecclesial renewal. These renewal movements pursue corrective actions that generate and perpetuate various churchly boundaries.

4. O: Protestant orthodoxy. [orthodox doctrine is the focus] Some strands of evangelical theology focus on Protestant doctrinal renewal. These theological strands find it most important for evangelicals to perpetuate the material commitments of the Reformation regarding justification by faith alone and the formal commitments of the Reformation regarding Scripture alone as the final authority over faith and practice. In the process, these theological strands have been most successful at fostering academic biblical interpretation and formal doctrinal systems.

5. R: Revivalism. [conversionism, evangelism] Other strands of evangelical theology focus on promoting evangelism and Protestant spiritual revival. These revivalist strands find it most important for evangelicals to pursue the salvation of the lost and the holiness of the saved. In the process, these revivalist strands have been most successful at fostering practical mission and ministries of social justice, as well as leadership opportunities for women and other marginalized groups.

6. F: Fundamentalism and "neo"-evangelicalism. Modern American evangelical theology emerges from "fundamentalist" institutional retrenchment. These "neo"-evangelicals generally retained the doctrinal commitments of The Fundamentals but slowly shed cultural isolation in favor of societal reengagement.

7. Post: "Postconservative" evangelical theology? [critical theory types] Later modern Anglo-American evangelical theology, having generally and slowly shed cultural isolation in favor of societal reengagement, has become increasingly divided over which "culture" to prioritize—"modern" or "postmodern"—and how such philosophical strands helpfully reform or dangerously put at risk evangelical identity.

7a. Prog: Don't we need a more socially active progressive element as well?

8. D: Evangelicalism goes "glocal"? [Diversity emphasis] Contemporary evangelical theology is more diverse than ever, due to globalization and immigration along with awareness of particularity. Though still slow to acknowledge and celebrate this diversity, evangelicals are beginning to recognize and wrestle with the opportunities and challenges that it presents. Some of today's leading evangelical theologians themselves embody this increasing variety of backgrounds and perspectives.

9. GT: Evangelicalism and the "Great Tradition "? [creedal emphasis, liturgy, lectionary] At the same time that contemporary evangelical theology diversifies with respect to place and background, it is also increasingly diverse with respect to time. Many evangelicals have increasing interest in the liturgical and spiritual practices of the "Great Christian Tradition"; among these evangelicals, some are increasingly committed to this classic tradition's surrounding theological heritage—the creeds and possible dogmatic consensus surrounding them. Yet still other evangelicals are critical of particular doctrines or practices from the classic tradition, making "sola scriptura" and "the church is always reforming" their rallying cries.

[9b: I'm adding A, Anabaptistic influences. Low church, anti-hierarchy, ecclesial focus, some connection to the Anabaptist movement, and has a focus on a social vision for peace and justice.]

10. Conclusion. As complex and essentially contested as evangelical theology is, the adjective "evangelical" and the noun "evangelicalism" still do cognitive work. The noun designates an ongoing movement or network of institutions, and the adjective can be used not only to describe what that movement's theology is but also to propose what it should aspire to be—theology that accords with and focuses on the biblical gospel of Jesus Christ.