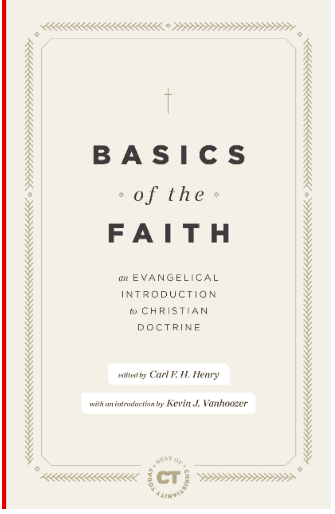 I got in the mail recently a copy of Basics of the Christian Faith: An Evangelical Introduction to Christian Doctrine, ed by Carl F.H. Henry and introduced by Kevin J. Vanhoozer, whose essay is worth the volume in judicious assessment of what this books provides.
This is one fascinating volume and here's why: it is a collection of special pieces in Christianity Today when evangelicalism was breaking away from fundamentalism and was becoming neo-evangelicalism. The essays appeared in CT  in 1961-1962. Basics, which is mostly a republication, then collects the movement-forming and movement-identifying essays on almost every major theological doctrine.
Yes, demographics need to be observed: all males, I think all white males, almost all are on the Reformed/Calvinist side of things. There is some theological diversity. That says a lot and it says what has to be said: these are the architects of evangelicalism as many of us knew it, experienced it, and who now know about it. It is evangelicalism as it was not how it always will be.
Actually Carl Henry was the architect because he was involved in selecting these authors so …
… it is entirely appropriate that the same publisher produced 
Architect of Evangelicalism: Essential Essays Carl F.H. Henry.
 This is a collection of Henry's best pieces in
CT
. Carl Henry was an older gentleman when I got to know him in the TEDS lunchroom and we had a similar schedule one term and I ate with most every day I was on campus. I truly enjoyed him and, like Gleason Archer, I learned to ask a question and then eat while one of them answered the question at length. Carl Henry was not one to spill the beans on old stories but instead offered an exposition of something vital to evangelicalism's and his own story.  This is nothing short of a wonderful collection of essays.
It would not take long for the cast of characters of the Basics volume to be expanded to include those who are not so conservative on the political spectrum and more radical on the theological spectrum, including people like Ron Sider.
What these two volumes can do — and I would urge anyone who considers herself or himself an evangelical of any sort — to buy and read these volumes for one major reason: learn about the seminal period that created the kind of evangelicalism that shaped contemporary evangelicalism in the USA.