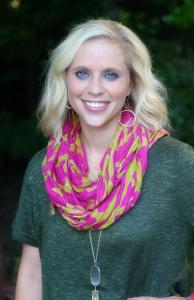 By Kelly Edmiston
Women Preachers and News Anchors
I'll never forget my first job as a Youth Pastor in 2006. I had just graduated from college with a social work degree and I moved to Cairo, Egypt as a youth ministry intern at the largest English-speaking Evangelical Church in the Middle East, at the time. After six months in the role, my boss asked me come on staff and I committed to stay for two more years. We developed a youth program with small groups, weekly programs, special events and the whole nine yards. It was awesome. I came alive during those years. I found myself, in the best and healthiest sense of the sentiment. I was affirmed in my gifts and I received what I now believe to be a "call" to vocational ministry. Over the course of three years I grew as a communicator. I preached in youth group settings every couple of weeks. I led prayers, announcements, communion and baptisms for the larger church almost every week. I will never forget the day that my lead pastor sat me down and told me all of the ways that he believed I was gifted. He told me that I brought energy and passion to public communication. And then he said to me, "Kelly, you should be a preacher."
By the end of my three years there, I decided that while I didn't want to be a preacher, I was ok being a Youth Pastor who sometimes was invited to preach. There was one thing that I knew for certain, I wanted to spend my life, using all of my gifts, for the sake of the local church. I figured there were lots of ways that I could use my energy and passion and public communication skills but the church was what I cared the most about and what I believed the most in.
Fast forward to many years later. I was a guest speaker at a youth retreat in the U. S. After the last talk was over, a prominent leader of that church pulled me aside and began to tell me many of the same things that the Lead Pastor in Cairo had told me. He told me that I brought great energy and passion to the task of communication. He gave me specific encouragement about the way I presented my talks over the course of the weekend. Then he paused and said, "Kelly, you should be a news anchor." He went on, "Seriously, you are just so good, so articulate and expressive…" My heart felt like it dropped to the bottom of my stomach. "A news anchor?" I clarified. And inside I began to scream, "I don't want to be a news anchor!" I want to be a youth pastor who is sometimes invited to preach.
Here was the message I received from him, a prominent leader in the church, "Your kind is not welcome here." The message I received that day was one that women in patriarchal environments hear over and over again. "You are too talented to be here where these skills won't ever be fully utilized. But if you will re-direct your course to a secular, non-church context, I am sure that you will find great success." But here is what the patriarchal church doesn't understand about women in ministry. We don't want to be in a secular job. This is why we have pursued a career in ministry. We took this job because we want to use all of our gifts and talents and abilities for the building up of the Body of Christ, the local church. We, women ministers everywhere, believe so deeply in the mission of the church and her potential to impact the world for good that we have endured the funny looks, the inappropriate comments and the confused critique of those who believe that we should remain silent and become news anchors instead of pastors.
Suggestions like these are hurtful and harmful, not only to the women who receive them, but also to the church.  I know countless women who have left vocational ministry for secular jobs or to be stay-at-home moms because the fight was too great. And the church is losing. Our pulpits are losing. Our youth ministries and children ministries and connections ministries are losing. The more we tell women that "your kind is not welcome here" the more we lose. It's time to wake up. It is time to start cultivating church cultures where talented and gifted women are encouraged to be pastors, preachers and prophets. It is time for her gifts to be seen as blessings to the church, not liabilities. It is time for women to step in to all that God has gifted and called her to do for the community of faith that she so deeply loves.