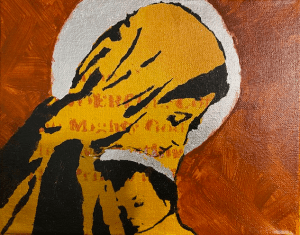 Thanks to all who have sent me links this week, especially Kris. Thanks, too, to Terri Fullerton for this beautiful rendition of Mary.
The government in my home state of Western Australia has just passed some of the most far-reaching euthanasia laws in the nation, and they are proud.  Gleeful even.

There was pushback, notably from one local MP who I know, Nick Goiran, who managed to get changes made in the weeks leading up to the passing of the bill.  But it was never going to be enough.  Assisted dying – as it is euphemistically called – is here to stay.  But not here to "stop" and stay.  The parameter will inevitably be widened.  That's the way these things work.  Nothing will go backwards, everything  – according to a progressive way of thinking – must go forward.  But to what?

The usual media outlets have bolstered the laws in the sight of the public by publishing assisted dying stories and the liberties they bring to people.  Nary an article in sight that dissents.  It's clear that personal narratives are the way this is being pushed.  Hard political and legal power is inevitably reinforced by soft cultural power.

Pushed under the carpet are issues surrounding elder-abuse, which is on the increase in the western world.  Older family members often have a right to fear their younger progeny.  These stories rarely get air time.  These don't fit the narrative of progress in a society that has lost sight of the true meaning of the word "euthanasia" – which means "good death".  A good death was one where someone died well in the sense of nothing being left undone that needed to be done, all relationships intact that needed to be intact, and a steadfast commitment to what was beyond death itself. …

It is almost three years since my own father died, of a horrible disease called Lewy Body Dementia.  A disease so bad that actor and comedian Robin Williams took his own life rather than face what it would do to him.

So someone asked me just today, in light of that legislation what I thought about euthanasia, given what my father went through in the last few years of his life.  I can partly speak for him, but mostly for me. And I want to say this:

In a late modern culture that is increasingly brutish and uncaring, with little sympathy for the truly weak such as the unborn and the old, the opportunity to look after my father in his long, slow, and debilitating death, changed something about me.  It changed something about me that we all need changed in us.

And what was that change?  It was the softening of my heart.  We live in an increasingly hard hearted, callous, time-is-money world, in which a person's worth is determined by their identity; by what you can do for them; by their talents and looks; by what they contribute to society.
A Colorado woman reportedly gave some porch pirates a taste of their own medicine this week by leaving trash-filled Amazon packages outside her front door.

Christine Hyatt told KKTV in Colorado Springs that thieves have stolen at least 20 packages from her porch and last Wednesday was the third time she was able to dupe the criminals into removing her garbage for free.

"We forgot to set our trash out for Thanksgiving, so we were overflowing with trash," she told the station. "I've had packages stolen and I went, 'You know what? I have extra boxes — let's see if someone will take our trash!'"
An Arizona man's emotional support animal is creating quite a buzz.
Prescott Valley, Ariz., resident David Keller thinks the application process to register an emotional support animal is too easy — so he tried registering a swarm of bees as his service pet. It worked.

Prescott Valley, Ariz., resident David Keller thinks the application process to register an emotional support animal is too easy — so he tried registering a swarm of bees as his service pet.

"A lot of people thought it was hilarious and a lot of people were getting upset," Keller tells CBS affiliate WTRF-TV. He recently went on a website called USAServiceDogRegistration.com and successfully uploaded a random photo of a beehive as a service animal "to bring awareness to the issue that anyone could do this," he explains.

Keller was inspired to go through with the registration after seeing a service dog that was visibly untrained.

"I could very easily tell that it was not a service animal because it was pulling the owner to the parking lot," says Keller. "I was thinking that it's just too easy to get these animals to be service animals."

The website he used to register his swarm is one of many that make the application process for emotional pets too easy, experts say.
And a Merry Christmas act of generosity by Khalil Mack:
Chicago Bears outside linebacker Khalil Mack is one of the NFL's best defenders. And it turns out he's a pretty good guy, too.

In a tweet sent out by Daniel Greenberg, a Chicago-based media personality, it was revealed that Mack made a generous donation to customers at the Walmart in his hometown of Fort Pierce, Ill.

Mack paid off the balance for layaway consumers at the local Walmart just in time for the holiday season.

Greenberg's tweet shared a screenshot taken from the Fort Pierce Walmart's Facebook page, which read: "We have some wonderful news! If you have an active holiday layaway account at your local Ft. Pierce Walmart, your account has been paid off! We here at Walmart would like to thank the Khalil Mack Foundation for your generosity, and for making so many families happy for the holidays! Everyone is truly grateful for everything you have done for them!"

The mission statement on the Khalil Mack Foundation's website states: "Our mission is to positively affect the lives of intercity and under-privileged youth and families by providing for the community, through educational and extra-curricular initiatives, a safe and enjoyable environment where we intend to aid in learning successful character traits through sport, and creating opportunities to financial resources and meaningful experiences to all we serve."
We're staying put, digging deeper roots:
The story of America is one of moving. A total of 13.6% of Americans today were born in another country, and most of us are descended from immigrants. This story of migration also includes moving within the country. Over the last 200 years, Americans have settled the frontier, moved away from cities toward suburbs, and migrated away from cities in the Northeast toward the South and West.

This narrative that Americans are constantly moving within the country is no longer true. Over the last 35 years, the number of Americans who have moved—within their county, state, or out of state—has steadily declined to nearly half of their previous levels. Between March 2018 and 2019, only 1.5% of Americans moved from one state to another, and 5.9% moved from one home to another while remaining in the same county.
Others are moving so they can find the roots:
Half an hour down the highway from Topeka, Kansas, not far from the geographic center of the United States, sits the town of St. Marys. Like many towns in the region, it is small, quiet, and conservative. Unlike many towns in the region, it is growing. As waves of young people have abandoned the Great Plains in search of economic opportunity, St. Marys has managed to attract families from across the nation. The newcomers have made the radical choice to uproot their lives in pursuit of an ideological sanctuary, a place where they can raise their children according to values no longer common in mainstream America.

St. Marys is home to a chapter of the Society of St. Pius X, or SSPX. Named for the early-20th-century pope who railed against the forces of modernism, the international order of priests was formed in the aftermath of the Second Vatican Council, the Catholic Church's attempt, in the 1960s, to meet the challenges of contemporary life. Though not fully recognized by the Vatican, the priests of SSPX see themselves as defenders of the true practices of Roman Catholicism, including the traditional Latin Mass, celebrated each day in St. Marys. Perfumed with incense and filled with majestic Latin hymns, the service has an air of formality and grandeur. To most American Catholics under the age of 50, it would be unrecognizable.

Throughout American history, religious groups have walled themselves off from the rhythms and mores of society. St. Marys isn't nearly as cut off from modern life as, say, the Amish communities that still abjure all modern technology, be it tractor or cellphone. Residents watch prestige television on Hulu and catch Sunday-afternoon football games; moms drive to Topeka to shop at Sam's Club. Yet hints of the town's utopian project are everywhere. On a recent afternoon, I visited the general store, where polite teens played bluegrass music beside rows of dried goods. Women in long, modest skirts loaded vans that had enough seats to accommodate eight or nine kids

—

unlike most American Catholics, SSPX members abide by the Vatican's prohibition on birth control. At housewarming parties and potluck dinners, children huddle around pianos for sing-alongs.In their four decades in St. Marys, the followers of SSPX have more than doubled the town's size. Even with six Masses on Sundays, parishioners fill the Society's chapel to capacity; overflow services are held in the gym of the Society's academy, which inhabits an imposing campus built by the Jesuit missionaries who called St. Marys home in the 19th century. The school is constantly running out of classroom space. The parish rector, Father Patrick Rutledge, has to scramble each summer to accommodate rising enrollment. Real estate sells at price points closer to those of Kansas's big cities than of its other small towns.
Ken Jennings and the Gospel of John
:
When actor Ken Jennings was going through a rough patch two years ago, he began to memorize St. John's Gospel as a way to take his mind off of his troubles. He saw this exercise as a form of prayer and a way to follow the guidance of the Jesuits who had taught him at St. Peter's Prep and St. Peter's College in Jersey City, New Jersey. They had said, "No matter what happens in your life, always remember to pray." He followed that advice.

"It was a process," he said. "I started to memorize, not knowing if I was going to complete the task. I was not worried about a time frame. Then I started to realize, 'I'm getting this under my belt.' "

Reciting the Gospel — all 21 chapters — was so healing he decided to offer it free to churches. The reactions so moved him that he began to envision a larger forum.

In what he calls "a gift of the Holy Spirit," he turned to a priest friend to get connected to the Sheen Center for Thought & Culture in Greenwich Village, New York, where he can now be found six or seven times a week through Dec. 29 presenting "The Gospel of John."

An award-winning Broadway actor who has performed alone in clubs and poetry readings, Jennings, 72, had never done a one-man play. And he doesn't consider that he is doing one now. Other actors have taken the Gospel to the stage, most notably British actor Alec McCowen in "St. Mark's Gospel" on Broadway. McCowen called his work a play and took on the different characters with voices and accents as an actor would. Jennings, who has watched the DVD of McCowen's performance, chose another approach.

"I thought, 'What can I do that's different,' " he said during a telephone interview from his Manhattan, New York, home while the production was still in rehearsal. "I memorized it as a prayer, not a performance. I thought, 'I'm going to do this as a prayer, even now.' John himself wasn't an actor. He was a witness so he's not telling to entertain as an actor would. He's saying, 'Look, I saw these things. I was there.' That's what I hope to do. I just do it as if I'm John. The audience will realize they are seeing something different, not showbizzy at all."

Since he's being John, he doesn't use accents to distinguish the other characters featured in the narrative.

"I let the story tell itself."

But unlike in church performances when he had only "a chair and an old Bible," he now has a lighting designer (Abigail Hoke-Brady) and set designer (Charlie Corcoran). Jennings told costume designer Tracy Christensen how he wanted to look. "Normal street clothes. I should look like I just walked in off the street."

"All of that's going to help me tell the story as well. The lights have to be evocative to me and the audience to be the sights and sounds John is telling the audience about."
In the dusty highlands of northern Ethiopia, a team of archaeologists recently uncovered the oldest known Christian church in sub-Saharan Africa, a find that sheds new light on one of the Old World's most enigmatic kingdoms—and its surprisingly early conversion to Christianity.

An international assemblage of scientists discovered the church 30 miles northeast of Aksum, the capital of the Aksumite kingdom, a trading empire that emerged in the first century A.D. and would go on to dominate much of eastern Africa and western Arabia. Through radiocarbon dating artifacts uncovered at the church, the researchers concluded that the structure was built in the fourth century A.D., about the same time when Roman Emperor Constantine I legalized Christianty in 313 CE and then converted on his deathbed in 337 CE. The team detailed their findings in a paper published today in Antiquity.

The discovery of the church and its contents confirm Ethiopian tradition that Christianity arrived at an early date in an area nearly 3,000 miles from Rome. The find suggests that the new religion spread quickly through long-distance trading networks that linked the Mediterranean via the Red Sea with Africa and South Asia, shedding fresh light on a significant era about which historians know little.

"The empire of Aksum was one of the world's most influential ancient civilizations, but it remains one of the least widely known," says Michael Harrower of Johns Hopkins University, the archaeologist leading the team. Helina Woldekiros, an archaeologist at St. Louis' Washington University who was part of the team, adds that Aksum served as a "nexus point" linking the Roman Empire and, later, the Byzantine Empire with distant lands to the south. That trade, by camel, donkey and boat, channeled silver, olive oil and wine from the Mediterranean to cities along the Indian Ocean, which in turn brought back exported iron, glass beads and fruits.
HELSINKI (Reuters) – Finland's new prime minister – about to become the world's youngest serving premier – will have a finance minister two years her junior in a new women-led coalition cabinet, party officials said on Monday.

Sanna Marin, 34, from the dominant Social Democrats, was chosen by her party as the sole candidate for prime minister on Sunday. Centre Party chief Katri Kulmuni, 32, will get the finance post when the new cabinet is officially nominated on Tuesday, party members said.

Finland's government resigned last week after the Centre Party said it had lost confidence in Social Democrat Prime Minister Antti Rinne over his handling of a postal strike.

The five parties in power – four of them led by women – decided to stay in coalition and continue with the same programs, but said there would be a reshuffle.

Marin will take over in the middle of labor unrest and a wave of strikes which will halt production at some of Finland's largest companies from Monday. The Confederation of Finnish Industries estimates the strikes will cost the companies a combined 500 million euros ($550 million) in lost revenue.