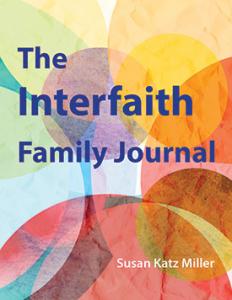 The Interfaith Family Journal
by Susan Katz Miller
The Interfaith Family Journal is not specifically designed for someone of just one faith. In truth, it is a journal designed for postmodern families who want to explore other faiths outside of Christianity. As Miller notes:
"While many previous books on interfaith families have assumed an audience of Christian and Jewish heterosexual couples, this journal consciously strives to decenter white Christian heteronormativity, and to work for people and families representing any number of religions and identities. The idea here is to serve the growing number of interfaith families, whether Muslim/ Jewish/Buddhist, Hindu/Sikh, or Pagan/Unitarian Universalist/atheist."
By asking questions about spirituality, the book is designed for a family to explore together their own desire for faith. Interfaith, while technically a mixture of faiths, is actually a way for families to merge all of the elements of different faiths they may like. Like a buffet, interfaith pick and choose which elements of a faith they want to embrace. This journal gives an interfaith family the tools necessary to do just that.
Such questions include:
What do you believe? Which rituals and holidays and values are most meaningful to you? How do you feel about the beliefs and traditions of the other members of your family? How can your family find or create a community where you feel comfortable? If you have children, how will you communicate to them what is most important to you and to your partner?
The journal guides a family through a five-week process. For each week, there are a set of
I commend this book for helping people who have different religious backgrounds to come together and explore their faith together. The book has a suggested for each chapter: (1) write, (2) read, (3) discuss, (4) create, and (5) consult resources.
The book is divided into five weeks of activities. During each week, the book explores a different element that helps the family integrate various faiths into the family system. The themes explored include: honoring origins, creating home, finding community, marking transitions, and reaching out to family.
The book ends with an extensive bibliography that shares resources the reader can later choose to explore further. This bibliography includes sections about: pluralism and interfaith history, interfaith families, books for children, and the life cycle (birth, marriage, death).
The themes in this book are broad enough that a family who comes together from different Christian backgrounds can use this book. Yet, the book is primarily designed to help those from different religions.
Disclosure of Material Connection: I received this book free from the author and/or publisher through the Speakeasy blogging book review network. I was not required to write a positive review. The opinions I have expressed are my own. I am disclosing this in accordance with the Federal Trade Commission's 16 CFR,Part 255.
Other Posts:
Top Ten Commentaries to Purchase in Logos
God and Hamilton by Kevin Cloud
Love Expressed by Tristan Sherwin