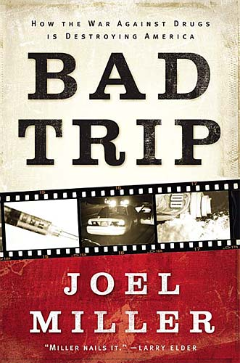 "Well-researched, bitingly written."
—Publishers Weekly
The war against drugs has bombed. Not only has it failed to keep Americans from using drugs, but its crackdown tactics produce bigger problems than it promised to solve. Drug prohibition fosters crime and corruption, helps finance terrorists, compromises U.S. border security, undermines constitutional liberties, militarizes law enforcement, and jails untold numbers of nonviolent Americans. And for what? A bigger, more intrusive government that cares less and less about individual rights.
Bad Trip reveals the real-world costs of the war against drugs. If you want to understand America's drug problem — and what to do about it — you first need to know how the government is making it worse. Bad Trip is the place to start.
Endorsements
"A powerful case against the drug war."
Washington Times
"Miller nails it. He powerfully and persuasively articulates the folly, the harm and the unconstitutionality of our government's war against drugs."
Larry Elder, ABC Radio
"Miller's well-researched, bitingly written account . . . delivers a formidable challenge to the reigning prohibitionist orthodoxy."
Publishers Weekly
"Read this book and send a copy to every lawmaker and judge you know."
Judge Andrew P. Napolitano, Fox News Channel
"A devastating examination of government anti-drug policies."
Reason
"Miller shows in convincing detail why the war on drugs is a war on our liberties."
Jacob Sullum, author, Saying Yes
"Seldom has an accounting of the war on drugs' real-world costs been so meticulous and conveniently available all in one place."
Paul Armentano, LewRockwell.com
"[Miller's] powerful book should give even the most fervent drug warrior second thoughts."
American Compass Book Club
"A must-read for any concerned citizen."
John W. Whitehead, president, The Rutherford Institute
"Exquisitely researched."
Jack A. Cole, New Jersey State Police lieutenant (ret.) with 14 years undercover narcotics experience; executive director, Law Enforcement Against Prohibition
"Drug abuse is bad. But Joel Miller demonstrates that the War on Drugs is far worse. . . As Miller so ably proves, the government's drug war is the ultimate bad trip."
Doug Bandow, former Special Assistant to President Ronald Reagan
"Thank goodness for Joel Miller and this important book. As he shows, we have to send the feds to rehab."
Lew Rockwell, president, Ludwig von Mises Institute
"If ideological overdose caused our War on Drugs, Bad Trip is the stomach pump. Buy a bunch and start handing it out."
Laissez Faire Books
Purchase yours today