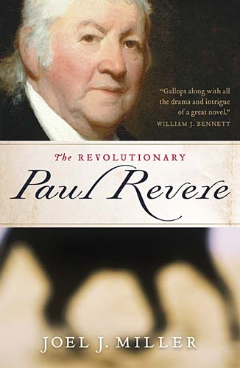 "Gallops along with all the drama and intrigue of a great novel."
–William J. Bennett, author of America: The Last Best Hope
He's famous for the ride, but he's essential for so much more. The story of Paul Revere is the story of the American Revolution. Always smack dab in the thick of things, Revere was an ordinary citizen living in extraordinarily turbulent times. He played key roles in colonial tax fights and riots, the aftermath of the infamous Boston Massacre, the Tea Party, the Battle of Lexington and Concord, and even the ratification of the U.S. Constitution.
This fast-paced, dramatic account explores Revere's revolutionary contribution as a spy, family man, entrepreneur, express rider, freemason, churchman, and commercial visionary.
Watch
Endorsements
"The story of Paul Revere–a hero of Massachusetts, a hero of America–was never more timely. Nor has it ever been better told than by Joel J. Miller. The Revolutionary Paul Revere gallops along with all the drama and intrigue of a great novel, highlighting what makes Revere so essential in the story of America's founding and its growth as a force fro freedom in the world. This is a vibrant, vital, and wonderful story."
William J. Bennett, author, America: The Last Best Hope
"Paul Revere did so much more for the country than ride a horse. The Revolutionary Paul Revere looks at the man behind the ride and how Paul Revere was a bigger figure in the American revolutionary than his warning of war. From the protests before the war to ratifying the constitution to his other wartime endeavors, The Revolutionary Paul Revere is a choice pick for anyone who wants to know the true story of Paul Revere."
Midwest Book Review
Purchase yours today
Bonus Resources