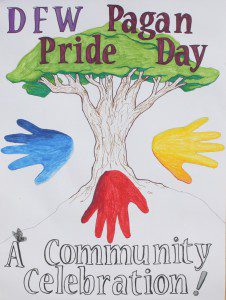 Over the past three weekends I've participated in three very different Pagan gatherings.
Two weeks ago was Denton CUUPS' Gleichentag ("even day") Circle, our Norse-themed celebration of the Autumn Equinox. About thirty people participated in a polytheistic rite honoring Frey and Freya, presenting nine runes and their associated virtues, and toasting a wide assortment of Gods and ancestors.
Last week was the OBOD East Coast Gathering. Over a hundred Bards, Ovates, Druids, and guests assembled in Pennsylvania for a long weekend immersed in Nature. We discussed the finer points of Druidry, initiated new members of the three grades, celebrated the turning season and honored many Goddesses.
Yesterday was the 2014 DFW Pagan Pride Day. Somewhere around 350 Pagans of seemingly every description gathered at Arlington UU Church for a day of music, dance, workshops, rituals, shopping, and conversation.
There is a need for all three types of events: narrowly focused ceremonies, gatherings within a common tradition, and general celebrations involving a wide range of participants.
While last year's Pagan Pride Day was cool and rainy, yesterday was bright, sunny, and warm. Summer is over in North Texas, but that just means no more 100 degree days. I had only been there for a few minutes when I went back to my car for my hat and soon found myself wishing I had worn Druid white instead of Pagan black. But the organizers made sure plenty of water and sunscreen were available, and the trees provided a bit of shade. All in all, it was a nice day for an outdoor event.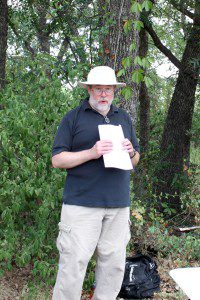 There is no clearer example of the diversity of Pagan Pride Day than a look at two of the workshops. At 1:00 Cheri Remily presented "The Cunning Arts Sans Religion." At 2:00 I presented "Daily Spiritual Practice For Pagans." I don't know Cheri Remily and I didn't hear her presentation. I was helping out at the greeting table (i.e. – hanging out under their canopy trying to stay out of the sun) and talking with some local friends I hadn't seen in a while. But clearly, she speaks to and for a fair number of people in the Pagan community.
There are some people who have no interest in religion, or who have been so damaged by toxic religion they need some time away from it. But they still feel a calling to the stories of our ancestors and they still feel a need for magic in their lives. Yes, the end result is usually more RenFaire than Reconstruction, but that's OK. It helps them in their lives and it puts them in a position where perhaps someday they'll hear the call of the Gods. It encourages them to live more in tune with Nature. And it creates alliances that benefit everyone under the Big Tent of Paganism and in the wider community.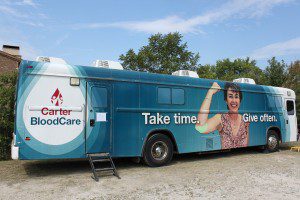 This year's DFW Pagan Pride Day collected canned food for Cancer Care Services, which provides tangible and emotional support to cancer patients and their families. It collected blood donations. It provided business for local artisans and craftspeople. That alone is reason enough to support Pagan Pride Day.
I got to talk – face to face, not text on a computer screen – to several friends I hadn't seen in months. I had a conversation on the differences between secretive religions, proselytizing religions, and public religions (that conversation is probably going to become a blog post sometime soon). I had several conversations on the need for a group to practice with and the challenges of finding one that fits you and isn't on the other side of this sprawl we call North Texas. I met someone who's looking for a group who lives less than 15 miles from Denton UU.
There are more Pagans and more Pagan groups in North Texas than you'd think. But because of Texas' well-deserved reputation as a bastion of political and religious conservatives, we tend to keep our heads down. Pagan Pride Day is a chance for all of us to hold our heads high, look around, and see who our neighbors are… and to tell everyone else "Hey! We're here!"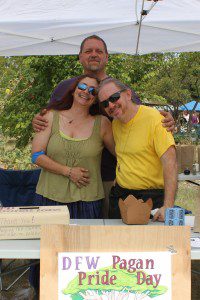 This was the first time the Dallas – Fort Worth Pagan Pride Day has been held on the Fort Worth side of the region. AUUC isn't as public as White Rock Lake, and Arlington is (in)famous as the largest city in the U.S. with no public transportation. But it was the most suitable location the organizers could find in Tarrant County, and I spoke with numerous people who were attending their first Pagan Pride Day. The organizers are planning to go back to White Rock Lake in Dallas next year, which is a better location (and works better for me), but the commitment to alternate between east and west is a good one.
There was no Pagan Pride Day in North Texas in 2011 and 2012. The strong turnout last year and this year, combined with the commitment and hard work of the organizing committee, say it's here to stay.
Once again, it's a good time to be a Pagan in Texas!