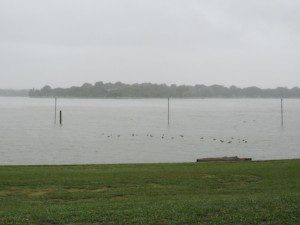 Fall came suddenly to North Texas yesterday.  After a typical scorching Summer that ran atypically long, a cold front moved through on Saturday morning, dropping temperatures 30 degrees and bringing clouds and rain.  While I was thankful for the cooler weather, my first concern was for the turnout at the DFW Pagan Pride Day.
I needn't have worried.  Perhaps everyone was happy the heat is gone, perhaps the beautiful location pulled Nature-loving Pagans out despite the weather, or perhaps, after not having our own Pagan Pride Day since 2010 our local community decided this was going to be great no matter what.  I heard an estimate of 300 to 400 people in attendance, and the folks who worked the welcome table say it may have been closer to 500.  That's by far the largest Pagan Pride Day celebration I've been to.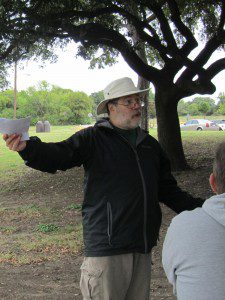 There were vendors and musicians, workshops and rituals.  Wiccan author Ed Fitch appeared to draw the largest crowds with one workshop on Halloween traditions and another on the dark aspect of the Goddess.  I arrived in time for the last half of Conor O'Brien's workshop on Hellenism, which gave a small group good insight into the daily and monthly rites of those restoring the practices of the ancient Greeks.  I had a slightly larger turnout for my workshop on a Druid approach to Nature Spirituality.  That time slot probably had the worst of the weather – not bad, but just enough wind and rain to be an annoyance.
On the other hand, there's something right about a Druid teaching under an oak tree while the mists roll in.
The main ritual at noon was led by a local Sumerian group.  It was light in tone, it conveyed a good message for a community of diverse traditions and experience, and it was very participative – perfect for a Pagan Pride Day main ritual.  Someone counted 130 people in the circle – I think that's about right.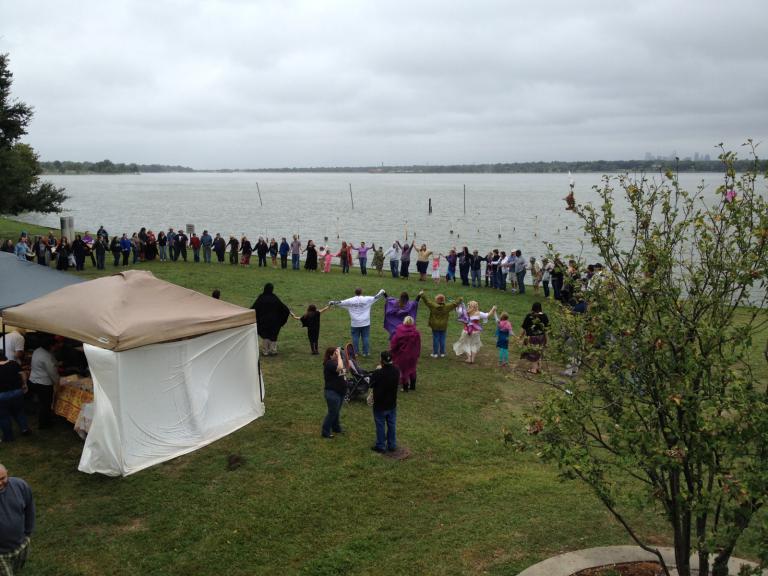 Denton CUUPS led the closing ritual, a variation of the Cernunnos Ritual we did in August and that Cynthia and I led at the OBOD East Coast Gathering.  It was amazing to honor the God of the Forest in such a beautiful natural setting.  I'm thankful for the drummers, singers, offering bearers, and quarter callers who helped make it happen.  We expected about 40 people would be around for the closing ritual – I counted 80 in this picture alone.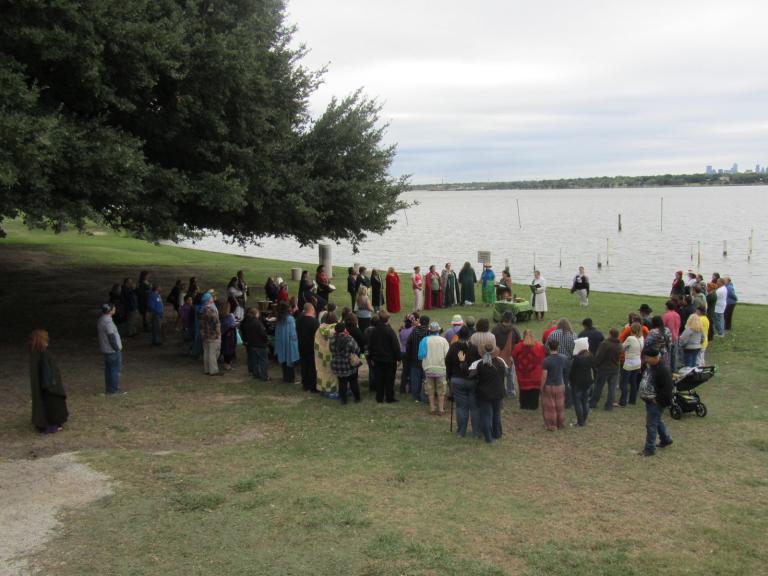 The energy was good, several people had strong experiences, and I got good comments afterward.  On the other hand, I'm not sure that was the right ritual for this setting.  I'm going to give that some further thought and meditation – I'll probably write more about it next week.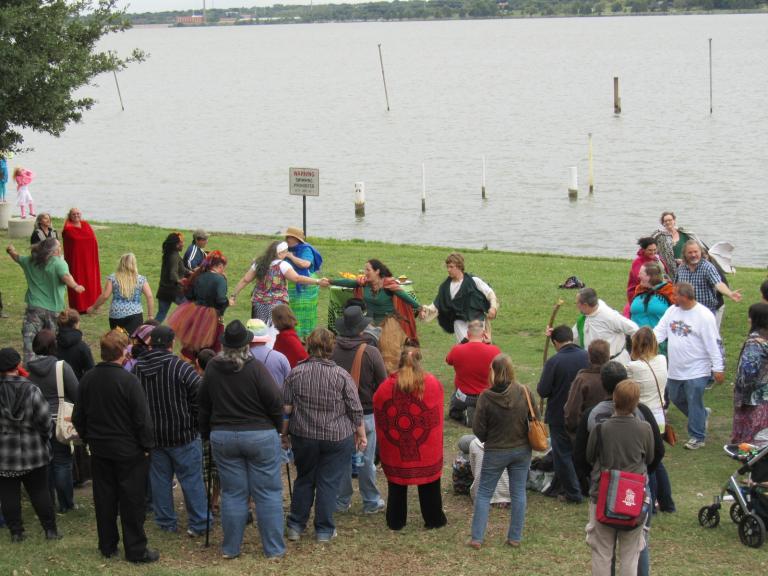 I can't say enough about the organizing committee:  Bryan, Troy, KD, Dana, Heidi, Vense, Mike, Tommy and probably a bunch more people I'm overlooking.  These people took it upon themselves to bring Pagan Pride Day back to North Texas:  they raised the money, secured the venue, booked the talent, promoted the event (which probably had a lot to do with the good turnout), and did all the grunt work.
I was part of the organizing committee but I didn't do all that much.  That's not modesty, that's just the truth.  The rest of the group let me contribute what I had to contribute, didn't push me to take on any more, and didn't try to make me feel guilty when I couldn't.  They worked together and never let personalities get in the way of doing what needed to be done.
White Rock Lake is a wonderful location for Pagan Pride Day:  it's beautiful, accessible, and public.  However, we've committed to holding next year's PPD in Fort Worth.  Folks in other parts of the country may not realize how spread out DFW is:  I drove 60 miles one-way to most of the PPD planning meetings.  While a few people won't drive an hour even for a once-a-year event, most simply don't want to have to do it every year.  The organizers have committed to moving it around to help build a strong community despite our sprawl.
It was good to see some people I hadn't seen in a long time and to meet some new people for the first time.  It was good to teach, to learn, and to do ritual.  It was good to be outdoors and experience all the elements for a change.
Mainly, it was good to be a Pagan in Texas.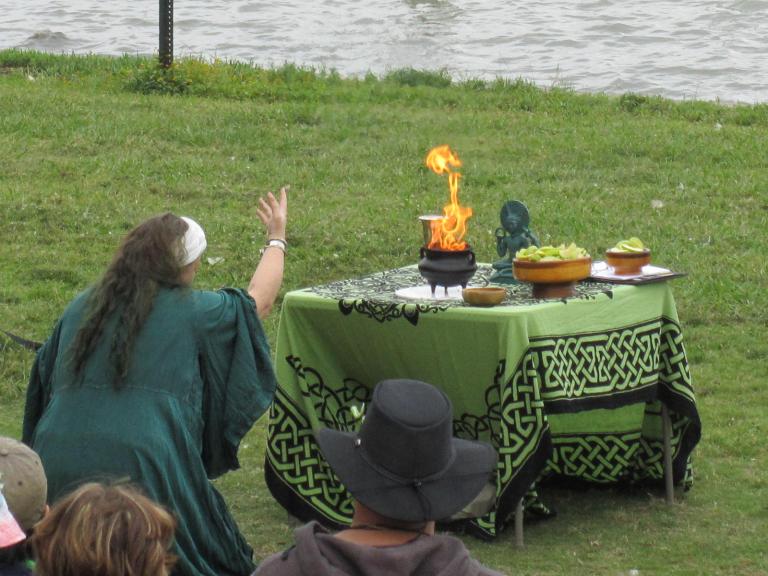 For more on DFW Pagan Pride Day 2013, check out these accounts from Tommy Elf, Troy Young, and Amber Tuma.