Nine Things I Think is an irregular feature whenever I have a list of things I want to talk about that aren't long enough for their own individual posts. There's no theme, just nine things I want to bring to your attention. Feel free to expand on any of these topics in the comments section.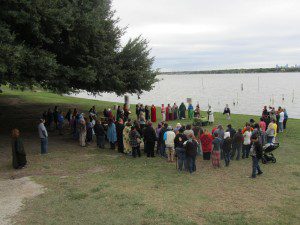 1) Pagan Pride season is in full swing. Whether you call yourself Pagan, polytheist, reconstructionist, occultist, witch, or whatever term you prefer, I encourage you to participate in your local Pagan Pride Day. There are rituals, classes, music and vendors, but most importantly, there's the opportunity to meet like-minded people and connect with like-minded groups in your area.
The Dallas – Fort Worth Pagan Pride Day will be Saturday, September 27, from 9 to 5 at Arlington UU Church. This will be the first time DFW Pagan Pride Day has been held in Tarrant County – and that's a big deal for those who live on the Fort Worth side of this huge region!
I'll be teaching Daily Spiritual Practice For Pagans at 2:00. Come out and say hello.
2) We've had a very good initial response to the CUUPS Revisioning Survey. If you haven't participated yet, please do. Whether you're a CUUPS member or not, if you have an opinion on what CUUPS is and what it should be, we want to hear from you. Our first survey will be up for another week at:
https://www.surveymonkey.com/s/CUUPS_Revisioning_1
Other surveys will follow over the coming weeks.
A detailed description of the goals and methods of the Revisioning process can be found on the CUUPS website.
3) Polytheist.com has added more writers to its already-diverse lineup of polytheists. They present a nice variety of viewpoints, but perhaps more importantly, they're accessible. None of them are so academic or so deep that anyone with a budding interest in many Gods can't understand them.
I'm reminded of a quote from Friedrich Nietzsche I got from Brendan Myers: "Those who know they are deep strive for clarity. Those who would like to seem deep to the crowd strive for obscurity." The writers on Polytheist.com know they're deep.
4) I usually find the phrase "follow the money" to be unhelpful and distracting. It ignores the fact that many people do horrible things because they think they're good, not just because they can profit from them personally.
But when it comes to the NFL's response to domestic violence and child abuse by its players, there seems to be no other explanation. Mediocre players get cut at the first sign of controversy. Good players get a pass when they do horrible things… unless they start generating bad publicity, in which case they're suspended indefinitely. When the outrage dies down, they'll be back – even if they killed a teammate driving drunk.
I'm uncomfortable with people losing jobs for things that aren't job-related. But professional athletes aren't accountants or assembly line workers. They're role models for millions of people (they shouldn't be, but they are) and what the NFL decides is acceptable conduct will be deemed acceptable conduct by many in the wider society.
Domestic violence and child abuse are never acceptable.
5) I've heard some say we should forgive Ray Rice because his then-finance, now-wife Janay Palmer married him despite him knocking her cold, and asked NFL Commissioner Roger Goodell not to suspend him. Obviously, if he's suspended he's not getting paid and that affects her too.
I know victims of domestic violence often stay in abusive relationships for reasons that seem incomprehensible to me. Sometimes victims stay because they feel they have no other choice. Our obligation to Janay Palmer and to every other victim of domestic violence is to make sure they have a viable option to leave: that they have someplace safe to go and help getting out of a bad situation.
If Janay Palmer really and truly wants to stay with the man who knocked her out cold, I can't do anything about that. But her decision has no impact on my belief that what Ray Rice did was wrong, criminal, and deserving of sanction by society.
6) Last year I attended the Sacred Lands and Spiritual Landscapes conference in South Carolina, coordinated by Holli Emore. Fellow Patheos Pagan bloggers Sara Amis, Elinor Prędota, and Byron Ballard were presenters. Now the conference presentations have been combined into a book and published by ADF Publishing. It's not quite the same as being there, but if you weren't able to attend, here's your chance to read all the presentations, plus an introduction by Ronald Hutton.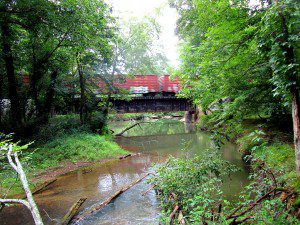 My favorite is Sara Amis's "Song of the Chattahoochee," subtitled "On Being a Southern (Pagan) Witch in Atlanta's Urban Landscape." When I met her, I found out Sara grew up about 10 miles south of my home, though considerably later. And like Sara, I spent several years living in Atlanta. When I heard her presentation I found myself smiling in recognition of common places and common experiences, and when I read the chapter in the book I was again reminded that there's a lot more magic in Southern culture than most people – including many Southerners – recognize.
7) I'll be speaking at First Jefferson UU Church in Fort Worth on Sunday, October 19 at 11:00 AM on "The Art of Wild Wisdom." As with Pagan Pride Day, if you're in the area, stop in and say hello. This will be my fourth time in the pulpit at First Jefferson – they're some great people and a nice UU church.
8) As this is being posted, I'm on my way home from the 2014 OBOD East Coast Gathering. This year was the fifth anniversary for the ECG and my fourth year attending. There is simply no substitute for spending a long weekend immersed in Druidry… and for spending a few days at home in the woods with my tribe. I'll have a more detailed write-up on the camp sometime next week.
If you have the chance to attend a spiritual retreat, I strongly encourage it.
9) Remember that Facebook is throttling all posts and only showing about 5% of posts from pages. A simple way to make sure you get all the posts from Under the Ancient Oaks (and the other blogs on Patheos) is to subscribe by e-mail. Simply enter your address in the box on the right of the screen. You'll get e-mail notifications when new posts go up, and you won't be signing up for a boatload of spam.
That's what I'm thinking – what about you?