Last year was my first time at the ADF Texas Imbolc Retreat.  I had a great time and was honored to be asked back this year.  This year was just as good, but there were subtle differences.
My first clue that things would be different was when I drove up and saw two new buildings.  U Bar U, the UU retreat center near Kerrville, Texas has added two new bunkhouses.  They're really more suites than bunkhouses – no more 15 people trying to share one bathroom.  I had no real complaints with last year's accommodations, but this was much nicer.
Last year the weather was icy coming in and very cold the first day.  I made it OK, but one of the ADF senior priests couldn't.  The weather was beautiful this year – warm during the day and cool at night, with no rain at all.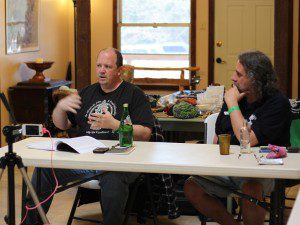 Rev. Jon Drum was back and was happy to be out of the Michigan winter for a few days.  Rev. Sean Harbaugh – who I met at last year's Pantheacon – was there and said the weather was what he had been experiencing in northern California.
The opening ritual honored Brighid, who is the patron of the festival… as is appropriate for a Druid retreat held at Imbolc.
Unlike many Druid orders, ADF is an explicitly polytheist organization.  Their basic liturgy focuses on forming and strengthening relationships with the Gods, ancestors and spirits of Nature.  Being good polytheists, though, they don't tell you what to believe about the Gods, ancestors, and spirits of Nature – just honor them.  Their rituals neither cast circles nor call quarters.  Instead, they recreate the cosmos by invoking the sacred well, the sacred fire, and the sacred tree.
For these rituals, a brass urn served as the Well, a huge live oak served as the Tree, and a roaring camp fire was transformed into the Fire.
Offerings were made:  mead, whiskey, ale, herbs, water, and various items brought by the participants.  Each one concluded with a collective prayer to "accept this offering!"  Omens were taken and the Waters of Life were hallowed and shared.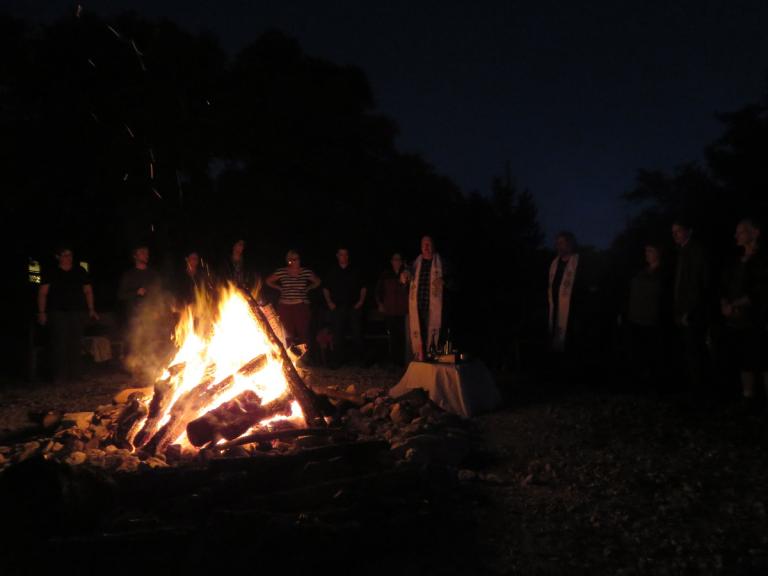 I had the first workshop, on Preparing the Way of the Gods.  It was an expanded version of the essay I contributed to Polytheist.com last year.  The theme of the workshop was that we're better served by focusing our attention on serving the Gods and serving our communities, then building infrastructure as we have specific needs.  This avoids the trap of building something we think we need because we see it in other religions even though it may not serve our needs or the needs of future generations.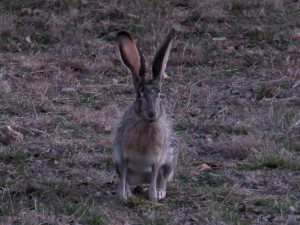 Jon Drum led a workshop on Hospitality and the Spirits of Place.  I'm not sure if it was by design or if it was just the way things worked out, but after a brief introduction on making offerings to local spirits, just about everyone in the room spoke up with their own story of interacting with spirits.  I was reminded of The Fairy-Faith in Celtic Countries, an early 20th century survey of encounters with the fae.  These experiences have never stopped – people just stopped talking about them for fear of being ridiculed.  My atheist friends are welcome to laugh away – I'll keep working to maintain good relations with my neighbors.
Sean Harbaugh led a workshop on Pagan leadership.  He began with some material from the ADF Leadership Handbook, but the conversation quickly turned to real examples from participants' groups and gatherings.  If there was one conclusion, it was the necessity to keep your focus on serving the Gods and serving the community.  Personality conflicts and disagreements over methods are inevitable, but if we concentrate on who we are and why we're here things have a much better chance of working out OK, one way or another.
Carly McNamara gave a presentation on flame tending, particularly as it relates to devotion to Brighid.  Chopper Whitewolf gave a presentation on bringing a warrior's approach to modern society.  Devon Reynolds talked about what we can learn about deities from their names, and Jason Clark talked about Indo-European magic.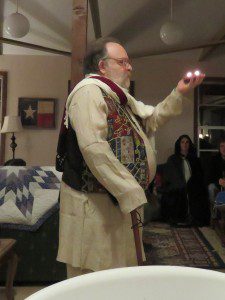 As he did last year, David Thompson gave two Bardic performances, including a dramatic telling of "The Sons of Tuiren."  I'm in awe of the power he brings to storytelling.
Revs. Harbaugh and Drum are also members of the Reformed Druids of North America and they led us in an RDNA ritual.  For all the times I've told the story of the founding of the RDNA, I've never experienced one of their rituals.  It was light and brief, as you'd expect from a group formed by a bunch of college students who just wanted to get out of having to go to chapel services.  But the RDNA took on a life of its own, and some of their ritual elements have been incorporated into the ADF liturgy.
One of the most enjoyable parts of a retreat like this is watching and listening to the people who are there for the first time.  Some are long-time solitary practitioners, some just discovered Druidry and Paganism, and some just don't get out much.  It was great having Tommy Elf there.  Tommy has been a vocal part of the Pagan community for many years (literally vocal – he's a podcaster) but he epitomizes "solitary practitioner."  But he decided to come to this.  You can read his thoughts on his blog – here's an excerpt:
Yeah, it took more than little coaxing to get me to go. And after all the apprehension on my part – I found that I had no reason to be apprehensive whatsoever. I have met so many people at this Retreat that I likely would never have connected with otherwise. And I feel completely enriched from having spent the time with them … If they hold this again next year, I am already making plans to be there.
The ADF Texas Imbolc Retreat has been going since 2008 and I expect it will continue well into the future.
Thanks again to Chris Godwin, Amanda Godwin, and all the folks of Hearthstone Grove for their hospitality and their good work in planning and presenting this retreat.