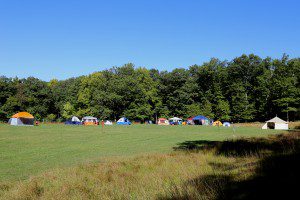 Last weekend I attended the OBOD East Coast Gathering in Pennsylvania. This was the sixth year the camp has been held and my fifth year there. Like our celebrations of the eight major Pagan holy days, in many ways it was the same as it is every year – the same location, the same program structure, and the same camp director who makes sure everything that needs to happen does happen (and who has threatened to skewer me if I post a picture of her, so I won't).
But also like our celebrations of the high days, there were parts of this year's ECG that were unique to 2015.
The East Coast Gathering is limited by the size of the camp – you can only fit so many people into facilities built for a girls' summer camp. This year's ECG sold out in less than 24 hours. Still, we had almost 40 first-timers in a group of a little over a hundred adults and a dozen or so kids.
This year's theme was Ritual, and the Seedgroup of the Oak and Eagle did an outstanding job of coordinating the opening ritual. It was an ordinary OBOD opening ritual, but it was exceptionally well done – I think that's the first time I've seen a ritual presented at the ECG with no scripts (including the ones I led in 2013 and 2014). Not using scripts is like working without a safety net – it's great when it works and it's awful when it doesn't. This was great.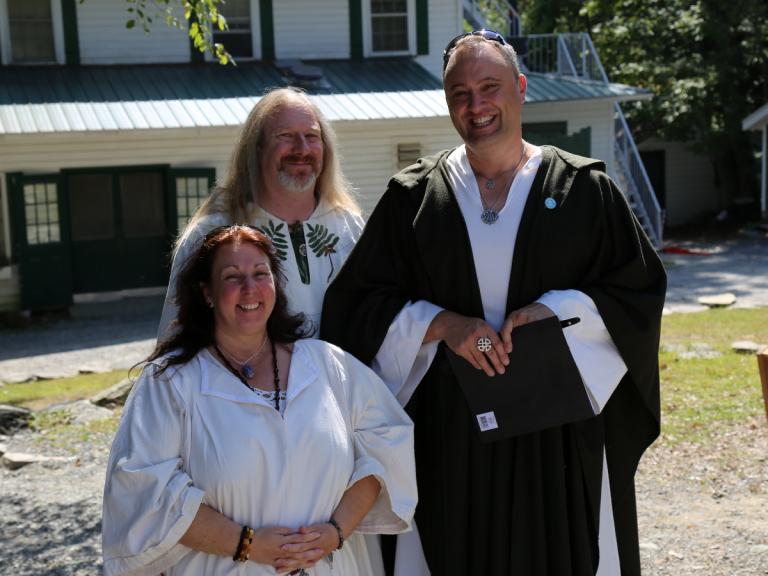 We had three special guests from the UK. Cerri Lee gave a presentation on The Art of Ritual. Cerri talked about the need for rites of passage and the need for belonging, and how good ritual can facilitate that. Damh the Bard spoke on The Bardic Voice. He talked about how bardic work is the foundation of Druidry, and how good poets, musicians, and storytellers can build that foundation. He said "if you're calling Fire, be the Fire."
Kristoffer Hughes' presentation was titled "Laudanum, Literature and Liturgy – The Ritual Legacy of Iolo Morganwg." Kris re-created a ritual Iolo performed in 1792 on Primrose Hill in London. Iolo Morganwg's reputation is that of a literary forger – an accusation I've repeated on numerous occasions. The charge is technically correct – he passed off his own work as the work of ancient Welsh bards. Yet how is that different from the foundational myths told by bards and prophets of virtually every culture and every religion? Iolo spoke out for Welsh heritage and for freedom of religion – he was a Unitarian at a time when it was an unpopular thing to be, and his theology is still relevant for Unitarian Universalists as well as Pagans.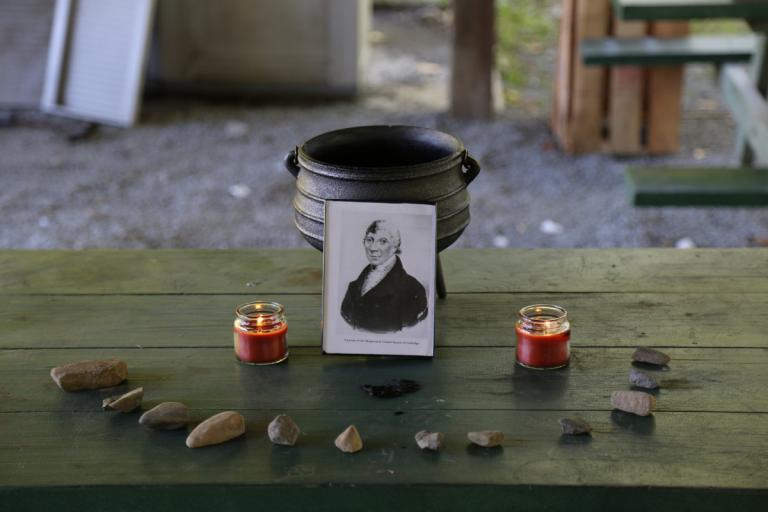 This was the most powerful moment of the weekend for me. Iolo Morganwg lived in a thoroughly Christian society but he dreamed of a day when Druidry would return to the world. We who call ourselves Druids are living Iolo's dream, something he could not have imagined was possible even though he worked to create it.
That's a reminder that even though our dreams may not be fully manifest in our lifetime, our work will enable our descendants to live them and exceed them.
This year featured the first ECG panel discussion: eight members of the Druid grade (including our three special guests) fielding questions on the theme of combining different traditions in ritual. Only one of the questions directly involved ritual – the rest dealt with matters such as cultural appropriation, syncretism in practice, ideas about the Gods, and dealing with the religiously obnoxious. I was concerned that the loudest voices on the panel (including my own) would dominate the conversation, but everyone was respectful – the impromptu use of a banana as a talking stick served as a reminder not to take ourselves too seriously.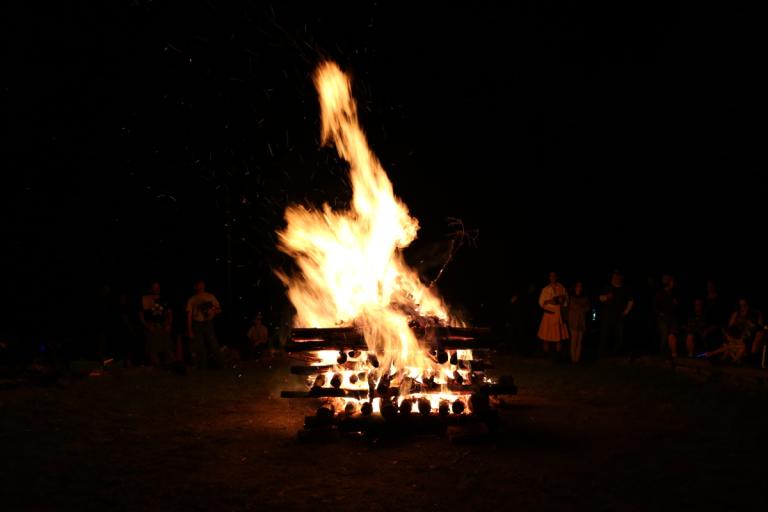 With near-perfect weather (no rain and very mild temperatures), we were able to have camp fires every night. Damh the Bard gave a concert Thursday night – it doesn't get much better than singing along with Damh while drinking mead with a hundred of your fellow Druids. Friday and Saturday were opportunities for the rest of us to tell stories, sing songs, and recite poetry. Damh is right – bardic work is the foundation of Druidry, at least in the Order of Bards, Ovates and Druids.
Every year, the ECG raises money for a local cause. This year it was the Delaware Valley Raptor Center, which rescues and rehabilitates birds of prey. While the DVRC attempts to return birds to the wild, some are injured so badly they could not survive – some of them become their program birds for educational events. It was amazing to see these beautiful birds up close.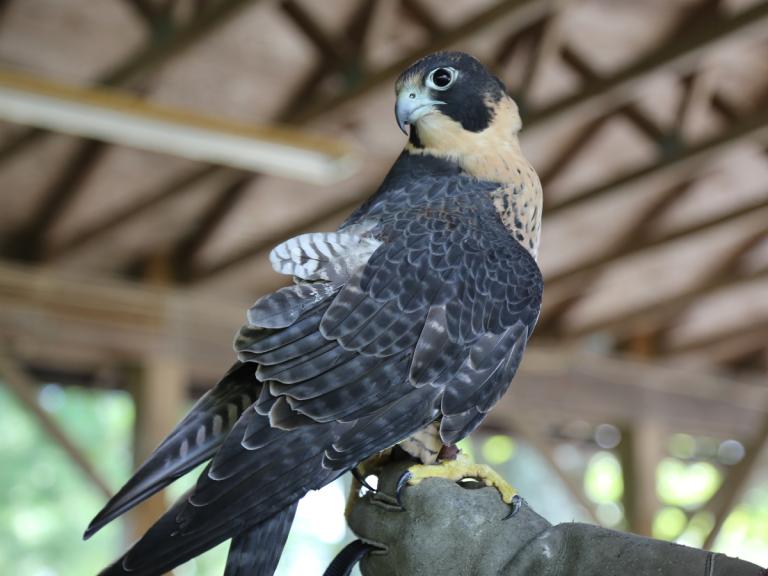 As always, the best parts of the East Coast Gathering were the informal conversations in the dining hall, around the fire, and under the trees… the kinds of conversations many solitary Druids can't have for most of the year. Those conversations seemed to strike a deeper tone this year… something I'm going to explore in a future blog post.
Dates for next year's East Coast Gathering haven't been finalized. OBOD Chosen Chief Philip Carr-Gomm will be the special guest and the dates will depend on his travel schedule. The 2016 ECG will be held September 15-18, but Philip is unable to attend. He'll try again in 2017. It's guaranteed to fill up very quickly, so if you're an OBOD Bard, Ovate, or Druid, watch for the announcements. The 2016 ECG will be different from all the others, but it will be another memorable experience of Druid community.