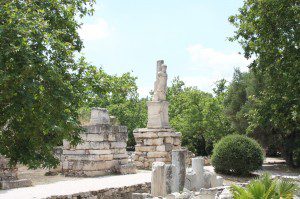 The debates in the Pagan community continue. Over the last couple of weeks it's been witches arguing over teaching for money and the extent to which secrecy is required. The polytheist / atheist shouting matches never seem to go away. Back in August I said I was done arguing with atheists and I've yet to see anything compelling enough to get me to break that promise to myself. I know we can't all just get along, but sometimes it gets to be a bit much. Or a lot much.
Some people have compared Paganism today with Christianity in the 100 – 300 CE range: past its founding events but still trying to figure out what it's going to be; growing but still a minority religion. I think the comparison is useful even if it's far from perfect, and I've compared our on-going debates to the Council of Nicaea – with the full understanding that we will canonize no scripture and we will issue no creeds.
There's another important difference – our debates will never end. And contrary to what those of us who are tired of all the arguing may think (a group that includes me), that's a good thing.
In order for the debates to end, they'd have to be settled. Either we'd all be convinced that there really is One True Way, or one group would bully all the others into accepting their ideas. Neither is a very appealing alternative. Either way, when the arguments and debates end, the advancement of Pagan thinking ends with them. Stagnation would follow.
Now, not every petty shouting match is a major theological debate. When arguments stop being about ideas and start being about how wrong a person is, we're not getting anywhere – so stop wasting your time. As Niki Whiting said "stop reading mean people." You aren't going to convince them they're wrong. Trying to rebut them only feeds them and raises your blood pressure. If you feel honor-bound to correct an error, say what you need to say and then disengage. It's OK to let an asshole have the last word.
I have many friends who are mostly polite about our religious disagreements. Maybe that's because we know each other as people (either from face to face meetings or from long and close interaction online), but maybe it's because we see the depth of dedication most of us have. We understand that the Gods sometimes call us to do odd things, and so when someone else passionately advocates for something we think is a bit off, we give them the benefit of the doubt – publicly if not privately.
Still, the debates go on. Ideas about who the Gods are, how to honor Them, how to experience Them, how to embody Their virtues, and what it all means create never-ending conversations. Simple deferring to tradition is a long, well… tradition. Writing 1700 years ago, the Greek Iamblichus said
It is necessary that the prayers of the ancients … are preserved ever the same and in the same manner, with nothing of alternative origin either removed from or added to them. For this is the reason why all these things in place at the present time have lost their power, both the names and the prayers: because they are endlessly altered according to the inventiveness and illegality of the Hellenes.
I constantly talk about building on the foundations of our ancestors and about not reinventing the wheel. When things work, hold on to them. But while the Gods are the Gods, the religions about the Gods are a human product of a particular place, time, and set of circumstances. As those things change, our religions must change with them.
And let's not forget that we're still very early in the Pagan restoration… or if you prefer, the Pagan reimagining and re-creation. There are still theological concepts, rituals, devotional practices, and practical applications that we've yet to discover or invent.
There's a lot of deep work left to do.
Ideally, our Pagan religions will have a stable core of lore and practices that remain constant from generation to generation. Things like reading the stories of our ancestors, gathering on holy days, forming and strengthening relationships with Gods, ancestors, and spirits.
Our religions will have an open middle, allowing new practices and new interpretations of experiences to take root, while allowing those that are no longer meaningful and helpful to die a natural death.
And they will have radicals and mystics on the fringe, constantly looking for deeper and more meaningful ways to experience the Gods and to remake the world with Their values and virtues.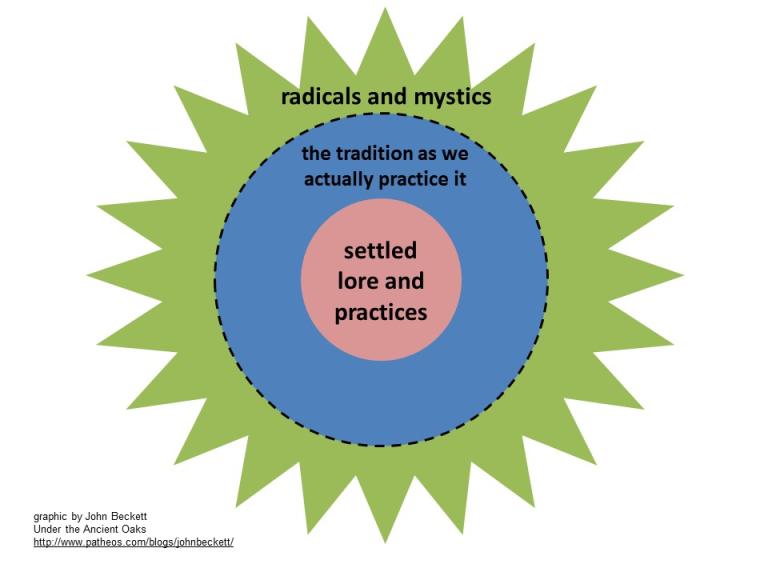 Some traditions say this model is backwards. They say the radicals and mystics have to be at the core, constantly investigating and experimenting and trying new things. Some go so far as to say their tradition only includes the radicals and mystics.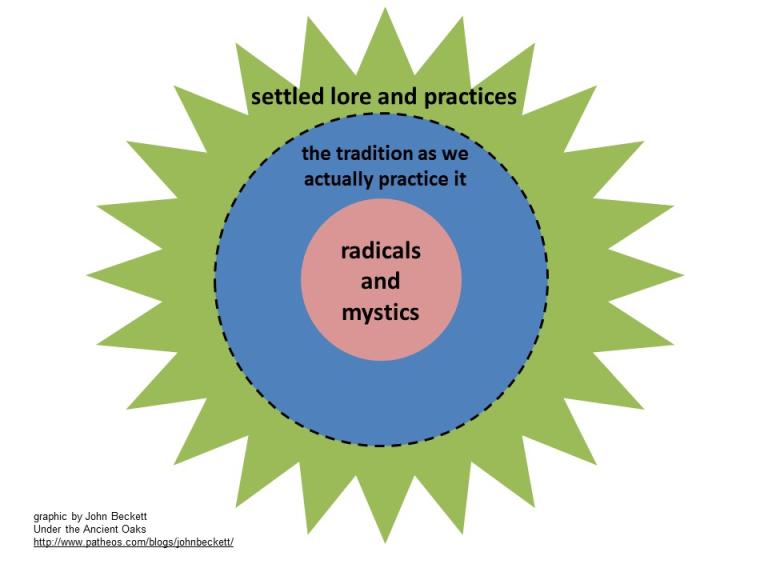 Regardless of in which direction new ideas flow, some will be helpful and some won't work… and  the farther we go, the more failures we'll see. But if we don't keep ourselves open to the wisdom of the Gods and open to new ways of experiencing Them, stagnation is inevitable.
Contrary to what the conservative monotheists tell us, the purpose of religious discourse is not to convince others to abandon their religions and join ours. Rather, the purpose of religious discourse is to learn about other religious traditions, and to refine our own traditions.
So let's try to do all those things they teach us in basic philosophy classes… or was that kindergarten? Attack ideas, not people. Use basic principles of logic and avoid logical fallacies. Advocate passionately for beliefs and practices you're passionate about, but remember that others are just as passionate about different things. Don't let arguments get in the way of honoring your Gods and ancestors and of caring for the world.
And remember that the debates aren't going to stop. Our Pagan religions will never be settled.