Yesterday, the Denton Unitarian Universalist Fellowship held a Reconsecration ceremony following eight months of repairs and renovations on our building. This morning, we held our annual Ingathering service as we returned to our normal routine of weekly services at 9:30 and 11:30 AM.
It's been a long and difficult eight months. It began with several fires the week before the Winter Solstice, set by a disturbed teenager. As we pointed out at the time, this was a case of extreme vandalism, not a hate crime. The person who did it is now in jail and will be there at least until he's 18. Our hope and prayer is that he can learn and grow, but we know the odds are long.

A group of volunteers quickly cleaned and painted the sanctuary to make it ready for Christmas Eve. But the Religious Education wing (that includes our fellowship hall, kitchen, and nursery) needed major reconstruction. With the exception of Easter Sunday, our weekly services were held at 1:00 PM at First Christian Church, our neighbors across the street. We are extremely grateful for their hospitality and friendship – they displayed the best of Christianity.
CUUPS worked with what was available. We were shaken by the fire – we canceled our Yule circle and held a private gathering instead. Our Imbolc, Ostara, Summer Solstice, and Lughnasadh circles were held in the sanctuary. Beltane was held outside, as usual. We've missed the kitchen and the extra restrooms in the RE Wing, and the lack of a nursery meant we couldn't offer child care at our circles.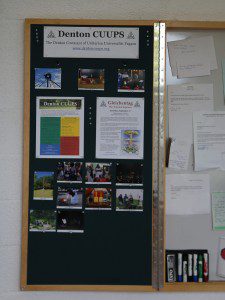 In early January, several CUUPS members held a private ritual of Cleansing, Blessing, and Warding. We spent about two hours working through the three segments of the ritual, which concluded with prayers and offerings asking the many deities with whom we are affiliated to add their magic to ours. We also requested and received support from some of our allies in other locations. We are thankful to all who aided us, those in this world and those in the Otherworld.
We initially expected to be back in our building by the end of February. But first there were delays with the insurance company. Then there were delays getting building permits from the city. Since more than a certain percentage of the building was being renovated, we were required to bring the whole building (initially built in 1959, with subsequent additions) up to current codes. Insurance paid much of the costs, and donations – including contributions from some readers of this blog – helped, but they did not pay for everything… and as anyone who's been involved with church or other non-profit finances knows, extra cash is a luxury few of us have. Our members did much of the work, and I'd like to especially thank Matthew Morin and Erik Goodlett for their highly skilled craftsmanship – what's here isn't just functional, it's beautiful.
The timing of the Reconsecration service worked out nicely. Ingathering is our traditional "beginning of the church year" service featuring a UU water communion, plus this was our minister Rev. Pam Wat's first Sunday since returning from sabbatical. It seemed right to hold the Reconsecration immediately before this new beginning.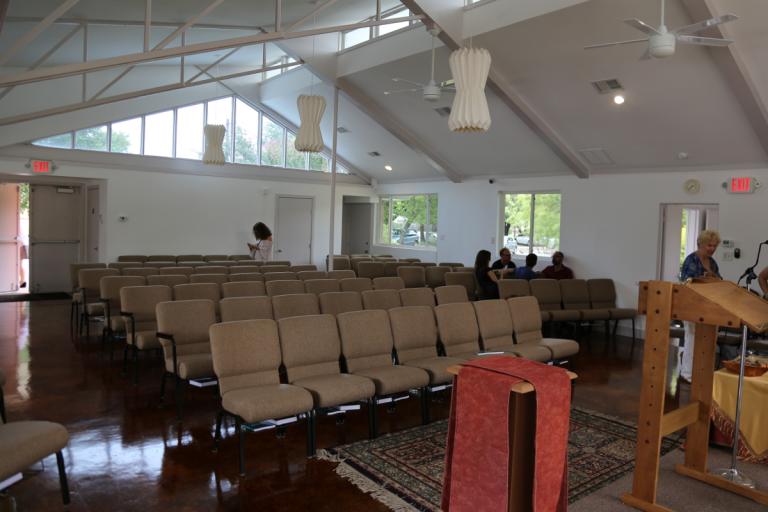 I was honored to help compose two of the liturgical elements for this service. We began the service by reclaiming fire as part of our chalice lighting. The flaming chalice is a central part of UU services, and we knew many people would be uneasy with bringing fire into a sanctuary that had just been rebuilt after a damaging fire.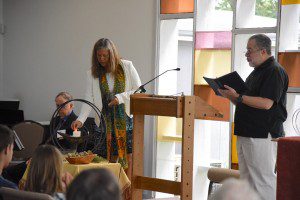 Then toward the end of the service, Rev. Pam and I presented a colloquy as the Act of Reconsecration. Pam asked me to write it as I would for a Pagan service, without watering anything down. She put her parts into her own words, and added a few lines to address matters I had overlooked. It was a perfect example of collaborative ritual, and of how a UU service can be truly multi-faith without being bland and soulless.
To consecrate something is to set it aside and dedicate it to a sacred purpose. It can be argued that the original consecration was still adequate. However, most of us had been away for eight months, and it seemed both appropriate and necessary to do more than simply walk back in on Sunday morning. We needed to say "it's finished" "we're back" and most importantly, "we're ready to go back to being a sanctuary and a lighthouse for our community."
---
Act of Reconsecration 
John: This land is sacred, as all land is sacred.
Pam: This building is the legacy of our Unitarian Universalist predecessors, a temple dedicated to the highest aims of humanity, made holy by the practices and prayers of the followers of many paths.
John: But our temple was profaned – made impure and unfitting for worship.
Pam: Our sanctuary was violated. Our trust was shattered. Our safety felt threatened.
John: We have cleansed the temple of ill intent and the residue of desecration. We have cleansed it of baleful spirits and discordant energies.
Pam: We have blessed the building with air and fire.
John: We have blessed it with water and earth.
Pam: We have blessed it with sweet-smelling herbs.
John: We have warded the temple with prayers and offerings. We have warded the temple with our own power and skill.
Pam: We offer our forgiveness – sometimes the hardest thing to give – for all who have violated this sacred space. We find our peace in the loss of our creek. We find our peace in the break-ins, vandalism and arson that destroyed what we hold dear.
John: We have reclaimed the temple with labor and with joy.
Pam: People have poured love back into this space through hard physical labor – lifting, sawing, hammering – through working on insurance paperwork and cutting checks, to inventorying our losses, to purchasing new furniture and supplies. And through our intentions here today we reclaim this space as holy, as good, as the place where our best selves can once again emerge.
John: The temple is clean, pure, and protected, and our fellowship has assembled here once again. Yet one final thing remains to be done.
Gods and Goddesses of our people, beloved ancestors, spirits of this place, we give thanks for the rebuilding of our temple, and we ask your blessings as we consecrate it once again to the highest ideals of humanity. We consecrate it to be a place of worship, a place of learning, a place of service, and a place of fellowship.
Linda: place new decoration on pulpit
Pam: By the placing of this banner, we declare that this space is holy and whole, and that it is once again our sanctuary, both now and in the days to come.
So be it, amen, blessed be!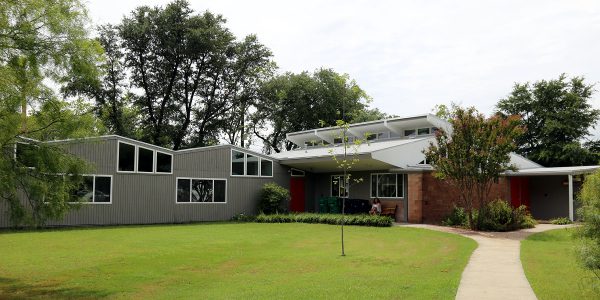 The Act of Reconsecration was written by John Beckett and Rev. Pamela Wat for the Denton Unitarian Universalist Fellowship, August 20, 2016. Feel free to borrow or adapt these words for your own use, with attribution.