Yesterday (June 3) Philip Carr-Gomm announced that he is beginning a two-year transition to step aside as Chosen Chief of the Order of Bards, Ovates and Druids, the largest Druid order in the world. At the Summer Solstice in 2020, Eimear Burke will become OBOD's 4th Chosen Chief (and for all practical matters, its 3rd) and the first new Chief in over 30 years.
I've never met Eimear, and I suspect most American Druids would say the same. But Philip did a nice job of introducing her, and he made this 20-minute conversational video to help Eimear introduce herself to the rest of OBOD and the Druid world.
Eimear Burke
Eimear Burke began her professional career as a nurse. Her work took her to Tanzania, where she met a traditional healer. That sparked an interest in nature spirituality, but she wanted something that "belongs to these lands" – meaning her home of Ireland. A serendipitous encounter in a book store led her to Druidry, which in turn led her to join OBOD and begin its training program in 2003.
Eimear now works as a psychologist, a profession she shares with Philip. She's a storyteller, a licensed wedding celebrant, and a Priestess in the Fellowship of Isis, a Goddess spirituality order founded by Olivia Robertson in Ireland in 1976. She's also a founding member of the Kilkenny Druid Grove, and regularly participates in OBOD's gatherings in the UK.
Speaking of OBOD, Eimear said:
It feeds me, it's like a second family. There's a range of people I never would have met otherwise … These are my people, this is my tribe, this is my home.
An Irish Druid
Not only will Eimear be OBOD's first female Chosen Chief, she will be its first Irish Chief. Ancient Druidry existed in all the Celtic lands, and much of modern Druidry (especially OBOD) is connected with Welsh lore – both the medieval-but-really-older Mabinogi and the 18th century works of Iolo Morganwg. But the large Druid orders have been predominately English.
In the video, Eimear said:
One of my frustrations was trying to engage with the Welsh mythologies … I thought, I need to know my own first, before I can go into the Welsh … I suppose that's something that is missing from the Gwersi that I would hope to add to OBOD.
As I said in yesterday's post, my work is here in the United States, in Texas, in Denton and McKinney. I'm an American Druid. But when I look at the statues on my altar, I mostly see Gods of Ireland. Part of my ancestry is Irish, and I've had three deeply meaningful trips to Ireland. Irish material isn't ignored in the OBOD study program, but it's definitely under-represented. Adding more will be a very good thing.
Eimear will continue living in Ireland after she takes over as Chosen Chief, but the OBOD offices will remain in Lewes in southern England.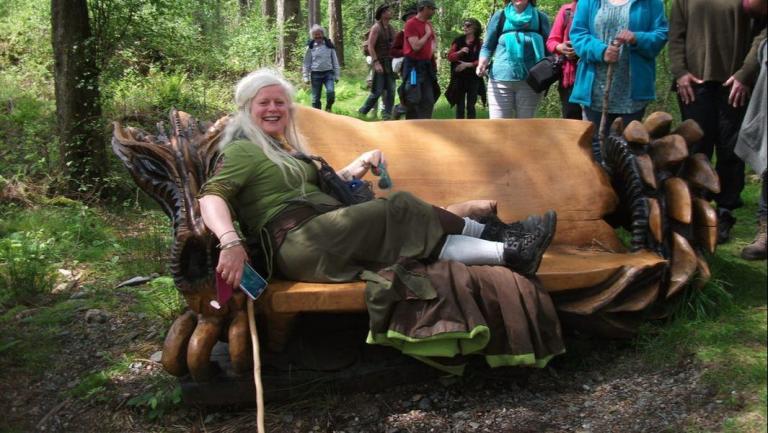 The house that Philip built
OBOD was founded by Ross Nichols in 1964. After he died in 1975, the Order dwindled to a handful of members. Philip Carr-Gomm, who had trained with Nichols beginning at age 11, was asked to take over leadership in 1988. He turned Nichols' teachings into a distance learning program and began adding his own material.
Today OBOD is the largest Druid order in the world. Last I heard there were almost 18,000 members in countries around the world, the vast majority of whom are solitaries. Many people have contributed to this growth and success, but OBOD is the House That Philip Built.
The OBOD website says "membership of the Order is open to followers of all faiths and none, regardless of gender, sexual orientation or ethnic origin." Druidry may or may not be a religion, but OBOD clearly is not. When people ask me what OBOD is, I say it's a set of spiritual technologies presented in a Celtic Neopagan context. The OBOD training was exactly what I needed when I joined the Order in 2004. My own practice is now primarily religious and polytheist, but I am proud to remain a Druid in the Order of Bards, Ovates and Druids.
Philip is 66 – he will be 68 when the new Chosen Chief is installed. As far as any of us know he's in excellent health, but even he admits he's not immortal. The need for an orderly transition in leadership has been apparent for some time. As someone who recently stepped away from a long-term leadership role (albeit a much smaller role, held for a much shorter time) I congratulate and thank Philip for knowing when it's time to hand the keys to someone new.
"I don't see anything that needs fixing"
Any order that can be so meaningful and helpful to so many people with so many diverse ways of seeing the world is obviously doing something right. I think most of us are happy (and more than a bit relieved) to hear that our new Chosen Chief isn't planning any major change of direction. In the video, Eimear said:
There's nothing wrong with OBOD. I don't see anything … that needs fixing.
Eimear offered some more specifics that make it clear she likes Philip's leadership philosophy and intends to continue it.
I belong, I haven't been aware of any hierarchy, I haven't been controlled, I'm free to explore my own spiritual path, I've found friends … and the responsibilities are shared out amongst so many people and that I really really like.
A change in leadership will bring changes to the Order. But it appears safe to say that OBOD will remain the OBOD we know and love in the years to come.
A Chosen Chief
OBOD governance has been described (by me, among others) as a benevolent dictatorship. It has been more benevolent than dictatorship (thus Eimear's statement about the lack of hierarchy), but at the end of the day, Philip has final say over anything and everything within the Order, even though he rarely exercises that authority. But he has clearly exercised it here – he chose Eimear Burke to be his successor.
I understand that. After having led the Order for 30 years and overseen its amazing success, I'm sure he wants to be confident the major work of his life is in good hands. Further, OBOD's non-hierarchical structure means there are no stepping stones to Chief – it's not like there are a bunch of Associate Chiefs any of whom could step into the role. And there's the lessons of history here – the only reason OBOD even exists is because Ross Nichols lost the election for Chief of the Ancient Druid Order and decided to form his own order. Elections can be divisive.
Philip was 36 when he became Chosen Chief. Eimear is… more than 36. She will not serve for 30 years. The plan is for her to serve for seven to nine years, then choose her successor in another orderly transition.
Congratulations, Eimear!
Although OBOD Druidry is not the center of my practice, it was and is an important part of my spiritual journey, and I recommend OBOD to others on a fairly regular basis. I've wondered about OBOD's succession plan for years and I'm very happy with this announcement. I look forward to meeting Eimear at some point in the not-too-distant future, to the Irish influences she will bring to our order, and to continued good leadership from our Chosen Chiefs.
May the Gods, ancestors, and spirits of Nature bless our new Chosen Chief!