Over the last couple weeks, two books and one CD (actually, a digital download) arrived at my house. All three are worthy of your consideration. I don't have enough to say about any of them for a full review, but all of them together make for a nice blog post.
Let's start with the album.
Y Mabinogi – The Second Branch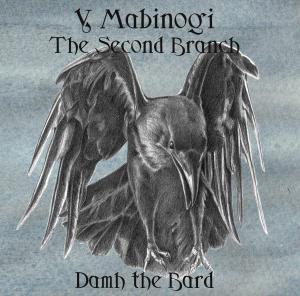 Y Mabinogi – The Second Branch
by Damh the Bard
14 tracks, 1 hr 20 min
Digital download: £10 ($12.56 at current exchange rates). $19.99 on iTunes.
CD:  £15 ($18.84 at current exchange rates)
Last year brought us Y Mabinogi – The First Branch from Damh the Bard. This is Damh's bardic performance of the ancient Welsh tales first written down in the 11th century. Their origins are in a much older oral tradition – their settings and themes are straight out of Celtic paganism.
The second branch of The Mabinogi is titled "Branwen, Daughter of Llyr." It's the story of Bran, giant and king, his sister Branwen, and how she was married to the King of Ireland to form an alliance but that alliance was poisoned by Efnissien, Bran and Branwen's half-brother.
This is not a pleasant story. It's what happens when the rich and powerful are overcome by jealousy and deceit.  Damh didn't bowdlerize the stories – some of it was hard to listen to. I asked Damh what it was like to work this dark material for weeks and months.
It was a hard but incredibly powerful journey. When I created the First Branch, Cerri made me a Rhiannon pendant that I wore throughout the creative process. For the Second Branch she made me a pendant of two Ravens, but the journey was so intense in the end I had to take it off and place it on my altar. I was immersed in the story for a year, but in that year I needed some time out.

My songs are celebrations of our paths and our community. But there was no place for the uplifting Damh the Bard anthem here. The story took my songwriting into areas I wasn't used to, but I think it has helped me grow as a songwriter, and I have to say I'm very happy and proud of the resulting album.

So I'm half way to the full Four Branches!
Kristoffer Hughes returns as the medieval Welsh monk, writing down the tales as they were told to him. S. J. Tucker provides vocals on "The Birds of Rhiannon" and Blanche Rowen sings on "A Forest on the Ocean" and "Raven's Tears."
But mainly this is Damh the Bard, not just telling but performing these tales in as authentic a manner as has been done in centuries. If you want the real Mabinogi, uncensored for Victorian sensibilities, give it a listen.
Harp, Club, and Cauldron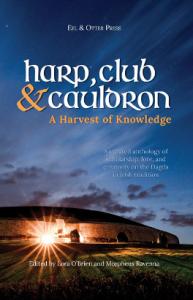 Harp, Club, and Cauldron – A Harvest of Knowledge: A curated anthology of scholarship, lore, and creative writings on the Dagda in Irish tradition 
edited by Lora O'Brien and Morpheus Ravenna
published by Eel & Otter Press: November 2018
301 pages
Paperback: $20.90
We are living in the early days of a polytheist restoration. Gods who for centuries have been treated as myths or archetypes or merely as characters in old stories are being worshipped again. We are likely many years away from having large public temples as our ancestors did. But what we do have is an ever-increasing numbers of devotional books dedicated to individual deities. My own bookshelf has volumes for the Morrigan, Hera, Poseidon, Hecate, Athena, Brigid, and "the Horned God in all of his manifestations." There are more volumes I don't have.
In a conversation that no one can remember exactly when it took place, Lora O'Brien, Morpheus Ravenna, and Jon O'Sullivan decided it was the Dagda's turn. More likely – as Lora describes in the Foreword – that's what they heard the Dagda telling them.
The Dadga is one of the Tuatha De Danann, the Gods of Ireland. He was and is known as "the Good God." He has many skills, including crafting, right judgement, and warriorship. He is the master of the harp, and he possesses one of the Four Hallows of the Tuatha De Danann – a cauldron from which no company ever left unsatisfied.
Harp, Club, and Cauldron is longer than most books in this theme, because it's more than a devotional anthology. The first section is "Research" – it consists of scholarly examinations of the literature and archaeology around the Dadga. The second is "Practice" – essays describing how different people worship and work with the Dadga, including how they do His work in this world. The third is "Inspiration" and consists of poems, prayers, and stories for and about this Good God.
Harp, Club, and Cauldron will help you learn more about the Dadga, His lore, and how contemporary polytheists interact with Him today.
Besom, Stang & Sword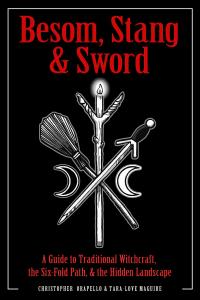 Besom, Stang & Sword: A Guide to Traditional Witchcraft, the Six-Fold Path & the Hidden Landscape
by Christopher Orapello and Tara-Love Maguire
published by Weiser Books: December 2018
304 pages
Paperback: $16.11, Kindle: $11.99
Traditional Witchcraft is one of the more popular forms of magic these days. I know a bit about it, but not a ton. I know a lot more now that I've read Besom, Stang & Sword. The book presents traditional witchcraft in a clear, easy to learn manner, and it does so within the context of a complete tradition that is non-religious but filled with spirits.
There are lists of spells for various purposes. The use of the besom, the stang, and the sword in witchcraft are explained in detail. There are chapters on herbs for witches and on divination. The chapter on necromancy is basic but useful.
There's a chapter on the Witches' Sabbat. The role of the devil in traditional witchcraft is neither whitewashed nor sensationalized. I don't work with the devil because of my need for a clean break with Christianity, but you can't deny the fact that witches from the Middle Ages through contemporary times did and do.
The first chapter on defining traditional witchcraft is perhaps the most helpful of all. It's not Wicca, it's not working with Nature, it's not Goddess worship, and it's not magic… or at least, it's not only magic. It's certainly not fashion. Rather, "witchcraft is about sovereignty" – witchcraft is about the power of the individual to walk their own path.
Most of us don't have a traditional witch living next door who can teach us her skills and traditions, but we can learn from Christopher Orapello and Tara-Love Maguire.
Holiday blogging
The holidays are upon us but I'm not quite done for the year. I'll have the usual Under the Ancient Oaks year-end features next week. "The 4 Best Posts of 2018 You Didn't Read" will be up on Sunday, and "The Top 10 Posts of 2018" will be up on Thursday.
I'll return to my regular blogging schedule on January 1.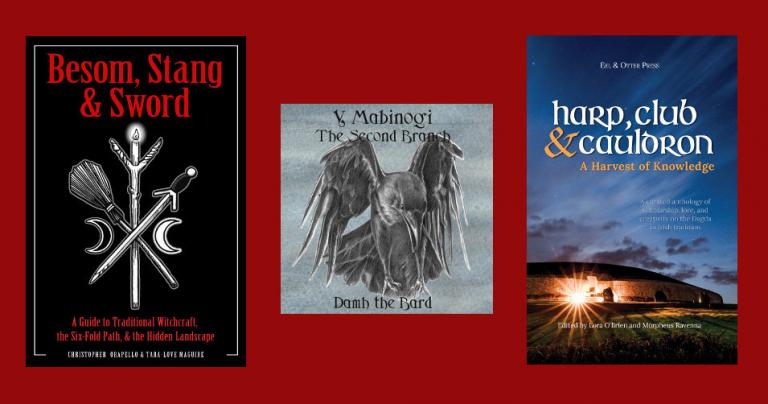 Review disclaimer
For those who care about such things, I bought my copies of Y Mabinogi – The Second Branch and Harp, Club, and Cauldron. Weiser sent me a copy of Besom, Stang & Sword  as a thank you for providing a promotional quote for the book.
All these creators are my friends, but my first obligation in a review is to the reader, not to the author. If I couldn't honestly give them a good review I'd conveniently forget to review them. Seriously – if you see me in person ask me about the books I didn't review.