If things had gone differently I would be getting ready to celebrate Beltane with my friends at Denton CUUPS. We would dance the Maypole, honor our Gods and ancestors, and celebrate the beginning of Summer together.
Things did not go differently, and we are separated from our Pagan friends and family on this day that, along with Samhain, is one of the two holiest days on the Modern Pagan calendar.
Some Pagan traditions say it's our job to help turn the Wheel of the Year. I like that idea. It emphasizes that we're part of Nature, and that we have a responsibility to live in harmony with the rest of Nature. But this year I think it's important to recognize that the Wheel is going to turn whether we help or not. It may feel like the rest of the world has stopped, but Beltane is here and Summer is coming.
More than any other year, this year we need Beltane.
We still have many options for observing Beltane. In 2015 I wrote a solitary ritual for Beltane you can do yourself, or with those in your house. There are other ritual ideas here on Patheos Pagan. There are non-ritual things you can do. Here's one more option.
The Under the Ancient Oaks Beltane Ritual will be next Friday May 1 at 8:00 PM CDT on Facebook Live. The link is here.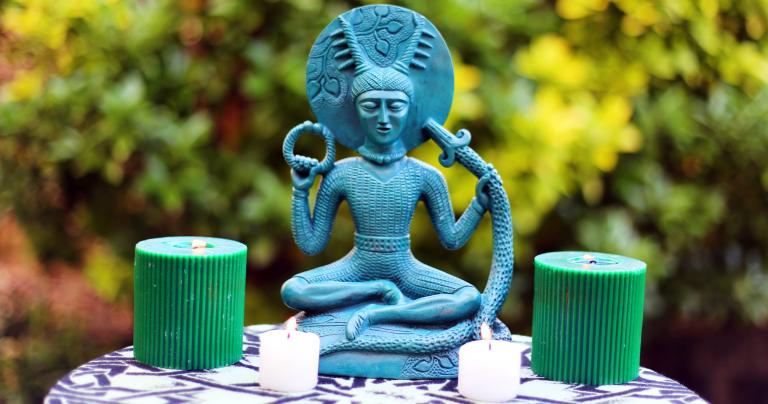 The Deity of the Occasion will be Cernunnos, in part because He's first among the Gods in my life, but also because who better to connect with at Beltane than a God of the Wild. The main working will be a guided meditation to meet Cernunnos, and to listen for what He has to say to each of us.
You're welcome to simply follow along with me, but I encourage you to participate where you are. You'll need a candle and something to light it with, an offering bowl, and something for offerings. I'll be using wine, but I'm sure whatever you have will be acceptable. There have been times when all I had available was clean water – it was always accepted. While different deities prefer different offerings, They mostly understand availability… and that some people can't be around alcohol.
Where people get into trouble is when they offer the cheap stuff and keep the good stuff for themselves.
When we're done with the main working, we'll share a drink among ourselves.
I expect the ritual to run 25 to 30 minutes.
For those of you who saw my Facebook Live Q&A last month, you'll be happy to know I've made some webcam settings changes. And I'll be doing the ritual in a different part of the house, with better lighting. So expect better video quality – more like what's typical for Facebook videos.
The Grinch couldn't stop Christmas from coming, and the Coronavirus can't stop Beltane from coming. If we can't celebrate like we normally would, we'll find new ways to celebrate.
See you Friday at 8:00 PM Central Time on Facebook.
---
Want to get my personal weekly newsletter every Friday? It covers things that don't fit into the blog format, mostly in my usual range: Paganism, polytheism, and magic. Current events and politics. What I'm working on that you'll see in the near to medium future – be the first to find out about things like this.
Sign up on my teaching site https://undertheancientoaks.com/
Enter your e-mail in the big green block and do the not-a-robot thing. You'll get a confirmation e-mail – respond to it and you're set.