Over the years, most of my travel blogging has been about my trips to Europe. It's not hard to understand why. My family came to this country from Ireland and Scotland. I grew up hearing the stories of England and France (but not of Ireland and Scotland – that's another rant for another time), and of Greece and Rome. Europe was always the far off land of mystery and magic – visiting there was something really special.
On the other hand, my family has been in the United States for over 200 years. I've lived here all my life. And while my Paganism is first and foremost about the Gods and my work with and for Them, my Paganism is also very much a Nature religion.
It is not helpful to focus too much on the lands of my ancestors and ignore the land where I live.
I had a trip to California planned for May – I was finally going to Yosemite. You know what happened with that. I had a week off in August and made some day trips to nearby places, but my wife and I really wanted to get away. State and National Parks are open, and they make social distancing easy. So we put a driving trip together to see some of the natural beauty of Texas.
First on our list was Palo Duro Canyon.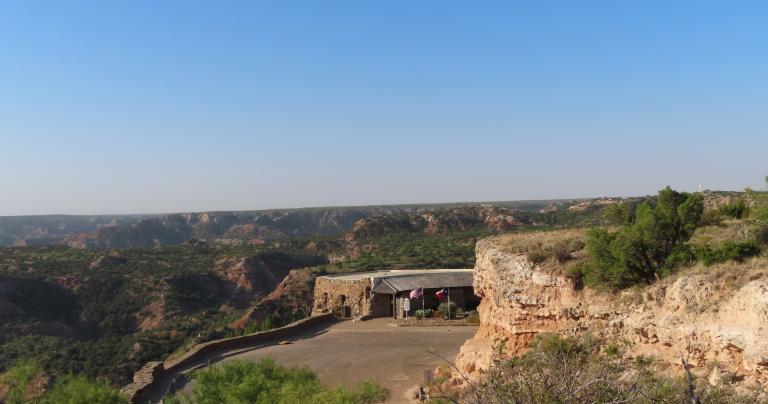 Palo Duro Canyon is about 25 miles southeast of Amarillo, in the Texas Panhandle. The region is a flat treeless prairie, perfect for large scale agriculture… which is mostly what it's used for.
Palo Duro is the second largest canyon in the United States. It's 120 miles long and about 6 miles wide, although it's 20 miles wide in some spots. It's about 800 feet deep. It was formed by water erosion over about 200 million years. And that's all the science and history I'm going to provide. If you want more, there's plenty on the state park website and the Wikipedia page. Instead, I want to talk about my experiences there.
I had no Otherworldly experiences at Palo Duro Canyon. But my this-world experiences were amazing.
My first experience was one of suddenness.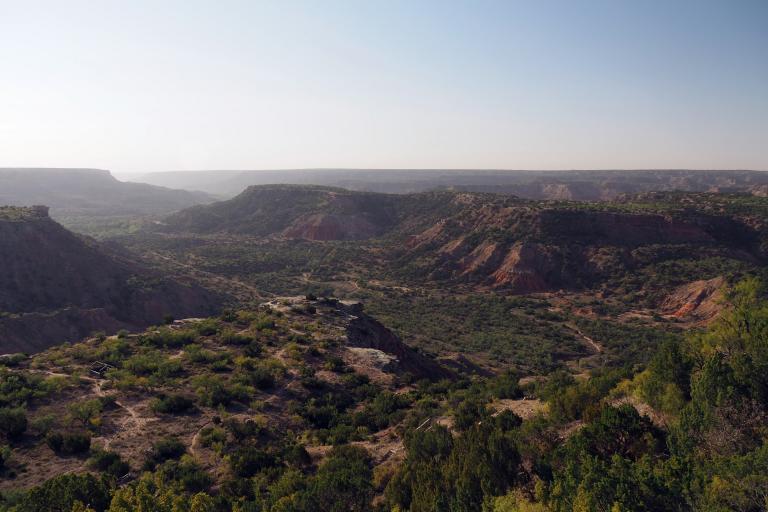 When I hear "canyon" I think of mountains. There are no mountains here. I'm driving along, nothing between me and the horizon, getting an uneasy feeling I'm guessing is agoraphobia. It's like being at sea, except at sea you expect to have nothing between you and the horizon. This felt uncomfortably unfamiliar. Interestingly, I have a friend from West Texas who says the opposite – he feels uneasy with hills and trees blocking his view of the horizon.
And then in the space of about a mile, all of a sudden there's this huge gash in the ground. The road turns and you go through the park gates. The visitor's center was closed (it doesn't open till 1:00 on Sundays) but that didn't matter. It has the best views of any place in the park that's accessible by car.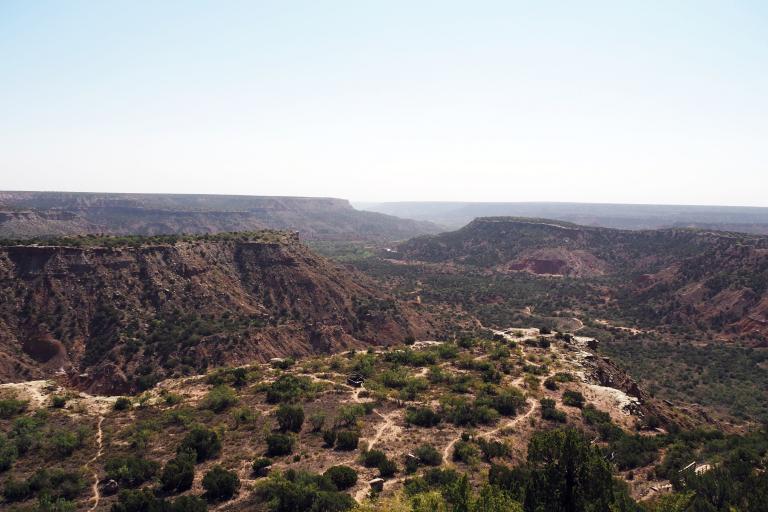 I stood at the edge of the railing and tried to take it all in. After a moment, I said hello to the local spirits and poured an offering of water (always a welcome offering, especially in such arid regions). I didn't get a specific response so much as I felt like I had fulfilled my obligations under the laws of hospitality – I was being a good guest in a new place.
You can hike down to the bottom of the canyon, but there's a road and most people drive. About halfway down we lost the radio and cell signals.
There are several campsites in the canyon, pavilions and picnic tables, and an amphitheater where there are musical and cultural performances… or at least there were pre-Covid.
And there are 16 trails for hiking, mountain biking, and horseback riding.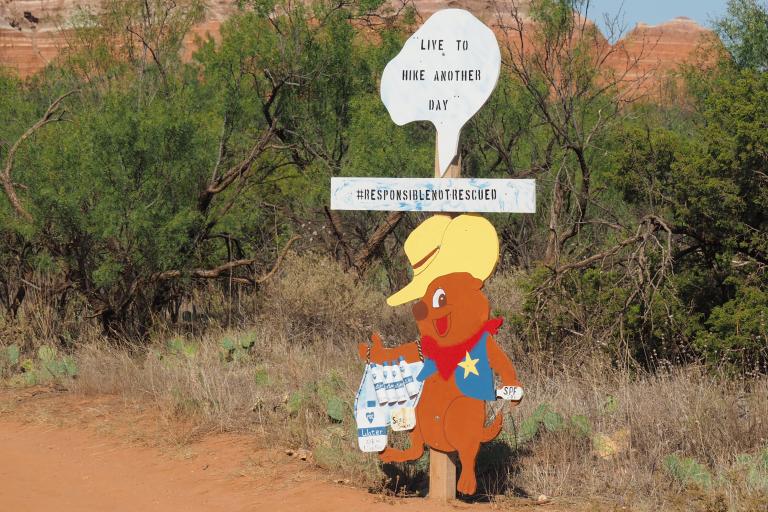 Cathy and I weren't up for any serious hiking. We got out and walked at several points, trying to experience a little more of the land. And we did.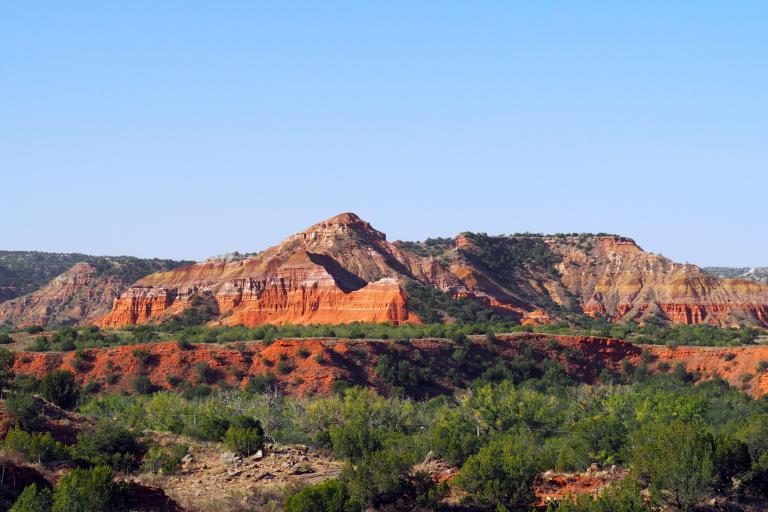 This is not the mountains and pine trees of Tennessee where I grew up – that land gets 51 inches of rain in an average year. This isn't the low hills and live oaks of North Texas where I live now – it averages 36 inches per year. This land gets 21 inches per year. It's not a desert (generally defined as less than 10 inches per year) but it's a dry, sparse land, where water isn't always easy to find. We saw lots of small birds (that are hard to photograph) and one lizard.
But all of a sudden we came around a curve and found a flock of wild turkeys crossing the road.
Nature is beautiful and powerful… and resilient.
We stopped at the visitor's center on the way out. I was hoping the sun had moved enough to get a clear shot of the canyon without any glare. The conditions were better but still not great. I'm guessing the best photography would be near noon in the summer, when the sun is high in the sky and almost directly overhead.
But even a perfect picture can't capture the experience of standing at the edge of this canyon, seeing the results of millions of years of natural processes, understanding you're only here for a fleeting moment, and realizing you're a part of it all.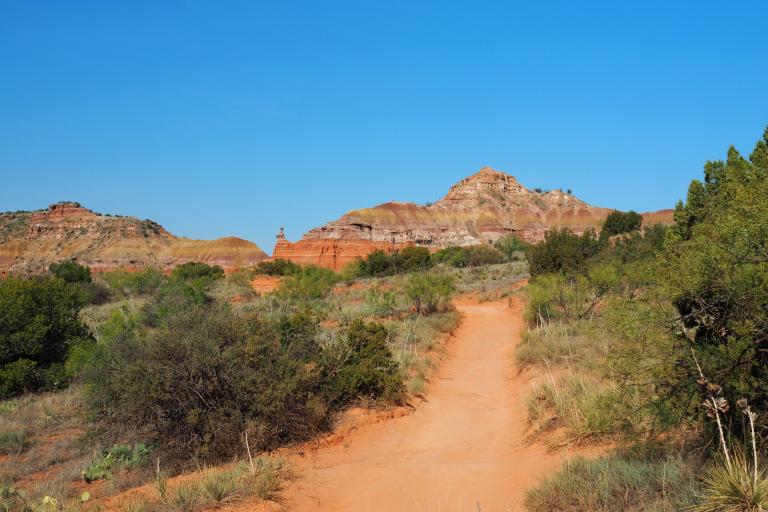 If you go
Palo Duro Canyon is about 300 miles east of Albuquerque and 260 miles west of Oklahoma City. It's not close to any major cities, but once you get to Amarillo (population 200,000) it's easy to reach.
The weather can be brutally hot in the summer and very cold in the winter. In general, the best time to go is late September through early May. It doesn't rain much, but when it does flash flooding can be life-threatening if you're in the wrong place.
Texas state parks have restricted visitors to promote social distancing. You can make online reservations up to a month in advance – current entry fees are $8 per person. If you show up without reservations on a weekend you will not get in, and you may not get in mid-week.