I've always loved Halloween. As a kid, it was much more than getting candy. It was the one time of year when I could dress up like something I wanted to be and no one would give me a hard time for it.
My love of Halloween has never stopped. And while I'm preparing for a deep and spiritual celebration of the holy day of Samhain, I'm also preparing to enjoy the secular holiday of Halloween.
Halloween is more than a day – it's the whole month of October. In the past I've written about The Joy of Halloween, my favorite 31 Movies for Halloween, and why we cannot move Halloween away from October 31 for convenience sake.
This year I want to give you a video playlist for Halloween. This is my October soundtrack – the songs I listen to when I want to get in the mood for pumpkins, horror movies, and dressing up like I wish I could (or would) every day.
Some of the videos are rather old, but the audio is good in all of them. There's no "Thriller" or "Monster Mash" or even "Time Warp" – those are a little too light for my tastes (although I almost included "Time Warp" – it's so much fun). You're welcome to make your own list – this is mine.
So, in no particular order, here are my 13 favorite music videos for Halloween.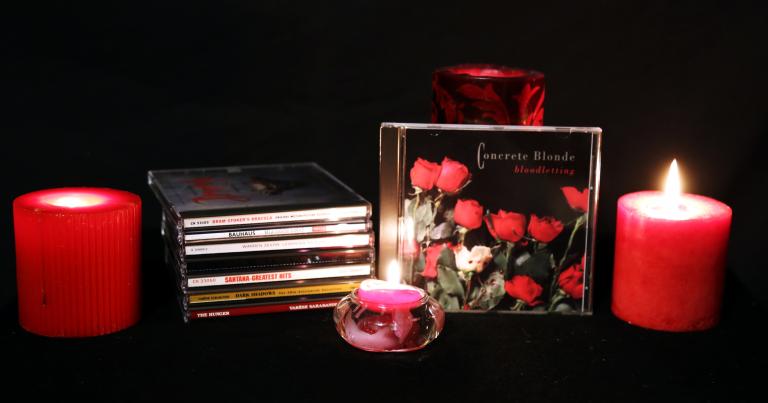 1. "Bloodletting" – Concrete Blonde
I said no particular order, but "Bloodletting" has to be first. During the height of the period where I was self-medicating with vampire fiction, I was playing Concrete Blonde virtually non-stop. The lyrics are good and the music is perfect, particularly those first bass notes before the lead guitar comes in. If I was ever a baseball relief pitcher or a professional wrestler, "Bloodletting" would be my entrance music.
The album – also called Bloodletting – is excellent from top to bottom.
I like the official dramatic video for this song, but the YouTube for it is 240p, meaning you can't really enjoy the visuals. The audio on this live version is amazing, even though the video is lousy. The title says it's from 1987, which is unlikely considering the album wasn't released until 1990.
Forget all that. Just listen… and feel.
Thanks to Dee Romesburg for finding the remastered version of the official "Bloodletting" video.
2. "After Dark" – Tito and Tarantula
This was the song they played during Salma Hayek's snake dance in Quentin Tarantino's From Dusk Till Dawn (1996). It's bluesy and it might be about an ordinary-if-unhealthy love/lust obsession. Or it might be about vampires.
If you want to watch Salma Hayek as Santanico Pandemonium (and who wouldn't?) that version of "After Dark" is here. I prefer this longer, live version. It shows the whole band (the movie version didn't include bass player Jennifer Condos) and it has some interesting audience participation… that doesn't interfere with the music.
3. "Nights In White Satin" – The Moody Blues
I'm sure this selection is heavily influenced by Tim Burton playing this song over the opening credits of the 2012 movie version of Dark Shadows, a silly movie that was enjoyable if you take it for what it is and forget about the amazing original soap opera that ran from 1966 to 1971, and the promising-but-too-brief prime time remake of 1991.
Still, watch this video and listen to the song. By the end you'll expect to see Vincent Price step out of the house and begin telling some great tale of woe.
4. "Bela Lugosi's Dead" – Amanda Palmer & The Grand Theft Orchestra
"Bela Lugosi's Dead" by Bauhaus is the number one stereotypical goth song of all time, at least in my book. It was used brilliantly in the opening scene of The Hunger (1983). You can watch that version here if you like, but I'm sharing this live cover by Amanda Palmer for its sheer visual audacity. Or over its the top cheesiness. It's your call – Amanda Palmer isn't everyone's cup of absinthe.
That's original Bauhaus member David J on bass.
5. "Tear You Apart" – She Wants Revenge
She Wants Revenge has a sound and a look very similar to Bauhaus, 20 years or so later – I had to include one of their videos on this list. I thought about going with "Written In Blood" – the video for it is pretty much a remake of the opening scene of The Hunger. But a better choice is "Tear You Apart" which was used in American Horror Story – Hotel in 2015.
6. "Love Song For A Vampire" – Annie Lennox
This was the closing song in Bram Stoker's Dracula (1992), which about to overtake the 1931 Dracula (with Bela Lugosi, very much alive) on my "most watched ever" list. The video mixes Annie Lennox singing in period costume (which did a good job of disguising the fact that she was very pregnant at the time) with scenes from the movie.
7. "People Are Strange" – The Doors
The Echo & The Bunnymen version from The Lost Boys (1987) is a better video. But Jason Mankey would drive a stake through my heart if I didn't share the original version by Jim Morrison. Sadly, he's a member of the 27 Club, along with Jimi Hendrix, Janis Joplin, Amy Winehouse, and the first member (that we know of) Robert Johnson.
8. "Children Of The Night" – BlutEngel
I discovered this German goth/vampire band earlier this year and I am officially obsessed with them. Their English lyrics are cheesy and I can't understand their German lyrics. I don't care.
They've been going strong for over 20 years. They know who they are, they give their audience what they pay to see, and they don't try to be something they aren't. You've got to admire their honesty. Plus I like their music, and I love their videos. This is perhaps the best example of their theme.
9. "Lily" – Kate Bush
Kate Bush is simply one of the greatest singers of our era. Many of her songs are, if not exactly Pagan, at least Pagan-adjacent. I bought her CD The Sensual World not too long after it came out in 1989 and played it over and over again.
"Lily" was written for Lily Cornford, a spiritual healer who appears in the beginning of the video. Her invocation and the ritual in the video are drawn from classical occultism. It's too Christian for my tastes, but it's nice to see something like this in a mainstream (more or less) video.
10. "Season of the Witch" — Donovan
The question wasn't whether I would include "Season of the Witch" in this list. The question was which version – there are about 50. Dr. John did a great version for Blues Brothers 2000. Joan Jett recorded it in 2004, and Lana Del Ray did a version last year that someone played over scenes from American Horror Story – Coven.
But as with "People Are Strange" I have go to with the original, even though it's audio only. Here's Donovan from 1966. Listen to it, then start warming up your cauldron.
11. "Werewolves of London" — Warren Zevon
I almost left this one off the list – it's a little silly. But it's a fun song with lots of cool references. According to this essay, Zevon called it "a dumb song for smart people."
Don't judge. Just enjoy.
12. "Black Magic Woman" — Santana
This song was written by British musician Peter Green and first recorded by Fleetwood Mac in 1968 – something I didn't know till I started working on this list. I only knew of the 1970 version by Santana.
Here's an excellent live version that features Peter Green playing guitar along with Carlos Santana, with vocals by Gregg Rolie.
13. "Reich mir die Hand" – BlutEngel
Google Translate tells me "Reich mir die Hand" means "give me your hand" – to which I would add "and join me in this vampire fantasy that's impossible but incredibly sexy." If this video had existed about 1990 I would have played it non-stop… and then been depressed because nobody invited me to a vampire party at some huge German mansion.
If you don't like blood don't watch this one – there's a lot of it. All fake, of course.
I think.
Happy Halloween.
Want to get my personal weekly newsletter every Friday? It covers things that don't fit into the blog format, mostly in my usual range: Paganism, polytheism, and magic. Current events and politics. What I'm working on that you'll see in the near to medium future. And occasionally, my favorite music.
Sign up on my teaching site https://undertheancientoaks.com/
Enter your e-mail in the big green block and do the not-a-robot thing. You'll get a confirmation e-mail – respond to it and you're set. You have to respond to the confirmation e-mail – my e-mail service wants to be sure you really want to get the newsletters and somebody else isn't signing up you for e-mails you don't want.