It never occurred to me to bring pictures to work. When I finally did, I discovered they can be some powerful magic.
I worked in a cubicle in my first jobs out of college. I had a desk and a chair and not much else. But also, I had just finished 16 years of school, where desks were things you used while you where there – they weren't "mine." Eventually I was promoted to a job where I had an actual office, but it was already full of book cases, a PC, an AS/400 terminal, and maps of factories and warehouses.
But when I moved to Atlanta in 1997 I had an office in a building that was less than a year old. I had a couple of trinkets on my desk and a nice wall calendar, but that was it. After a while my boss told me "your office is boring – you need some pictures." I ignored him. Then the accountant in the office next door asked "why don't you have any pictures on your walls?"
I'm not sure if they changed my mind or if they just wore me down, but I went to Target and got some picture frames, then went home and printed a few of my favorite vacation pictures. I brought them into the office and hung them on the back wall, where everyone who walked by could see them and quit bothering me about my boring blank walls. But because of how my desk and computer were arranged, I only saw the pictures when I walked into the office – I never saw them while I was working.
When I moved to Texas in 2001 I brought my pictures with me. But wall space was at a premium in my new office, and I ended up hanging one of the pictures above my monitor and to the right. It was out of sight while I was working, but when I looked up I saw it.
On bad days I looked at it a lot.
At first I just remembered being there – memories of a better time. After a while I started reading the picture, like you'd read a Tarot card. What did I see, what did that mean, and how could that help me at the moment?
The other pictures were trophies and decorations. This picture became a portal.
I rotate my pictures annually – I bring in a new one and take out the oldest one. When the "portal picture" is up for replacement, I think carefully about what I want to replace it. Some have been better than others, but all have been helpful.
Here are the last four magical pictures I've had in my office, and the years they hung on my wall. And I have some suggestions for how you can create your own magical pictures.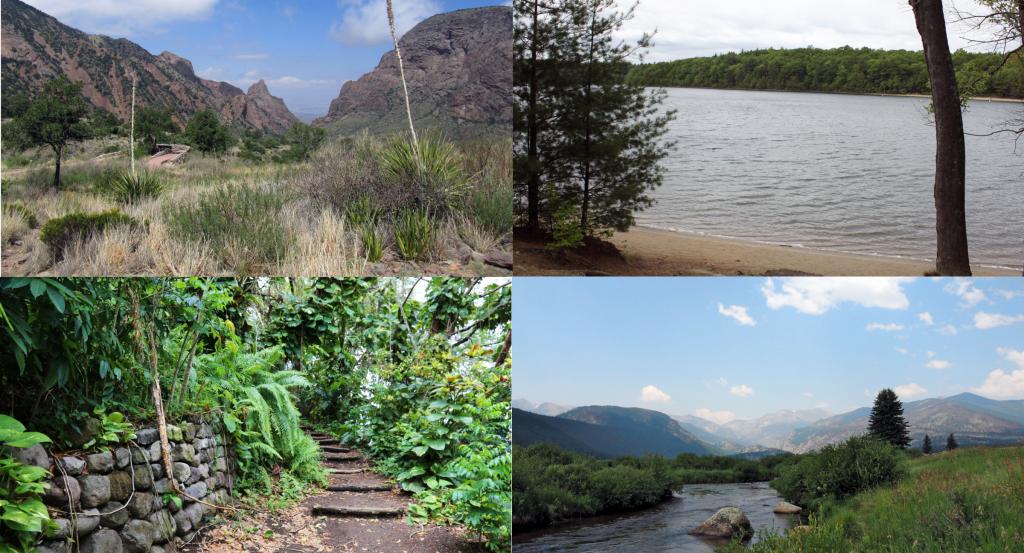 Big Bend National Park: 2010 – 2013.
Big Bend is one of the more remote parts of Texas. There's the Rio Grande River, the Chisos Mountains, dark skies, and not a lot of people. It's a great place to go to get away from everything. And did I ever need to get away from everything in 2010.
This picture was taken near the Chisos Mountain Lodge, looking through "The Window" in the mountains. On a clear day you can see about 60 miles into Mexico, but air pollution was rather bad when we were there. My zoom shots are too hazy to be much good.
I wasn't thinking about anything when I took this picture – I just wanted to get as much of the mountains as I could. It wasn't until I got home that I realized that the two stalks, the trees, the walking path, the mountains, and the sky made for a rather Tarot-like picture. Do the stalks form a portal? What about "The Window" in the mountains – where would I go if I went through it? Where does the path come from, and where does it lead?
The literal answers that were obvious when I was there faded over time. I was left with much to contemplate… which I did frequently during a particularly difficult time at work in late 2010.
This may be the most mystical picture I've ever taken.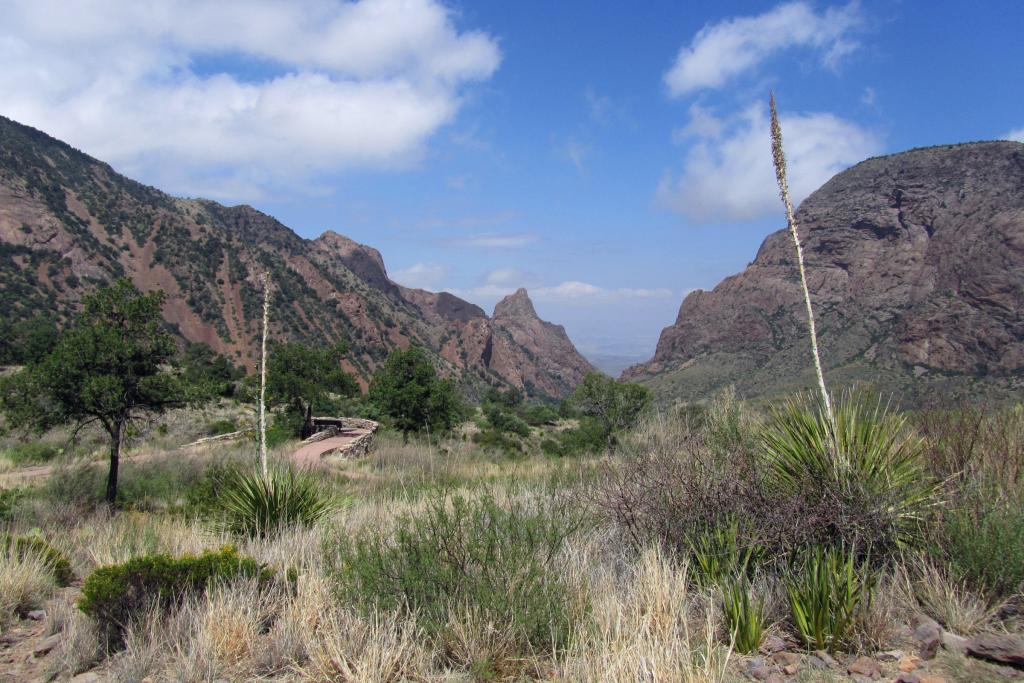 The technical details: Canon PowerShot SX210 IS. 5mm (28mm FFE), 1/1000 sec, f/4, ISO 80. May 16, 2010. I'm happy with this picture, but this was not a good camera, even by point & shoot standards. My dissatisfaction with it led me to get my first DSLR the next year.
Walden Pond: 2013 – 2017
This day began with the only time I've ever been to church while on vacation. We were in Boston and I wanted to attend services at First Parish Cambridge, a UU church founded in 1632 in a building opened in 1833. After lunch we continued the Unitarian theme and visited Walden Pond, where Henry David Thoreau famously spent two years, two months, and two days living a life of great simplicity – and often availing himself of the hospitality of the Emerson family, who owned the land where he built his cabin.
Walden Pond is now a state park. It was fairly busy on a Sunday afternoon, although as you can see, the weather wasn't the best. But I understood why Thoreau decided to live here – it really is a peaceful place.
This picture isn't mystical so much as it's calming. The skies may be cloudy, but the water and the trees are soothing. And it also served as a reminder that just as Thoreau left Walden to work as an abolitionist, I can't stay here either. I have work to do… and not just the office work that pays the bills.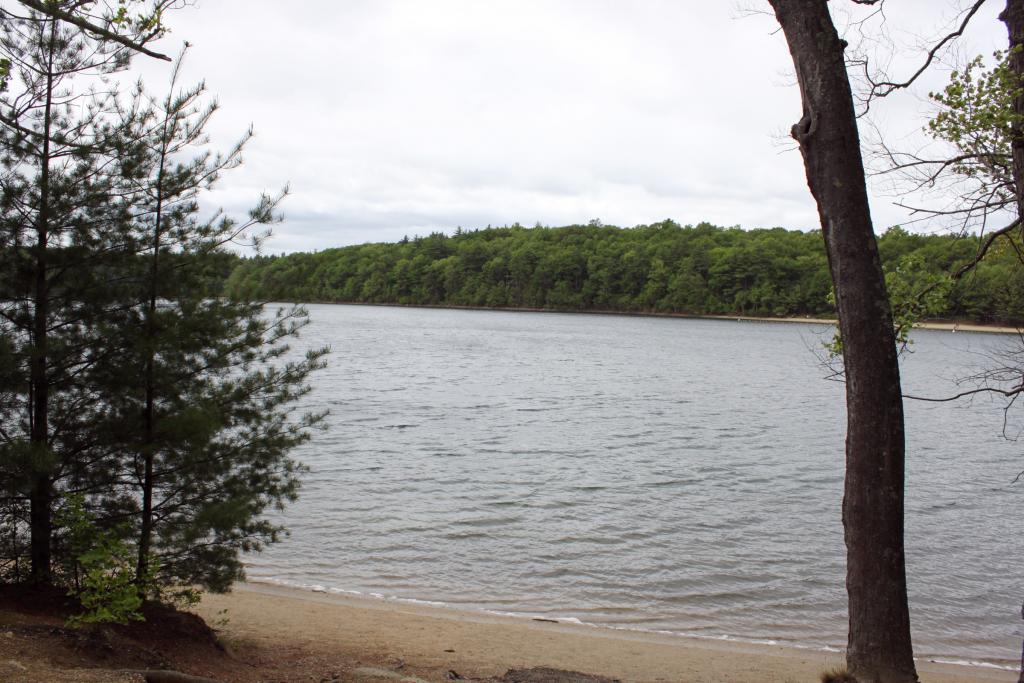 The technical details: Canon EOS Rebel T1i, EF-S 18-55mm f/3.5-5.6 IS STM. 18mm (29mm FFE), 1/200 sec, f/8, ISO 100. May 26, 2013. I really needed a wide angle lens for this shot. I eventually bought a super telephoto lens for this camera, but never a wide angle.
St. Kitts: 2017 – 2021
The rainy season in St. Kitts (a small island in the eastern Caribbean Sea) is supposed to be May through October. We were there in April and it had already started. The rainfall, plus the tropical temperatures, meant that it was lush and beautiful. And also wet.
While our group was visiting the remains of an English settlement, I wandered off on a trail, just to see how far it went. It didn't go far before it ran into the main road down the mountain. I turned around to go back up and saw this.
If you read this blog very often, you know that paths through the forest are some of my favorite illustrations. But a path through a rain forest, with a stone wall on one side, curving upward into who-knows-where? Of all the pictures I've put on my walls (office or otherwise) this is the one that screams "portal!" the loudest.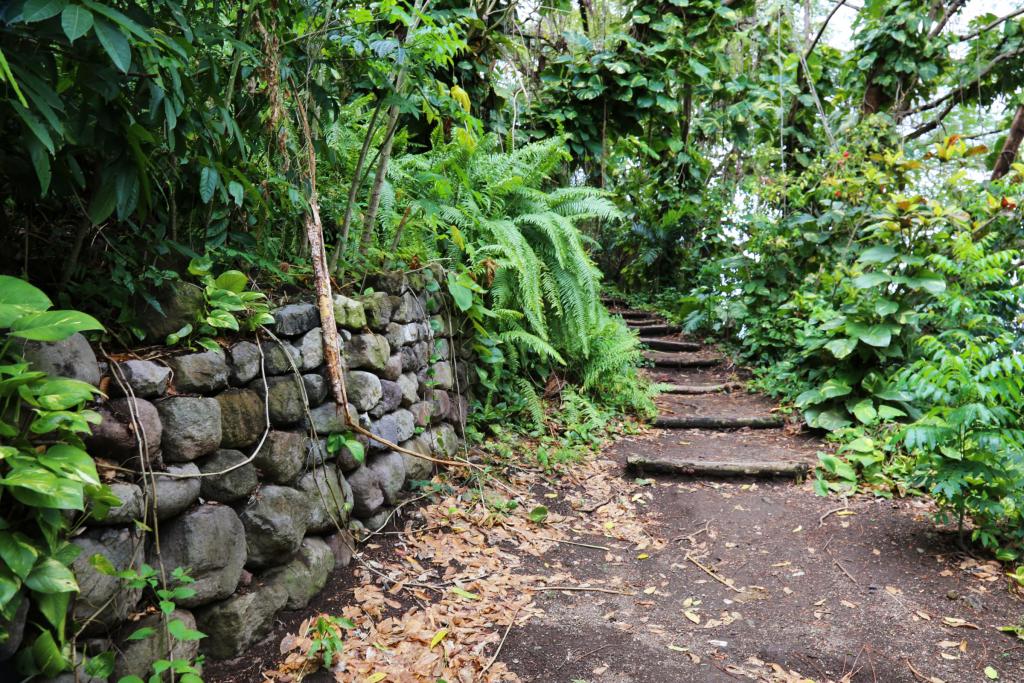 The technical details: Canon EOS 6D, EF 24-105mm f/4L IS USM. 24mm, 1/30 sec, f/11, ISO 250. April 17, 2017. If you look closely at this picture, you'll see the right side is slightly out of focus. My pack fell off a hook in an airport restroom – the lens mount was damaged. It's been fixed and works fine now, but this is one of the reasons I no longer travel with this camera.
Rocky Mountain National Park: 2021 – present
I knew it was time to replace the St. Kitts picture when I went to Colorado this Summer. I wanted a good mountain shot – ideally something that would invoke the 8 of Cups. But wildfire smoke made the mountains hard to photograph, and while a some of them are good (I've used a couple so far – I've got a few others I'll use eventually) none of them are just right.
This was taken just off South Moraine Road. There was a parking area and I pulled off to see what I could see. And I saw this. When I got back in the car I told Cathy "I think this one is it."
When I look at this picture, I see the water and the rocks, the green grasses and trees, and the mountains in the distance. It tells me that what's close at hand sustains me, but my ultimate goal is still in the distance. Keep moving.
I don't know if it's art, but I love it.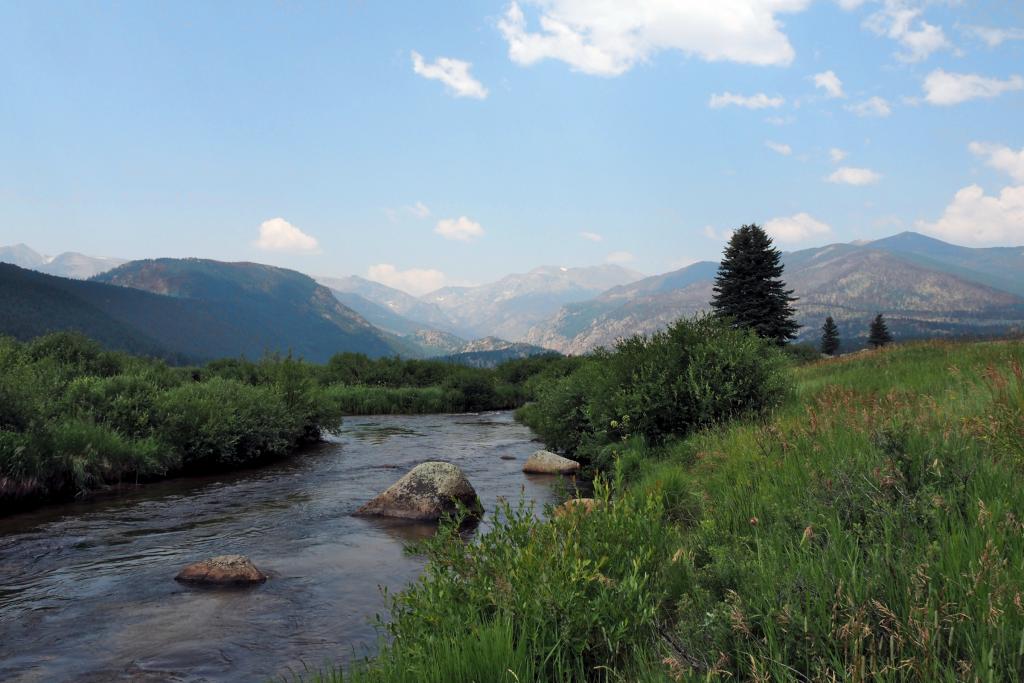 The technical details: Olympus OM-D E-M5 Mark III, M.Zuiko ED 14-150mm F4.0-5.6 II. 14mm (28mm FFE), 1/160 sec, f/8, ISO 200. August 5, 2021. I had a wide angle lens in my pack when I shot this, but I was happy with what I saw with the zoom lens at its widest. I still am.
Creating your own magical pictures
You don't have to have an office to keep a magical picture nearby. You can set up a picture on a desk or bookshelf. You can make it the background picture on your computer or on your phone. You can go low tech and keep a picture in your wallet.
You don't have to travel far to get it either. These are special places and I'm glad I got to visit them, but you can take beautiful, mystical, magical pictures in all sorts of places, including city parks. I prefer natural settings, but maybe you prefer an altar picture, or some sort of arrangement with magical tools and candles. This truly is a case where what's right is what works for you.
And you don't need an expensive camera. I could have taken any of these pictures with my phone – an iPhone XR with one standard lens. Honestly, the iPhone would have done better on the Big Bend and Walden shots, and it might have done better on the St. Kitts photo, since that lens was damaged.
All these pictures began as ordinary, this-world photographs. The places they depict are beautiful and powerful, but what makes the pictures magical is using them: looking at them, contemplating them, and then going where they lead.