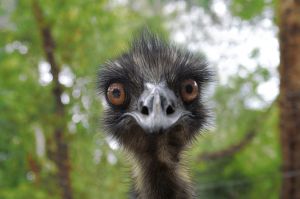 I'm so confused.
Today I was doing a fairly massive amount of writing about tithing. In the course of that work I wrote,
If, as we have seen above, Paul makes a strong case for believers giving to the church, Jesus Christ makes an even stronger case for believers giving to the poor. Anyone who claims to be even nominally Christian cannot afford to ignore Christ's clarion insistence that those who follow him must give to the poor and destitute. I would even go so far as to say that Christ so purposefully identified himself with giving to the poor that any Christian who does not tithe to the poor is really no kind of Christian at all.
And I thought: Dude! Reasonably sweet last sentence. So I ponked it up as a status thing on my Facebook page. I almost didn't, because it seemed like such a boringly obvious thing to write, like "Bozo the Clown is less popular than he used to be!" or "Steak is better when you don't bite it right off the cow!" But I put the thought/sentence up anyway. What the heck. It's not like I don't know how often I bore you guys anyway.
But holy (so to speak) cow! You'd have thought I'd put up a status-thing that said, "Today I bought an inflatable Jesus doll that I've dressed up in a teddy and am taking out dancing. Hope I don't poke him!" or, "Has anyone but me ever noticed how much Osama Bin Laden looks like Jesus?"
Okay, well maybe not that bad. But my simple Facebooky observation about how much Jesus cared for the poor got a "thumbs up!" from some twenty people–and generated a surprisingly passionate thirty-eight comments.
Thirty-eight!
Meanwhile, the piece I put up this morning that I thought was totally interesting, "What is the Septuagint?" pretty wholly croaked on me.
Oh, sure, it got read a lot. I'm huge. But it didn't get read as
much
as it should have.
Hey. It had the cool picture and everything.
Point being: Jesus loves the poor: controversial. Septuagint: boooooooooring.
One simply never knows, does one?
Actually–doi–I should have known. I got creamed for (an earlier version of) "Christians: No Fair Heeding Paul on Gays, But Not Jesus on Wealth." I was amazed at how much anger I got for daring to suggest that Christians might want to think twice before accruing unto themselves too much money.
Why, you'd have thought I'd suggested something as outrageously offensive as … oh, I don't know, that pretty young woman dressing sexily tend to attract the attention of creepy guys.
Again: one never knows.
But I'm tellin' you, you guys have made me think that maybe tomorrow I won't publish, "What is the Latin Vulgate?", my maybe-not-as-fascinating-as-I-thought Part Two of today's post.
Hey, speaking of what we both know (and of what I'm not ashamed to say I often unashamedly say), which is that I've got the greatest readers and commenters in the blogosphere, check out this comment from our new friend, Mark.
Latin Vulgate!