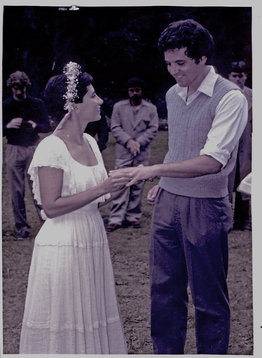 This is the Actual Conversation had by my wife Catherine and I on the morning of August 17, 1981, the day after we got married (at nine o'clock in the morning in the Shakespeare Garden in San Francisco's Golden Gate Park). Before getting married Cat and I lived together for some two-and-a-half years.
"I didn't think I'd feel so different after we got married," I said.
"Do you feel different?"
"I really do." I was sitting with my back against the wall in our "bed"—five old blankets that each night Cat and I rolled out onto the floor of our apartment. She was lying at my side. "I should have said that yesterday when the pastor asked if I take you for me wife," I said. 'I really do.' Heftier than only 'I do,' don't you think?"
"I really do."
"I feel like my dad."
"Oh." Cat had met my dad. "Is that good?"
"Well, it means I have to start chain-smoking, and being so constantly pissed off at everything that I drop to the floor from a major coronary when I'm only thirty-nine. But that was good enough for my dad, and one day it'll be good enough for me. Bummer for you, though."
She ran her hand around my chest. "I don't mind. You're worth it."
I lay back down beside her. Side by side we looked up at the ceiling.
"I really do feel differently," I said. "Like Ward Cleaver—or whatever the name of Donna Reed's husband was."
"Hmm," said Cat. "This doesn't bode well for me."
"Are you saying you're not gonna wanna vacuum our house while wearing high heels, a dress, and pearls?"
"Have you ever known me to vacuum the house at all? Wearing anything?" 
"Great! So you'll vacuum naked?"
"Right. Cuz that'll get our house clean."
I took Cat's hand. "Are we adults now?"
She silently considered her answer.  "Nah. That's no fun."
"So we stay children till we die. Right?"
"Right. Exactly. That's the only way."
"Because what's the Shore motto?"
And then we said again what we'd often said before together: "Fuck 'em!"