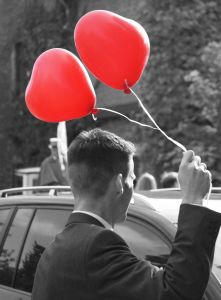 (More material I've written for my aborning book, All In … Almost.)
I was twenty-three years old [when I got married]. As I write this, I am either fifty-one or fifty-two. (Maybe this will be the momentary uncertainty that for once in my life compells me to do some math! Maybe not.)
As anyone who has ever been married engaged in a relationship gone on a date alive knows, committed romantic relationships are so complex that today many relationship experts agree that they should get real jobs because they have no idea what they're doing.
When you get married, the formula for your life becomes this: one person plus one person = one life.
1 + 1 = 1.
Now, even a person as mathematically retarded as I can see that it's theoretical theorems such as this ultimate humdinger that probably caused Albert Einstein's hair to assume the posture it did.
How do you properly do marriage? How do you orchestrate your ongoing inner cacophony so that when it merges with whatever music your partner makes (or is trying to make, or hopes to make, or thinks he or she is making), the resultant sound is harmonious and pleasing, instead of the kind of spine-bending inner screeching that you end up trying to describe to a judge just before he sentences you?
Once you've committed to being one-half of a Team Marriage, how do you arrange within yourself to do everything possible to ensure that in the end your two-person marriage team wins; that ultimately (which of course mainly boils down to daily) your marriage proves good, happy, healthy, productive, emotionally rewarding, psychologically nurturing?
And if you don't do everything in your power to create an ideal marriage—if through a simple lack of character (which, let's face it, amounts to a lack of will), you destroy your marriage, or, worse, enable it to over time grow so lame that if it was a horse you'd put it out of its misery—then what are you doing with your life?
Then why did you get married?
Then what is love to you, anyway?
See, these kinds of issues right here explain why it's mostly young people who get married. Who but the naive would dare it?