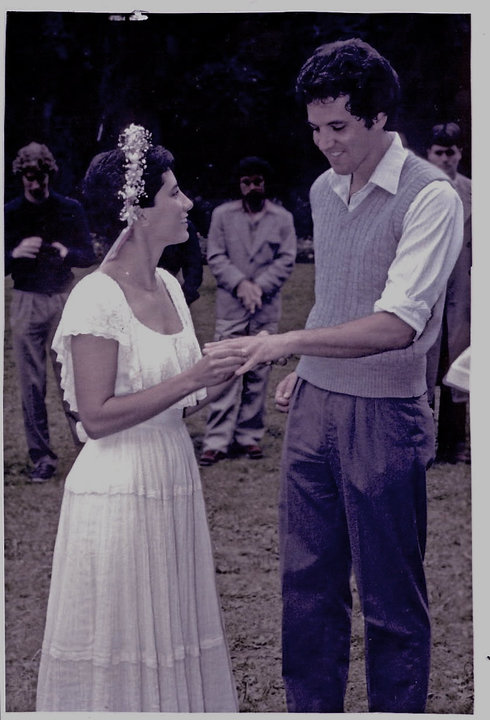 My wife Cat and I got married twenty-nine years ago today.
We got married on a Sunday. But today is Monday.
Can you imagine getting married on a Monday? What a total way to tell the world that you expect your marriage to be something you just drag your butt out of bed every morning to do. Something for which you must at least show up. Something that you know is just the first of what seems like an infinite number of days of sheer work?
Wait. Clearly Monday is the day to get married. But people usually get married on a Sunday, right? But what's the core message there? "What the heck, we're already in church"? "Hey, as long as we're wearing our nice clothes"?
Wait—people usually get married on Saturday, don't they? Not Sunday. Saturday!
So that makes sense.
I know mucho Mexicans get married on Saturday. A block from our house is a gorgeous little park, and every Saturday at least one Mexican wedding party shows up there in a rented limo or two, so the bride and groom and all their Best Peeps can pose for pictures in their wedding finery. It's just the greatest thing to see. Cat and I always hold hands, and wax sentimental as we watch the shy and beaming bride, the embarrassed, proud groom. Both of whom always look like they're about twelve.
Carried away by the moment, Cat and I always end up approaching the wedding party. "So where's the reception?" we ask. "Can we go?" And then I always have occasion to recall my days working in warehouses with nothing but Mexican co-workers, and all the Spanish swear words I learned.
Cat and I got married in a public park. We looked into getting married in a church. But every pastor with whom we met seemed a lot more interested in turning us into Christians than they did in helping us bind our lives together. We were deeply pleased when we finally met the man whom we both immediately felt was the ideal person to officiate at our wedding: a kind and thoughtful Christian pastor named Ken. Ken, who was gay, was also a successful part-time model. So much, in fact, did Ken look like a Ken doll, that on the day of our wedding three of the women with whom I worked (in a book warehouse) completely hit on him. And so it was that, on the day I was betrothed, I had the once-in-a-lifetime legitimate opportunity to
three times
say the words, "Would you please stop hitting on our pastor?"
On August 16, 1981, as the sun was breaking through the early morning mist, Cat and I got married in the Shakespeare Garden in Golden Gate park. Everything for our wedding was donated to us by friends: Cat's gown, the garland she wore in her hair, her bouquet, the photographer, the food at the reception, the venue of the reception. Cat and I were not exactly wealthy. On the day we were married we had nothing, except everything we needed.
****
Related post o' mine: "Then What Is Love To You, Anyway?" ; also, Top 10 Tips For Becoming a Better Husband.