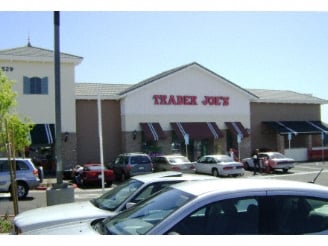 Yesterday, in "I Dare You To Stay Awake Reading This," I mentioned my plans to go grocery shopping at Trader Joe's. I was trying to be boring. But instead of thinking it was boring, some of you expressed an interest in knowing what I bought there.
Maybe I've been doing this blog thing all wrong. Maybe I should try out a period of being like George Costanza in that one episode, where he decided to do the opposite of everything his instincts told him to do. I always try to blog about something interesting; maybe instead I should blog about boring stuff.
Cool! This should be easy.
Well, then, here's what I brought at Trader Joe's yesterday:
jar o' organic peanut butter
organic french roast coffee (which I ground in their machine there)
bag of dried mangoes
bag of grilled eggplant and zucchini (frozen)
square of Israeli feta cheese
two frozen "Handcrafted Cheese & Green Chile Tamales"
tub of hummus
pita bread
slice of "Old Amsterdam" gouda cheese
two bags of "Southern Blend" greens (that we steam and eat with yams and fish)
four cubes organic unsalted butter
bottle of organic olive oil (you know, I didn't realize I buy so much organic stuff)
two little boxes of organic blueberries
three jars of three-cheese Italian pasta sauce
bag of frozen organic spinach
four tubs of organic lowfat yogurt
box of frozen channa masala
two large Hass avocados
two things of organic strawberries
bag of Basmati rice
two bags organic fusilli pasta
two bags fresh brussels sprouts
bag of premium walnut halves
two "Cannelloni Tre Formaggio" (frozen entree thing)
two bags organic baby lettuce
a hothouse cucumber
one bag egg pappardelle pasta (big flat long noodles)
one box organic rolled oats
five beefsteak tomatoes
two boxes peaches (best fruit EVER; the peaches are unbelievable this year)
honeydew melon
frozen organic French green beans
slice of triple-cream brie
tub o' lowfat cottage cheese
two orange bell peppers
bag of assorted baby potatoes
bottle of Chandon champagne
So. Bored yet?!
I wasn't going off a shopping list or anything; I rarely do. I just cruise through the store real fast, snagging stuff off the shelves. And this what I came home with yesterday.
So. If nothing else, Cat and I aren't likely to starve to death this week.
For about a year before we moved to San Diego some thirteen years ago, I worked at the Trader Joe's in Bakersfield. Not a pleasant job, by a very long shot.
But that's stuff I can bore you with later! Or not! I can't tell!
****
Related post (apparently): Top 10 Signs I Might Be Gay.