The winner of the First (and Last) Annual Photoshop John Gesturing Contest is … well, me.
As you may have noticed, I have about zero pictures of me. But no more! Thanks to you inspired, intrepid and industrious image reimaginers, I've now the proud owner of mucho excellent pictures that I can use for my Facebook page photo.
Whoo-hoo! Total contest bonus for me!
But as to the Actual Winner of the contest.
First, let me say that I completely blew the contest. When creating its poll for voting, I didn't realize that I had the option of limiting any one person to only one vote.
Doi. Sorry.
As a result of this oversight, people cheated. I know I did. Shame on them!
One night I went out to dinner, and upon return found that "Basketball John" had mysteriously garnered about thirty votes. That was about as many votes as were in total at that point.
Clearly, something was fishy in Dribbletown.
A day or so later came as a comment to the contest the cutest confession ever:
John, please note: I would like to disqualify my entry (Gecko John) for the prize as an overly-enthusiastic friend of mine voted a bunch of times. I don't want to win anything unless it is honestly.
How sweet is that?
You people are so kind.
And funny! But that's really a whole other of  … something non-categorizable.
Anyway, clearly for choosing the winning picture voting was out. What am I running here, the 2000 presidential election in Florida? No. I'm trying to hold a fair contest.
My path was clear: the only fair way to judge this contest would be for me to totally just pick whichever picture I liked best.
But … how? How could I decide such a thing? I couldn't! I still can't! If you're me, how do you not love each of these? Me as Luther. Me as Hamlet. Me about to chow the greatest looking sandwich ever. Me as an angel. Me as one of the Lakers. Me getting my hair done–by me. Me choking me. Me slappin de boss, mon. Me wondering about the sexual orientation of the Geico gecko. Me holding a demure Twinky the size of my upper body.!
Me, about to make-out with a giant sub sandwich!
I mean … 'cmon. There are no losers here. There are just … different reasons for me to wake up in the middle of the night and wonder about my life.
But, enough. Time to choose.
The winner of the 2010 Photoshop John Shore contest is this: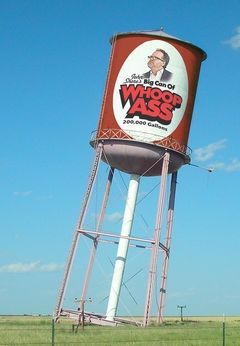 This was done by … well, I'm not sure the winner wants me to use his Actual Name. He's one of my best, most thoughtful blog commenters; but I believe he always uses a screen name. So I suppose I shouldn't share with you his name before he tells me it's cool I do.
But I do love me this image.
The same guy also did this winner: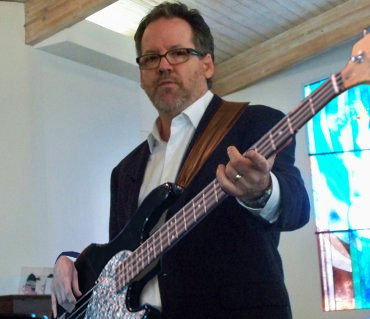 Slappin de boss!
You know, I've been thinking about growing up.
Next week, for sure.
Well. Maybe for 2011.
Anyway, I will very soon be contacting this person, and hooking him up with autographed, inscribed copies of I'm OK–You're Not, and Penguins, Pain, and the Whole Shebang. (And also a bonus gift that we'll work out.*)
Hey, if your picture was not chosen, do me a favor? I've uploaded all the pictures here. Find yours, open it, and leave a comment to it saying that you're the one who did it—or saying why you did it as you did, and/or whatever else you might like to say about it. But I think it would be fun for people to know who did which pictures, and to hear whatever else you might like to share about yours. And it'd be nice for me, too, to be able to thusly recall who did what.
From the bottom of my heart, I want to thank you all for participating in this "contest." Going in, it was just a fun little … nothing. But it ended up quite deeply affecting me.
[*Update: This is so weird!! I've been waiting to name a winner for this contest, because I've been waiting for the producer (and arranger, and star player) of a particular music CD to get back to me: I wanted to send the winner a signed copy of his/their CD. But after three or so days, the artist had yet to get back to me. So I figured the time had come for me to proceed anyway. As I was writing this post—and I'm talking about mere moments ago, as I write this—-the person responsible for the music I so want to share with you emailed me. As a result, the winner of this contest will, in fact, be receiving an autographed CD of the music of this … um … well, manifest genius. Separate from that, I will soon be doing a blog post about this artist's CD, because … well, you should know about it. Especially during the Christmas season.]
Love to you all. And no kidding about that.
******