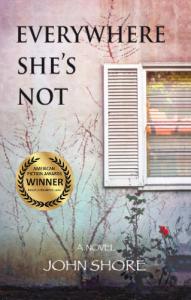 Hi, friends. Wanted to share with you the good news that my debut novel, Everywhere She's Not has won the 2020 American Fiction Award for Best New Fiction. Earlier this year it was also named a finalist for both the Publisher's Weekly BookLife Prize and the First Novel Prize at the Indie Book Awards.
I blogged here on Patheos for years, and I know how many people who came to know me from this site embraced and supported the novel. So I wanted to thank you for that.
If you haven't read ESN, and would like to, you can buy it via Amazon, or order it through your local independent bookstore. If you'd like a signed copy, inscribed according to your directions, you can purchase the book directly from me via my website.
I offer a money-back guarantee on this. If you don't think ESN is one of the best novels you've ever read, then I don't think you should have to pay for it. So you just let me know if that happens with you, and I'll be more than happy to refund your money.
Independently published books such as this one wouldn't stand a chance in the world without the support of people willing to step up and give them a try. So thank you if you're one of those people! Above and beyond that, I hope that you and yours are staying well and feeling good, during what, I think it's safe to say, is one weird time we're all living through right now. Stay strong.