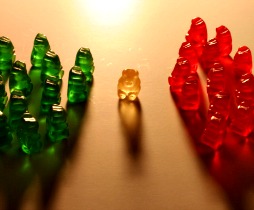 I recently got in an email with the subject line, "Dealing with anti-Christianity in the LGBT community." It read:
Dear John,

I realised that I've gotten fairly adept at defending myself and other LGBT people in Christian spaces, partly thanks to you and your writing. But time and again, once just recently, I find it harder to defend my religion in LGBT spaces, and can only look on in silence as they mock and insult and tear Christianity apart, occasionally targeting me as well for being inadvertently complicit in their and my own oppression and suffering by aligning myself with Christianity, considering me weak / deluded / selfish / morally contemptible for not ditching the whole mess the way they did. It gets emotionally draining being attacked from both sides and knowing that, while my identity is not a choice, my religion is. But the thought of leaving it still makes me panic. And I still believe. Mostly. How do I deal with this?
Yeah, this happens—you know: what with people being people and all. I used to go with a gay Christian friend of mine to a gay coffee shop (um … being a very popular coffee shop in a very gay neighborhood), and his friends used to razz him pretty hard for being Christian. And their friends—people who didn't really know much more about my friend than that he was gay and Christian—could be quite cruel about it. I've had any number of gay Christian friends who've suffered in this same way you are now.
It kind of happened to me, actually. At the time of my freak conversion to Christianity, my wife and I were living in a gay neighborhood. And the moment some of my gay friends and acquaintances found out about what had happened to me, they shunned me like they were Jewish and I'd started wearing Nazi regalia.
I was, like, "But it's still me!" And they were all, "Not anymore, bitch."
Awful.
But, you know: you hang with people who hang with you. Some of my friends who were acutely uncomfortable with my becoming a Christian listened when I told them that my every last feeling toward them hadn't changed one iota. ("I became a Christian," I told them, "not an asshole.") And then they were cool with the change. Other friends of mine just couldn't help but feel that I'd essentially turned against them.
Whaddaya gonna do? You say your piece, you show who you are … and that's it. You're done. What else can you do? The people with the brains, heart and life experience to know that it's possible to be at once Christian and gay (or, in my case, Christian and gay … um,
affirming,
I guess is the word, except how does that not sound patronizing?), take you for who you are. The ones who can't understand how anyone can be both gay and Christian … can't. So you have to leave those people be.
You must live in a small town. If so, hang in there: pretty soon you'll move to a real city, with a real gay neighborhood, and then you'll have all the gay Christian friends you could want. In the meantime, just … be yourself. Be kind; be respectful; make it clear you don't mean anybody any harm, and then just … try not to sweat the people who, for reasons of their own, are stuck seeing you as a type rather than a person. People that angry, rude, and/or congenitally unswift ultimately deserve nothing so much as your pity.
All right, friend. Hang in there. Thanks for writing. Keep in touch.
(I know: maybe I'll make some business cards for Unfundamentalist Christians, and send them to you. Then you could hand them to people and say, "Here. This right here is how I can be both gay and Christian." That'll teach 'em! People hate it when you give them business cards!)