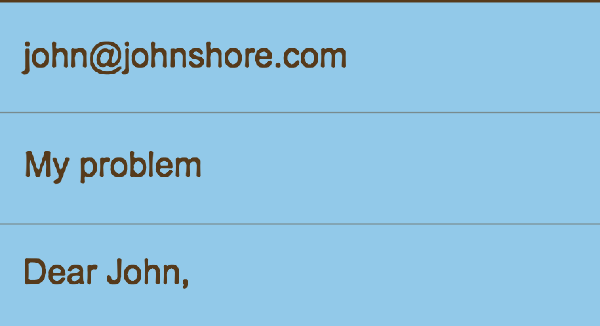 [This is the latest in a series in which each Wednesday I answer a question or two asked to me by members of Serendipitydodah for Moms, a private Facebook group for Christian mothers of LGBT kids. (The first such post was Combatting the Downward Pull of Christian Negativity; the second Pastor tells mom her lesbian teen can't be a Christian.) If you are interested in joining Serendipitydodah for Moms, email lizdyer55@gmail.com. If you'd like me to answer any questions/concerns you might have, email me at john@johnshore.com]
Dear John,

How do you think affirming Christians should deal with Christians who still think same-sex relationships are sinful? Should we treat their belief with tolerance and respect or respectfully confront them? I'm specifically thinking about those who feel compelled to speak out, promote, teach and proclaim that all same-sex relationships are sinful and that the only marriage blessed by God is between a man and a woman. Signed, Stay silent or speak up?
It's been my experience that Christians who feel, as you well put it, "compelled to speak out, promote, teach and proclaim that all same-sex relationships are sinful" come in two varieties: Crazy, and Gets Paid to Promulgate Anti-Gay Christianity. It's also been my experience that reasoning with either is a waste of time. As a rule the lay Christian who is "compelled to speak out" against homosexuality is too angry (and, frankly, too fearful of the power of his or her own sexuality) to listen to reason; the pastor, radio host, "ministry" leader or author whose bank account is tied to his perpetuation of the toxic nonsense that being gay is a sin–the professional gay-basher, in other words–has already sold his conscience for cash—and in the bargain of course also traded away his moral compass.
Treat a person from either group with tolerance and respect; vigorously refute them; insist you'll sleep on their front lawn until they change their minds … in the end, I have found, nothing will have changed beyond that you will have lost time that you could have spent doing something a lot more productive (such as … well, writing public letters like this to people like me, joining your local PFLAG chapter, organizing a markedly Christian presence at pro-LGBT events, helping your church to become LGBT-affirming, making sure your local schools are implementing and executing anti-bullying programs, voting for pro-LGBT initiatives, being active online—buy, frankly, my book UNFAIR and give it to anyone on the fence—etc., etc.). But you see what I mean: you don't take down an evil empire by arguing with one of its foot soldiers.
Dear John,

Coming from a conservative Christian background can be very difficult when you find out one or more of your kids is LGBT! As a mom who completely accepts and affirms my gay son I still have times when I worry that I might be wrong—that somehow my love for my son has misled me. What advise do you have for a parent like me? Signed, Dealing with doubts
The next time you find yourself doubting the truth that God finds homosexuality no more inherently sinful than heterosexuality, stop to examine what's happening in your life at that moment. I guarantee you that something in the outside world will have triggered that doubt in you. When threatened we all tend to revert. Stress, tension, being worried, being fearful, being challenged … such feelings often trigger the old toxic tapes to start playing in our heads–the tapes that were recorded for us, not by us. The tapes that tell us to be afraid, that the worst is true, that God is judging us, that absolute damnation is one errant step away . . . that being gay really is a sin. The next time you find yourself reverting to the fears and paradigms instilled in you as a child, trust that's simply an instinctive reaction to something real in your life that is genuinely concerning you.
Finding whatever it is that has triggered in you the playing of your old toxic tapes won't be particularly difficult; once you understand that those old thoughts really are a stress response to something real and present happening in your life, you'll pretty quickly be able to identify what that something is. And once you've identified what caused you to doubt the veracity of what you know to be true, those doubts will vanish, because you'll see that in and of themselves they were not real, but only a secondary reaction to something that is real. Then you can address that real thing that's really happening, instead of having to swat away the old demons that came flying back at you from a time when you were taught terrible things about God and Christianity that simply aren't true.
---
I'm the author of UNFAIR: Christians and the LGBT Question:
Paperback. Kindle. NookBook. Signed and inscribed by me according to your direction.