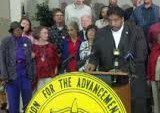 Ms. Rosamell Eaton rose early at her Franklin County home to drive to Raleigh, North Carolina, with her daughter. At 92 years old, Ms. Eaton admits that she doesn't get around as easily as she used to. But she wanted to support her daughter, who was arrested last week for refusing to leave her state legislature building when her elected officials refused to hear her concerns.
"I raised my family and have lived on the same piece of land for the past 72 years," Ms. Eaton said proudly, noting that she was born just one mile up from the piece of land that she now calls home. "But I had to come out today and support these people. This is the second time around for me, you know."
Indeed, Ms. Eaton is a living reminder of how young North Carolina's experiment in inter-racial democracy is. When she was born in 1920, Jim Crow laws made separate and unequal living conditions to norm for white and black North Carolinians. Ms. Eaton went to segregated schools in Franklin County, ordered food from the back door of restaurants,  and planned what travel she did around stops where she knew she could stay with family or friends. She grew up in a deeply segregated North Carolina, and she raised her children in the same conditions.
But Ms. Eaton remembers how things changed in this state. "You know who Dr. King was, don't you?" she asks. "Well, I marched with him. We had to work real hard for integration. But we won back then. I've gotten awards from this state," Ms. Eaton says, looking hard with eyes that cannot be denied. "Governor Hunt sent me to Africa as a representative of North Carolina." We may quote the Founding Fathers on Memorial Day, but here is a Founding Mother, bearing witness to the fact that freedom is not free and those who wield power in our legislature today are charged with guarding a fragile tradition.
"I don't know if I can get arrested this time around," Ms. Eaton says. "My body is getting frail. But I'm just trying to get people out–to help folks see what's really going on. My daughter and I are the only ones here from our county. We've got to change that."